Iran Executes Woman Who Killed Her Alleged Rapist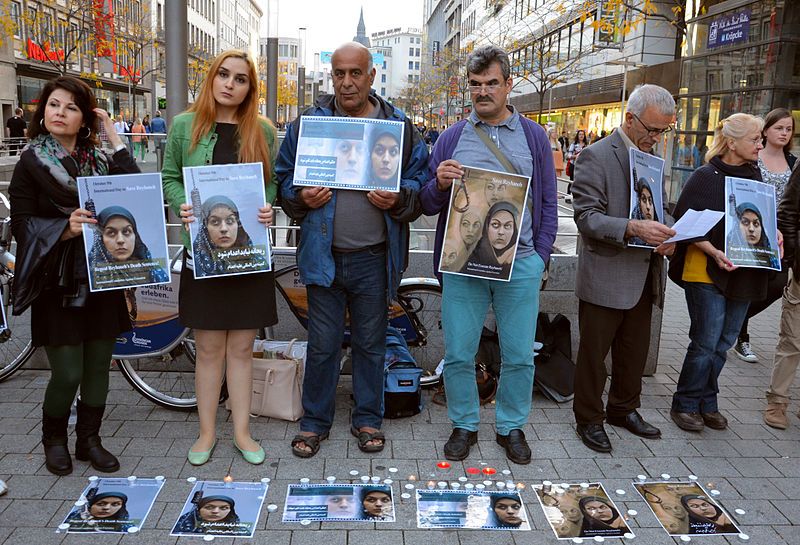 Iran has executed a woman convicted of murdering a man she accused of trying to rape her when she was a teenager.
Reyhaneh Jabbari was hanged at dawn on Saturday in Tehran's notorious Evin prison after the dead man's family refused to grant her a repreive, Reuters reports. Iran's Sharia law allows 10 days for a reprieve to be granted by the family, but they could not be persuaded to forgive her. Jabbari's last chance of stood with Iran's Supreme leader Ayatollah Ali Khamenei, but he has never acknowledged Jabbari and very rarely intervenes in individual cases.
Jabbari, 26, pleaded self-defence in mitigation of the killing, but to no avail, even as the case went to the Supreme Court. The BBC reports that government news agency Tasnim said Jabbari's self-defence claims "had not been proved in court".
The execution sparked condemnation from the international community, including the U.S. and European Union, with Amnesty International calling it a "deeply flawed investigation and trial".
"This is another bloody stain on Iran's human rights record," Hassiba Hadj Sahraoui, Amnesty International's deputy director for the Middle East and North Africa regions, said in a statement. "Tragically, this case is far from uncommon. Once again Iran has insisted on applying the death penalty despite serious concerns over the fairness of the trial."
Jabbari was found guilty of stabbing Morteza Abdolali Sarbandi, a former intelligence ministry worker, to death with a kitchen knife in 2007 and was sentenced to death under the Koranic "qisas," which means eye for an eye, Reuters reports.
Jabbari was sentenced to death by a criminal court in 2009.
The Tehran state prosecutor's office released a statement after Jabbari's execution on Saturday.
"Jabbari had repeatedly confessed to premeditated murder, then tried to divert the case from its course by inventing the rape charge," said the statement, which was carried by Iran's IRNA news agency.
"But all her efforts to feign innocence were proven false in various phases of prosecution. Evidence was firm. She had informed a friend through text message of her intention to kill. It was ascertained that she had purchased the murder weapon, a kitchen knife, two days before committing murder."
As of September 30, Iran has executed 531 people this year, according to the U.S.-based Iran Human Rights Documentation Center. The United Nations puts that estimate at 250. Jabbari's execution comes days after the news that Asia Bibi, the Christian Pakistani woman sentenced to death for blasphemy, had her appeal for acquittal rejected. Bibi plans to take her case to Pakistan's Supreme Court.