Iran Says It Will Fight Back Against Israel's Attacks in Syria, Days After U.S. Warns Strikes Could Lead to War
Top Iranian and United States officials have warned in the past week of the potential for Israel's ongoing campaign in Syria to provoke an all-out conflict.
During a high-level trip to Damascus on Tuesday, Iranian National Security Council Secretary Ali Shamkhani cautioned his country's arch-foe Israel against pursuing further strikes against suspected Iranian positions in Syria. Though Tehran acknowledged playing only an advisory role in support of Syrian President Bashar al-Assad's war against rebels and jihadis, Israel has accused the revolutionary Shiite Muslim power of attempting to set up forward bases in the war-torn country.
"If these actions are continued, measures will be taken to deter and to respond decisively and proportionately as a lesson for the Israeli liar and criminal rulers," Shamkhani said, according to the semi-official Tasnim News Agency.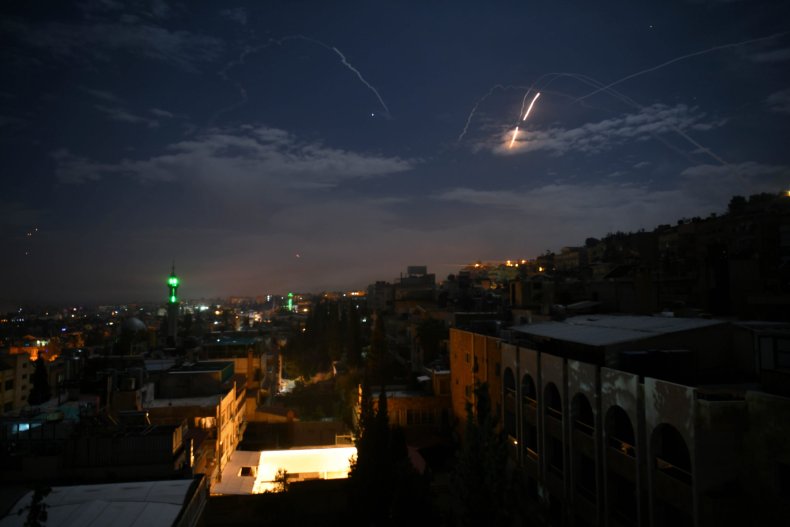 Iran helped to mobilize mostly Shiite Muslim militias from across the Middle East and its periphery in response to the 2011 uprising in Syria, where Assad faced an opposition backed by the U.S. and its regional allies, Qatar, Saudi Arabia and Turkey. Since at least 2013, Israel has also sponsored a number of insurgent groups near the occupied Golan Heights and has targeted positions allegedly associated with Iran across Syria.
Both initiatives, once largely kept secret, have become increasingly open in recent months as Israeli officials embolden their campaign against Tehran and its vast reach across the region. Israeli Intelligence Minister Yisrael Katz revealed in September that "Israel has taken military action more than 200 times within Syria itself," while last month outgoing Israeli military chief Gadi Eisenkot discussed his country's support for rebel groups as well as "thousands of attacks" conducted by his forces. Israeli Prime Minister Benjamin Netanyahu himself even discussed "hundreds" of strikes that same weekend.
Netanyahu's comments came as the Israeli military claimed responsibility for what it said were attacks against an Iranian weapons depot in Damascus and were followed by further strikes the following week against several Iranian and Syrian targets, allegedly in response to a missile fired by Iranian forces in Syria. The U.K.-based, pro-opposition Syrian Observatory for Human Rights claimed that up to 12 Iranians were among those killed, though the figures were not reported by official Iranian, Syrian or Russian reports.
As both Israeli and Iranian officials upped their hostile rhetoric toward one another, U.S. Director of National Intelligence Dan Coats testified to Congress that "that Iran seeks to avoid a major armed conflict with Israel," but noted that "Israeli strikes that result in Iranian casualties increase the likelihood of Iranian conventional retaliation against Israel."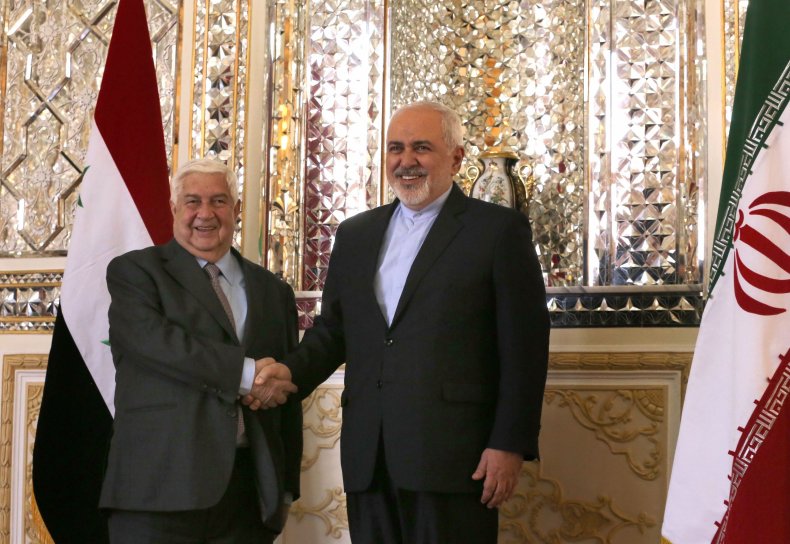 Coats also discussed a "growing concern about the long-term trajectory of Iranian influence in the region and the risk that conflict will escalate." Though the Trump administration has canceled a 2015 nuclear deal and reimposed sanctions on Tehran over its alleged backing for U.S.-designated terrorist organizations and its development of ballistic missile technology, Iran has only boosted ties with Arab allies Syria and Iraq, which the U.S. also considers an ally.
The U.S. has also expressed concern that Assad's other top ally, Russia, could turn on Israel. Following a September friendly fire incident in which Syrian air defenses accidentally shot down a Russian surveillance plane while attempting to down attacking Israeli forces, Moscow deployed updated S-300 systems to Syria, but has not yet used them—nor its own even more advanced S-400 systems—during subsequent raids.
Netanyahu was set to meet with Russian President Vladimir Putin later this month in hopes of settling any tensions between the two at a time when Moscow's relationship with Tehran may also be hitting a rough patch. Russian Deputy Foreign Minister Sergei Ryabkov told CNN last week that Moscow and Tehran were "partners" and not "allies" as they did not see "completely eye-to-eye" on the region's development. However, Russian ambassador to Iran Levan Dzhagaryan later stressed that the two were close "strategic partners" without any formal defense treaty and warned that "our opponents are seeking to create divisions between Iran and Russia, but will not be successful."