Iran MP Who Supports Punishing Protesters at U.N. During Human Rights Talks
An Iranian member of parliament who supported punishing protesters has arrived in New York for a U.N. General Assembly committee's meeting.
Demonstrators have flooded the streets in Iran in the weeks following the September 16 death of Mahsa Amini, a 22-year-old Kurdish woman who was arrested by Iran's morality police and accused of improperly wearing a hijab, or headscarf, while visiting the country.
Amini allegedly was severely beaten while in custody and later died from a fatal head injury. Iranian authorities have not taken responsibility for her death.
Earlier this week, members of the Iranian parliament called on the judiciary to deliver harsh punishments, which could include the death penalty, for the protesters, who mostly consist of university students and women.
Parliament member Zoreh Elahian, who supported the letter issued by Iran's MPs, is in New York City to attend a meeting of the General Assembly's Third Committee. The panel's agenda deals with social and humanitarian affairs and human rights issues affecting people worldwide, according to Bahman Kalbasi, the U.N. correspondent for the BBC's Persian Service.
On Thursday, the Third Committee approved a resolution in favor of eliminating all forms of violence against women and girls, according to the U.N's website.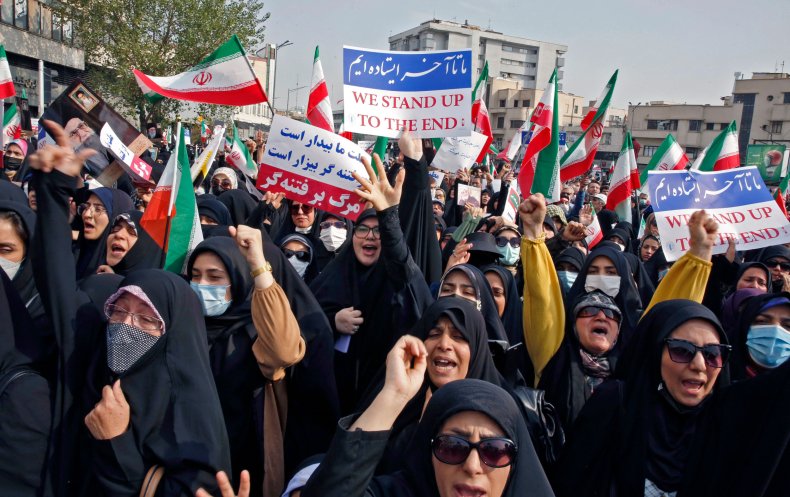 Elahian is being accompanied by Kazem Gharibabadi, Iran's deputy judiciary chief. It is uncertain how Gharibabadi and Elahian will be involved in the discussions, but according to the Islamic Republic News Agency, Gharibabadi will "meet and talk with members of the Non-Aligned Movement, the Group of Friends in Defense of the Charter of the United Nations, and ambassadors and permanent representatives of different countries."
Kalbasi said Gharibabadi arrived Wednesday, but Iran's state media didn't announce his presence in New York City until Friday.
Apart from the General Assembly committee's meeting, Iceland and Germany have requested a special session with the U.N. Human Rights Council (HRC) to discuss the "human rights situation in Iran," which will take place later this month.
"Important for @UN_HRC to address the situation of women & girls in Iran in recent protests," Iceland in Geneva tweeted. "We stand in solidarity with the brave women & men marching for their rights."
The protests in Iran have occurred in dozens of cities, and many demonstrators have been killed in clashes with Iran's security forces. Nearly 15,000 protesters have been arrested.
In Iran, those who are sentenced to death are most often hanged while in prison, although some executions are carried out publicly.
Many of the protests involved women resisting Iran's Islamic rules by burning their hijabs and cutting their hair in public. In addition, several Iranian sports teams have refused to sing along with the country's national anthem. Women also are taking to social media to express their discontent with Iran's leadership.
BBC journalist Khosro Kalbasi Isfahani shared a video of an Iranian woman talking to her daughter.
"'I would rather die if I can't give you freedom': Iranian woman tells her daughter," the tweet says. "She says the regime is 'killing people' who are just demanding their basic human rights. Wearing a shroud she says: 'Come kill me as well. Kill us all. Whom would you be ruling then?'"
Correction 11/15/22, 1:14 p.m. ET: This article and headline were updated to remove the reference to the Iranian Parliament voting for death sentences. A majority of the parliament supported a letter to the judiciary calling for harsh punishments of protesters, which could include the death penalty.