Iran's new president-elect has elicited controversy before even taking office due to hard-line views and allegations of past involvement in human rights abuses. But his message to the world coming to office is one of repairing the Islamic Republic's strained relationships across the region.
He appears to be a good position to pull through with the pledge.
Ebrahim Raisi, an influential cleric who is Iran's top judge, won a widely anticipated landslide victory Friday against the three opponents who remained in the race, none of whom managed to come close to Raisi's nearly 62% share of the vote.
The winner's proximity to the powerful Revolutionary Guard and Iran's top authority, Supreme Leader Ayatollah Ali Khamenei, made him an easy favorite, but a historically low turnout and reservations over his conservative outlook belied his popular pledge to combat corruption and poverty plaguing the country.
How the president-elect plans to stabilize Iran's economy remained to be seen. Among the avenues Raisi has already emphasized for generating revenue for the Islamic Republic, though, has been to double down on a diplomatic path. He has eagerly proclaimed an open mind on foreign policy, especially as it relates to shifting Iran's outlook on its Arab neighbors from one of confrontation to cooperation.
"We have announced relations with all countries of the world and interaction with all," Raisi said Monday during his first press conference since the election, "especially relations with neighboring countries are important to us."
He has received congratulatory messages from all of Iran's immediate neighbors, including Afghanistan, Armenia, Azerbaijan, Iraq, Pakistan, Turkey and Turkmenistan, as well as a number of nations across the Persian Gulf, including the Arab monarchies of Kuwait, Oman, Qatar and the United Arab Emirates. The titan of the Arabian Peninsula, Saudi Arabia, however, was notably absent from the list.
Iran and Saudi Arabia have been at odds for decades over competing visions of the Middle East as they have vied for influence across the region. Their rivalry came to a head in 2016, when they severed ties after Iranian protesters burned Riyadh's embassy in Tehran in response to the execution of an influential Shiite Muslim cleric accused of inciting unrest.
Saudi Arabia, emboldened by former President Donald Trump's "maximum pressure" campaign against Iran, hardened its position in the following years. The Kingdom accused Iran of multiple misdeeds, including igniting regional instability that benefited Tehran's partners, missile and drone strikes on Saudi oil and gas facilities, and support for Yemen's Ansar Allah, or Houthi, movement.
In return, Tehran has blamed Riyadh for inciting plots to export its ideology and overthrow the Islamic Republic.
But news of secret rapprochement talks has since emerged in the final months of Iranian President Hassan Rouhani's administration. Raisi declared on Monday that "there is no obstacle from the Islamic Republic to Saudi Arabia regarding the reopening of embassies between the two countries," nor to renewed "relations and dialogue."
Uncertainty surrounded the success of such an effort under Rouhani, a moderate who championed the need for Iran to engage with the region and beyond, as his strategy appeared to eventually fall out of favor with Khamenei and his inner circle. Under Raisi, however, the possibility of bringing the two powers back to a working relationship may have new life.
Amir Hossein Mahdavi, a PhD candidate at the University of Connecticut's Department of Political Science who earned a national award for his years working as a journalist in Iran, identified two primary trends driving the apparent alleviation Iran-Saudi tensions, both of which are on the upswing as Raisi prepares to take office in August.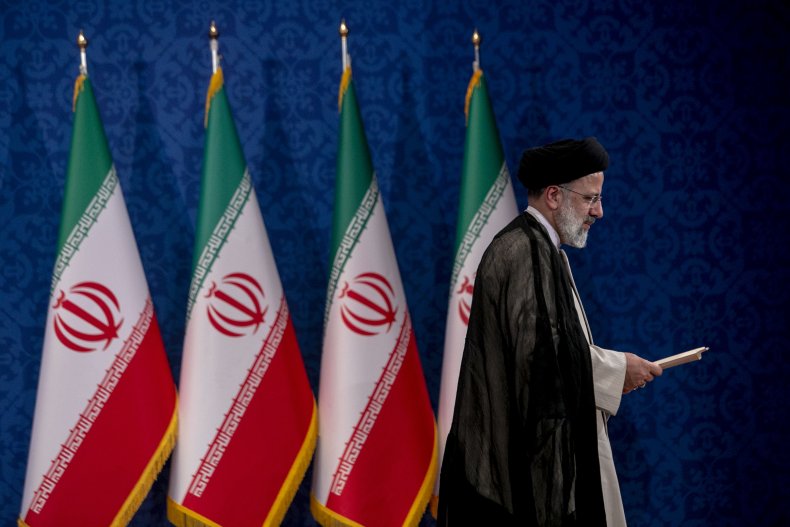 "First, rumors about the secret talks on the Yemen conflict, hosted by Iraq, are spreading," Mahdavi told Newsweek. "Both parties are exhausted from the ongoing conflict and are seeking a common ground."
Iranian and Saudi officials have confirmed that representatives of their respective sides have been in touch. While the two countries have an expansive list of areas of contention, no issue is higher on Riyadh's agenda than the war in neighboring Yemen, where Ansar Allah continues to hold on to the capital and vast swathes of the country despite six years of Saudi-backed efforts to reseat the internationally recognized government.
While Iran denies directly supplying the rebels with advanced arms such as missiles that regularly pierce Saudi skies, Tehran has stated its preparedness to use its influence to help realize a political settlement to the conflict.
Saudi Arabia had for years dismissed Iran's role as unhelpful, but now the two may see mutual benefit in working together, especially considering the regime change in Washington. The end of the fiercely anti-Iran Trump administration and its replacement with the Biden administration, which has chosen engage Iran diplomatically and reduce U.S. military assistance to the Saudi-led campaign in Yemen, signals a sea change in the region.
Mahdavi's second point of reference for the prospect of improved Iran-Saudi ties on the horizon is that "in the post-Trump era, Saudi Arabia has learned a lot about the workability of four years of maximum pressure on Iran."
And the Kingdom is rethinking its approach to match the shifting tides.
"The illusion of overturning the regime in Tehran has been fading, and the calculation in Riyadh is gradually being shifted to coexisting with Iran," he said. "This is especially true seeing that the domestic economy and normalization of international trade will be the most vital priorities of Raisi's administration."
Though Raisi has ruled out a meeting with Biden, he has emphasized Iran's commitment to negotiating a U.S. reentry into the Joint Comprehensive Plan of Action (JCPOA), the nuclear deal reached by the U.S. and other top world powers with Iran in 2015, which Trump abandoned three years later.
Raisi was among the core of Iranian politicians concerned with engaging with the West in the first place, and such arguments have grown stronger with the unilateral U.S. exit.
But a devastated economy creates a necessity to bring the U.S. back into compliance with the agreement, a condition for which Iran has promised to return to its initial obligations to reduce enrichment in exchange. The two continue to search for a mutually acceptable solution to the issue in indirect talks facilitated by fellow JCPOA signatories China, the European Union, France, Germany, Russia and the United Kingdom in the Austrian capital of Vienna.
The U.S. has vowed to press on no matter the results of the Iranian election, one the Biden administration has criticized for handing a victory to Raisi with suspicious ease.
"Our Iran policy, it is designed to advance U.S. interests," State Department spokesperson Ned Price told reporters Tuesday. "And that is the case and will be the case regardless of who sits at the helm as president in a process that we have called premanufactured."
But Washington continues to seek expanded discussions.
"We have consistently said that a return to the JCPOA, while it's necessary, it is not sufficient because we do have other areas of concern, and that includes Iran's ballistic missile development and its missile proliferation," Price added. "And we will consult closely with our allies and partners, including crucially our partners in the region, on ways to address this moving forward."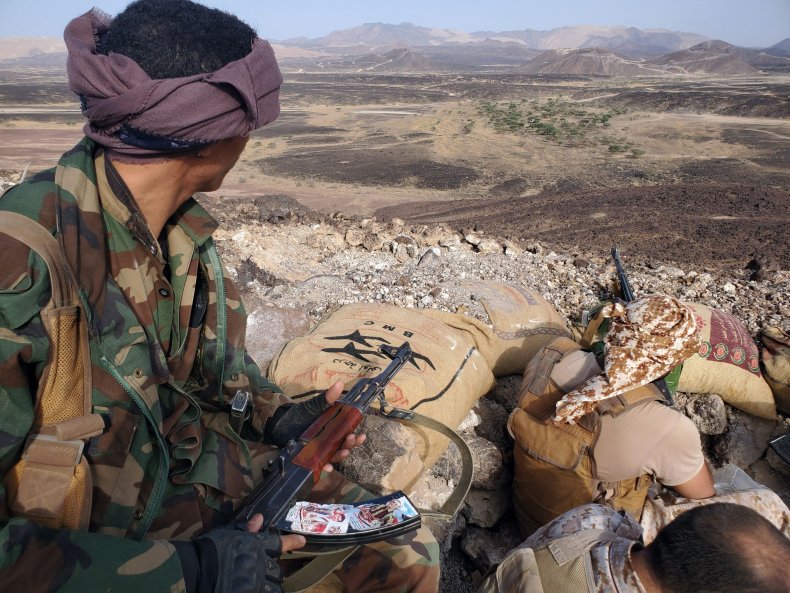 Iranian officials have emphasized that the subject of these talks relates strictly to the original nuclear agreement, with no avenue to include additional restrictions on other Iranian activities such as the development of missile technology and support for regional militias.
Saudi Arabia would also like to see Iran further reined in on these fronts, and Mahdavi said Raisi's desire to both improve ties with neighbors and boost the economy at home means "he will try to lessen spending on defense and proxies throughout the region."
This network of allied forces extends far beyond Yemen, and spans through Iraq, Syria, Lebanon and elsewhere under the banner of an "Axis of Resistance." Iran has spent decades establishing these relationships, most of which were crafted with Revolutionary Forces Quds Force commander Major General Qassem Soleimani at the vanguard, before his slaying at the hands of the U.S. in January 2020.
Even with Soleimani's demise, these forces have proven a major strategic concern for the U.S. and Saudi Arabia, as well as Iran's archfoe, Israel, and have served as a form of leverage in regional talks. Supporting this coalition, however, remains expensive, and peace may ultimately prove a cheaper option with more added benefits.
Mostafa Najafi, a PhD candidate who specializes in researching Iran's "Axis of Resistance" at Tehran's Tarbiat Modares University, described missile development and support for these allied movements abroad as the two main pillars of the Islamic Republic's "defensive and military deterrence."
"Regardless of the government in power, these two components are not negotiable," Najafi told Newsweek. "Therefore, Iran considers missiles and the Axis of Resistance complementary to its diplomacy, regarding them as inseparable."
But he said a shift toward stability in the region could reduce the intensive focus on the armed elements of the Islamic Republic of Iran's foreign policy.
"Even so, with the de-escalation of clashes and crises in Iraq, Syria, and somehow in Yemen, IRI has also commenced a new wave of attempts to expand regional interactions with the Persian Gulf states," Najafi said.
Like Mahdavi, he sees Iran moving toward a rapprochement with its neighbors.
"The new government seems committed to reduce tensions in the region, observe a good neighborly policy, and interact with them," Najafi said. "This trend, of course, is part of the decreasing trend in tensions and the relative and short-term stability that began in the region almost a year ago, a trend that the new government in Iran can take advantage of to pursue its interests."
Among these interests, he said that "overcoming the differences with the Saudis and
normalizing relations with Riyadh will be one of Raisi's priorities in foreign policy."
Najafi noted that this diplomatic approach reflects directly on international developments, such as the Biden administration's own reduction of U.S. forces in the Middle East and the prospect of the JCPOA eliminating economic barriers for Iran's trade. To capitalize on this, Raisi's good favor with the Quds Force, now headed by Soleimani's former deputy, Brigadier General Esmail Qaani, would be key.
"It seems that with the increasing security trends in the region toward stability, the new government will seriously focus on foreign trades with the neighboring countries, especially with the countries on the Resistance Axis," Najafi said. "The concordance between the new government and the Quds Force will contribute to this purpose."
The Revolutionary Guards and its elite Quds Force are notoriously representative of some of the most hawkish factions within Iranian politics. However, their goals have also increasingly taken on an economic nature given the dire circumstances at home.
"The Quds Force officials and decision-makers have come to believe they can turn field and operational achievements into economic achievements," Najafi said. "Raisi can take much advantage of this view to further his economic diplomacy in the region."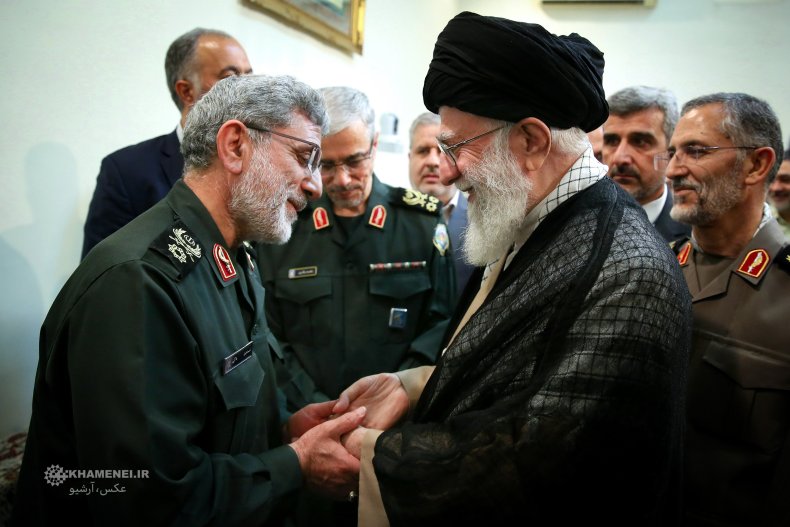 As both Mahdavi and Najafi told Newsweek, and as both Washington and Riyadh have recognized in their public remarks, Khamenei has the final word on major decisions, which are the product of consensus-building among Iran's policymaking elite, an area currently beyond Raisi's reach. This has left Riyadh wary of what's to come.
Speaking in Vienna, Saudi Foreign Minister Prince Faisal bin Farhan Al Saud told a press conference Tuesday that the Kingdom would "base our interactions and our approach to Iran on the reality on the ground, and that is what we will judge the new government on, regardless of who is in charge."
From the Iranian perspective, however, things were already proceeding well.
"Enhancement of relations with regional countries including our neighbors has always been one of the essential and highest priorities in the foreign policy of the Islamic Republic of Iran," Shahrokh Nazemi, head of the media office at Iran's permanent mission to the United Nations, told Newsweek. "Regional developments are on the right track, and one achievement of recent months has been that those countries that were adhering to Trump policies have now realized that the region needs indigenous solutions to endogenous issues."
"That understanding," he added, "is clearly positive."
He argued that this positivity has already led to a vast improvement in Tehran's dynamic with countries that once sought to join U.S.-led efforts to isolate the Islamic Republic, and he hoped the situation would continue to progress on this trajectory.
"Iran enjoys good relations with almost all the countries in our region," he said, "and we hope and expect that positive engagements will be further strengthened and relations will prosper in the future."
As JCPOA negotiating parties await the seventh round of discussions in Vienna, Nazemi saw a direct correlation between the realization of sanctions relief and the possibility for Iran expanding its ties with the region, especially in the economic realm, where Iran, and Raisi, needs it most.
"From an economic point of view, given that sanctions have caused many obstacles in the development of trade and foreign investment, the answer is yes," he said.
"The lifting of sanctions can indeed lead to significant growth in Iran's economic relations with regional countries," Nazemi added.