Exclusive: Iran Hard-liner Raisi to Win Presidential Election at Pivotal Moment in Middle East, Poll Shows
As President Hassan Rouhani concludes his second and final term and Iranians prepare to head to the polls on Friday to choose the Islamic Republic's next head of government, an insider survey shared exclusively with Newsweek shows an all but certain victor among the candidates.
The election comes at a pivotal moment in the Middle East, especially among Iran's rivals.
A recently-sworn-in U.S. administration led by President Joe Biden is considering re-engagement with Iran. A new right-wing-led yet broadly-represented government in Israel is grappling with foreign policy after 12 years of Prime Minister Benjamin Netanyahu. And quiet talks between Iran and Saudi Arabia have raised speculation about rapprochement after years of overt hostility.
The vote also takes place at a time of severe strain for the country and its people, who continue to battle a particularly severe COVID-19 crisis that is compounding economic woes made worse by U.S. sanctions and internal mismanagement.
Politically, Iran's conservative circles have consolidated power with the blessing of the country's top authority, Supreme Leader Ayatollah Ali Khamenei, taking advantage of the current difficulties to lay the blame on the more moderate path pursued by the Rouhani administration—and it's worked.
According to the survey data shared with Newsweek by IranPoll, an independent Toronto-based polling organization, some 77% of Iranians are set to show up in favor of Ebrahim Raisi, a principlist (conservative supporters of the Supreme Leader) who serves as the country's chief judiciary.
Trailing him are longtime Expediency Discernment Council Secretary Mohsen Rezaee at 12%, former Central Bank of Iran Governor Abdolnaser Hemmati at 8% and member of parliament Amir-Hossein Ghazizadeh at 3%.
The exit from the race of former chief nuclear negotiator and Supreme National Security Council Secretary Saeed Jalili just days before the election followed those of three other candidates, reducing the original pool of candidates from seven to four. Like fellow conservative ex-candidate Majlis Research Center President Alireza Zakani, Jalili has thrown his support behind Raisi.
Raisi's projected win is likely to have a major effect on Iran, but given the country's unique political system, a degree of continuity is to be expected as long as Khamenei remains as Supreme Leader, a position which his one and only predecessor held for life.
Amir Farmanesh, CEO of IranPoll, said many important decisions, including the country's efforts to revise a 2015 nuclear deal abandoned three years ago by the United States, were made at governmental levels above the president, and were the product of discussions of the country's elite Supreme National Security Council.
"All indications suggest that Raisi will become Iran's next president," Farmanesh told Newsweek. "Contrary to what some believe, his election is unlikely to significantly change the course of Iran's foreign policy, as such decisions are made through consensus-building mechanisms at Iran's National Security Council."
But on a national level, Raisi was well-poised to make changes after eight years of Rouhani failed to bring the country the economic prosperity and stability promised by the incumbent.
"Considering Raisi's background, however, we are very likely to see significant shifts at the domestic level," Farmanesh said, "particularly as it pertains to Iran's economic and developmental orientation, and with regards to how it will deal with the endemic economic corruption from which Iran has been suffering."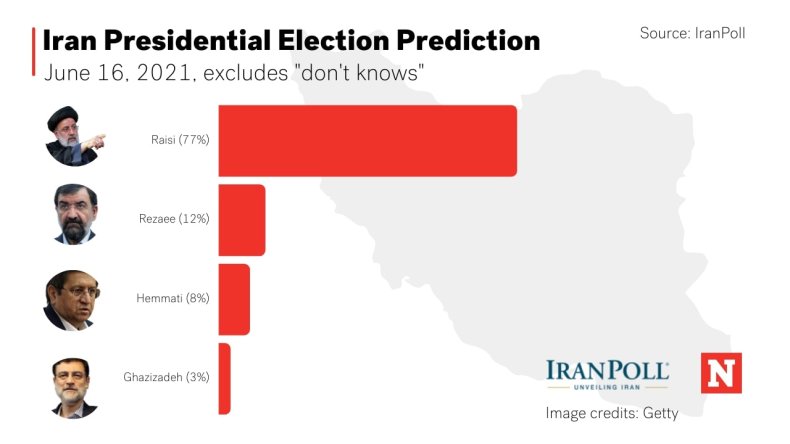 Raisi, 60, bears the title of hojjat al-Islam—one rung below ayatollah on the hierarchy of Twelver Shiite Muslim clerics. He has vowed to root out both corruption and poverty in a campaign that has appealed to scores of disaffected Iranians suffering as a result of both national and international decisions.
At the same time, his rise has worried moderates, reformists and exiled opposition activists, who view him as a representative of an increasingly powerful hard-liner wave running through Iranian politics.
Although Raisi ran unsuccessfully against Rouhani in 2017, his victory this time around appears almost pre-ordained due to the level of support he's enjoyed from the country's elite Revolutionary Guard, an institution that has expanded its influence over Iranian society in recent years.
Fars News Agency, a semi-official outlet with ties to the Guard, predicted Raisi's win last month, shortly after announcing his qualification to run, along with only six others cleared by the 12-member Guardian Council out of a pool of nearly 600 applicants. The news agency foresaw him prevailing with 72.5% at a time when he faced more candidates.
The outlet also included a 53% turnout in its forecast, the exact number that IranPoll earlier found would "definitely" vote as part of a survey released in March. An additional 22% will "probably" vote, while another 15% will "definitely" not vote and 9% will "probably" vote, according to that poll.
As for the beleaguered nuclear agreement, officially known as the Joint Comprehensive Plan of Action (JCPOA), many analysts believe Raisi will continue to seek a U.S. reentry into the pact currently being discussed in the Austrian capital of Vienna. The Iranian delegation is currently involved in indirect talks with the U.S. via other parties to the deal, which include China, the European Union, France, Germany, Russia and the United Kingdom.
The talks are geared toward getting the U.S. back into the deal and returning Iran to initial levels of compliance that have been suspended in response to non-compliance from Washington and other Western parties fearing U.S. sanctions.
Shahrokh Nazemi, head of the media office at the Iranian permanent mission to the United Nations, recently told Newsweek that "the result of the presidential election in Iran has nothing to do with the ongoing talks in Vienna."
"There is a widespread consensus across the Iranian system on our approach towards JCPOA," Nazemi said at the time. "As we have said on numerous occasions, as soon as the US lifts its sanctions in accordance with its JCPOA obligations, and that is fully verified, Iran will immediately return to its JCPOA obligations."
Other experts who spoke with Newsweek have also echoed the idea of the JCPOA being part of a "consensus" established within Iran's policymaking circles with Khamenei's blessing. Raisi has expressed skepticism toward the JCPOA in the past, even before Trump's unilateral exit, but he has since reaffirmed his support for the deal as one greenlit by the Supreme Leader.
"In the event of a Raisi victory in Iran's election, JCPOA reentry should not be greatly affected on the Iranian side, because there is already a consensus and support from the highest levels of the Iranian state, including Supreme Leader Ayatollah Khamenei," Assal Rad, senior research fellow at the Washington-based National Iranian American Council, told Newsweek. "Raisi himself has signaled his support for the deal as well."
In order to implement the agreement, Raisi said during a debate last Saturday that "a powerful government" was required, a slight to both Rouhani and Hemmati, the only centrist now left in the race.
Hemmati has sought to increase his standing among moderates and reformists by reportedly welcoming Iranian Foreign Minister Mohammad Javad Zarif as his own top diplomat, but has struggled to garner unanimous support among this increasingly apathetic bloc.
While the JCPOA itself may remain a priority, Rad signaled potential shifts in other areas that might ultimately affect Iran's relationships with the region and beyond. Controversy over Raisi's alleged involvement in human rights violations such as a 1988 massacre of political prisoners, for which he is subject to U.S. sanctions, "may complicate diplomatic efforts wherein the JCPOA becomes the only diplomatic success with the West, rather than a foundation to expand on," Rad said.
"Overall Raisi has been focused on domestic issues," she added, "but on foreign policy we can expect him to have a more hardline approach and tougher rhetoric."
Rad also notes it's a matter of whom Raisi selects to join his cabinet, especially as top diplomat, with Zarif having been an institution in Iran's renewed efforts to build international ties under Rouhani. Here too, Raisi sought to expand on his soon-to-be predecessor's efforts.
"Raisi has signaled support for engagement with all countries and especially neighbors in the region," she said. "which would indicate a continuation of recent efforts toward rapprochement with Saudi Arabia."
In the foreign policy realm, initiatives begun under Rouhani may actually receive a boost under Raisi. Rouhani's latter days in office saw a widening public rift between his administration and Khamenei, a divide that Javad Heirannia, director of the Persian Gulf Studies at the Center for Scientific Research and Middle East Strategic Studies in Tehran, said would come in contrast to Raisi's positive relationship with the Supreme Leader.
"It should be noted that, given that Ebrahim Raisi is aligned with the Iranian leader and the hard core of power, he will have a more open hand in advancing foreign policy," Heirannia told Newsweek. "Meanwhile, the hard core of power in Iran did its best to prevent the foreign policy of Hassan Rouhani's government from succeeding."
"Even when a nuclear deal was reached, Iran was isolated in practice by missiles tests and attacks on the Saudi embassy by extremists," he added. "Trump's withdrawal of the JCPOA and re-imposition of sanctions also strengthened the extremists and conservatives in Iran."
Heirannia ties both of these events to Iran's isolation in the region, but especially the former. The burning down of Riyadh's embassy in Tehran in early 2016 came in response to Saudi Arabia's execution of an influential Shiite Muslim cleric charged with inciting violence, and resulted in the severance of ties between the two Islamic titans.
"The attack on the Saudi embassy was carried out with the aim of completely closing Hassan Rouhani's hand in foreign relations," Heirannia said. "Iran could not have been isolated even in the face of sanctions by maintaining ties with its neighbors, or at least by not escalating tensions with neighbors such as Saudi Arabia and the United Arab Emirates. Saudi Arabia plays a pivotal role in the Islamic world and the Arab world. Therefore, it has the power to influence Islamic and Arab countries. These conditions led to a weakening of Iran's economic situation."
Should Raisi prevail on Friday, improving the economy would be a top priority, one perhaps made easier by the recent 25-year strategic cooperation agreement signed with China, which has promised vast investment in infrastructure and trade badly needed by Iran. The country's conservative poor have become a key support base for the leading cleric as middle-class reformists have grown disillusioned with both Rouhani and his opponents.
But there's another possible motivation, one that suggests Raisi is headed for even higher office than the one he aspires to on Friday.
"According to the announcement of some presidential candidates, such as Mohsen Mehralizadeh, Ebrahim Raisi is also considered as the successor of the current leader of Iran," Heirannia said. "Therefore, he must try to improve the economic situation in order to gain the people's popularity."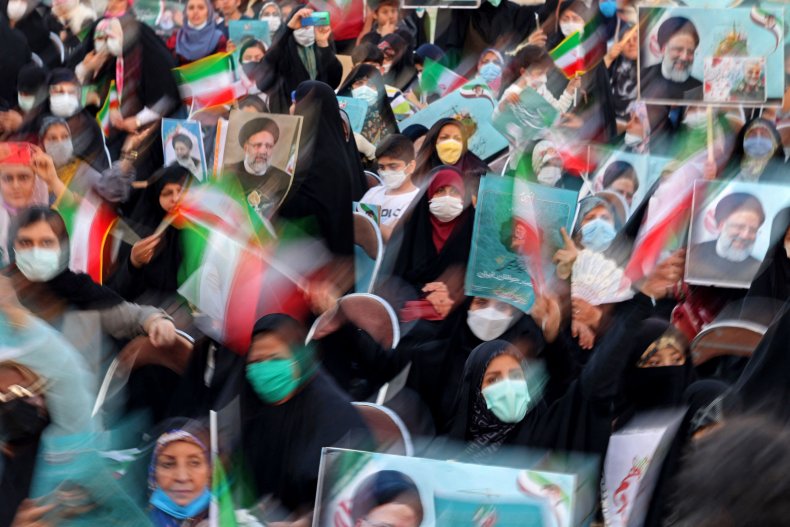 Abroad, regional stakeholders have so far adopted a mainly wait-and-see approach toward the Iranian contest.
"I'm certainly not in the position to determine or state from here..the legitimacy of Iran's elections, and we certainly won't get ahead of that this Friday," State Department spokesperson Jalina Porter told reporters Tuesday. "That's something for the Iranian people to decide for themselves."
She did emphasize, however, that JCPOA talks continue to advance in their sixth round despite lingering differences in vision between Washington and Tehran over how to revitalize the deal.
"I'll continue to underscore that meaningful process continues to be made on the language necessary to address nuclear and sanctions-related issues," Porter said. "But of course, outstanding issues remain on both of them, as well. These meetings, of course, have been productive, but they're ongoing."
Contacted by Newsweek, a State Department spokesperson said the U.S. was "closely following the Iranian Election process."
"Our Iran policy is designed to advance U.S. interests, regardless of who is in power," the spokesperson said. "We continue to negotiate along with our allies and partners on the Joint Comprehensive Plan of Action."
In Israel, countering Iran was a core tenet of Netanyahu's administration, which engaged its archfoe in a regionwide contest of operations, some attributed and others subject to the same strategic ambiguity surrounding Israel's own nuclear program. (edited)His successor, Prime Minister Naftali Bennet, has vowed to continue the policy of ensuring Iran did not obtain nuclear weapons, which Iran has officially denied seeking, and has pledged to "preserve full freedom of action" against the country regardless of whether or not Israel's top ally, the U.S., returned to the JCPOA.
Saudi Arabia, for its part, has remained mostly silent on Iran's election, which comes as Riyadh considers rebuilding bridges with Tehran for the first time in five years. The Kingdom, however, appeared to be the subject of a recent thinly veiled insult by Khamenei as foreign outlets critical of the Islamic Republic and with alleged Saudi backing lambasted the election as a farce.
"It is interesting that there are some countries in which the state is run by a tribe in the 21st century, and they have never experienced elections at all," Khamenei said in remarks delivered Wednesday. "The people in those countries could not even tell a ballot box from a fruit, but those countries start a 24-hour television station to say that Iran's elections are not democratic."
Amid concerns that the election could prove a slide toward theocracy, Khamenei defended the vote as a demonstration of the country's hybrid democratic framework.
"In the Islamic Republic, 'Republic' is one part and 'Islamic' is another," Khamenei explained. "If the Republic aspect does not exist, the Islamic Republic will not achieve its goal."
Echoing the arguments of reformers, however, Rad warned that "the disqualification process this time around was so egregious it undermines the 'republican' aspect of the Islamic Republic." This she attributed not only to internal deliberations but to external forces as well, especially those associated with the U.S. "maximum pressure" approach taken by Trump and still pursued in effect by Biden, as sanctions remain in place until an understanding is finalized on the JCPOA.
"Internal power struggles and politics, as well as corruption, cannot be discounted," Rad said, "but these forces in tandem with external forces and U.S. max pressure have brought us to the current situation."
On the eve of elections Thursday, the Iranian Foreign Ministry's messaging was very much in line with that of Khamenei, reiterating the lasting transformative power of elections in the Islamic Republic, which were said to be held not only within the country itself but in every country in which Tehran had diplomatic missions, as well as in Washington and a number of U.S. states.
"Our people across the globe once again exercise their right to shape the future course of their country by electing their next president," spokesperson Saeed Khatibzadeh said. "For 42 years, the people's vote has safeguarded our republic. Our people are our power."
The IranPoll results are based on the responses given by the 'likely voters' to this question: "Who will you be voting for in the upcoming presidential election?" These are from a telephone survey conducted by IranPoll, an independent Toronto-based polling organization, among a nationally representative probability sample of 1000 Iranians over the age of 18 on Wednesday, June 16, 2021. The sampling margin of error was +/- 3.09%. The results exclude the undecided, the don't knows and the refusals, which amount to a total of 7% of the respondents. Sampling and methodology details are available here: www.IranPoll.com/2021election