U.S. Pressures China and Iran, They Move Closer to Their Own Deal
The United States is using economic, political and military pressure in an attempt to force China and Iran toward different policy paths. But the two nations are on the verge of signing a deal that would unite their interests in all three fields for at least the next quarter of a century.
China's top diplomat, Foreign Minister Wang Yi, arrived in Tehran on Friday for the third stop on an expansive Middle East tour that so far has included Saudi Arabia and Turkey. He was also set to visit the United Arab Emirates, Bahrain and Oman.
Wang's stay in Iran has garnered special attention, as the country's state-run and semi-official media outlets have raised speculation that he would sign a 25-year strategic cooperation agreement estimated to be worth some $500 billion. The initiative was approved by Iran's parliament last summer, and Wang's visit signals the most likely opportunity yet for Beijing and Tehran to finalize and sign the pact.
The encounter, which constitutes the highest-level Chinese visit to Tehran since Chinese President Xi Jinping's 2016 trip, comes as both governments are experiencing major tensions with Washington.
Last week's U.S.-China talks, the first since President Joe Biden took office, indicated a tough road ahead for the two top nations as they grapple over geopolitics. The new U.S. leadership has so far continued the intensive unilateral sanctions on Iran put in place during the previous administration.
The Biden administration has taken the position that the Islamic Republic must first reinstate caps on nuclear enrichment before the White House would reenter the 2015 nuclear agreement, officially known as the Joint Comprehensive Plan of Action (JCPOA), which was abandoned by former President Donald Trump in 2018.
Intensive sanctions and shifting international influences have led Iranian officials to a new realization, one expert told Newsweek.
"Although the U.S. withdrawal from the JCPOA, and in particular Trump administration's campaign of maximum pressure are among the main reasons which pushed Iran into the arms of China, it seems that Iranian policymakers have come to realize that the global balance of power is changing," Zakiyeh Yazdanshenas, who holds a doctorate in regional studies and is a fellow at the Tehran-based Center for Scientific Research and Middle East Strategic Studies, said.
"Iran is going to grab the opportunity of great power competition in order to advance its national interests as much as it can," she added.
This could present a challenge to Washington's tough approach.
"Undoubtedly, the strategic partnership between the only regional power in the Middle East, which is not an ally of the United States and the most important rival of the United States at the global international system, can jeopardize U.S. interests in the Middle East, and particularly in the Persian Gulf," Yazdanshenas said.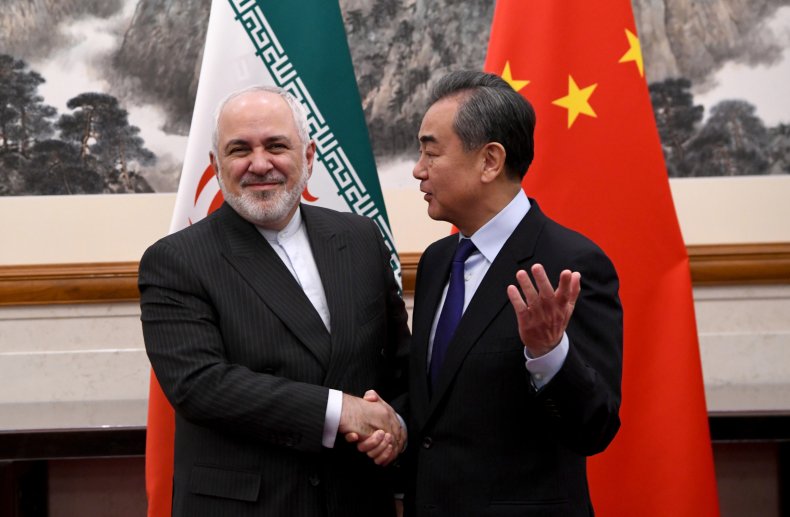 The motives behind growing cooperation between the People's Republic and Islamic Republic are numerous and complex, and many go beyond simply countering the U.S. The two countries have mutual interests in a number of fields.
"In the commercial sphere, this agreement, if implemented, will create a golden opportunity for Iran," Saheb Sadeghi, also a fellow at the Center for Scientific Research and Middle East Strategic Studies, told Newsweek. "According to some estimates, Iran needs to invest at least $200 billion in oil infrastructures. After decades of minimal presence of Western companies in Iran's oil sector, Iran can find a strong partner."
As for China, he said, the agreement is "very attractive," as it will help the rapidly growing power "reach the market of 80 million people in Iran as the second market in the Middle East and also to use cheap labor."
He added a footnote of importance.
"China will never give up this market," Sadeghi said.
The implications of their dealings, however, have an inevitable political impact, and send a message as well.
William Figueroa, who holds a doctorate in history from the University of Pennsylvania and specializes in historical and contemporary Sino-Iranian relations, said that Beijing's aims in signing the agreement are both practical and political.
"From the perspective of China," he told Newsweek, the benefits include "a stake in a major source of oil (although it remains a tiny fraction of China's overall), a foreign market for Chinese goods (yet very small overall), and both real and symbolic progress towards the realization of the Belt and Road Project and the expansion of China's global reach."
"In general," he said, "Iran is more of a piece of China's larger strategy than it is strategically critical."
The intercontinental Belt and Road Initiative, a long-term project championed by Xi, stretches across the globe in the form of infrastructure and investment hubs where Chinese companies have injected capital. It's the kind of partnership Iran seeks, given the damage done to its trade ties as a result of tight U.S. sanctions.
"From the perspective of some Iranian officials," Figueroa said, the deal "provides several benefits: a stable partnership with China means a stable market for oil (officially or unofficially) at a time when U.S. sanctions have seriously hurt their revenues."
Additionally, he argued that "it also projects an image of strength and represents an attempt to break out of the diplomatic isolation imposed by the United States. Solving both of these problems are important goals for the Iranian state."
Echoing this point, Jacopo Scita, a doctoral fellow at Durham University's School of Government and International Affairs, told Newsweek that the deal, if signed, "gives Iran a breath of fresh political air, and allows Tehran to flex its muscles against U.S. pressure."
Since China shares Iran's desire to exhibit the robustness of its international networks given the downturn in ties with the U.S., Scita said that "a certain understanding between the two countries exists on the unfairness of the U.S. hegemony, which often provides for the rhetoric at the base of their public discourse."
But he noted that uncertainties lie ahead in a turbulent international environment.
"It is quite hard to predict how successful it will be to effectively reduce Iran's isolation," he said, "especially given how much the history of Sino-Iranian relations has been affected by the fluctuations in the relationship between Washington and Beijing."
The Biden administration's debut dialogue with Beijing turned tense last Friday as Washington's delegation dug in on sensitive issues including alleged human rights abuses in Hong Kong, Tibet and Xinjiang. China denies any wrongdoing and considers these domestic affairs, asserting the U.S. has no right to weigh in on them, and especially not to issue punitive sanctions.
Biden attempted to de-escalate the tone of the conversation during his first press conference Thursday, emphasizing that, although he foresaw "steep competition" with Beijing, he was not seeking "confrontation." He vowed, however, to "hold China accountable" on a number of fronts, including on trade, where the U.S. has sought to dissuade countries from investing in the Belt and Road Initiative.
The China-Iran strategic agreement includes specific points on joint highway, railway and maritime initiatives in line with the campaign, according to a supposed 18-page draft leaked last summer to Iranian media and seen by Newsweek.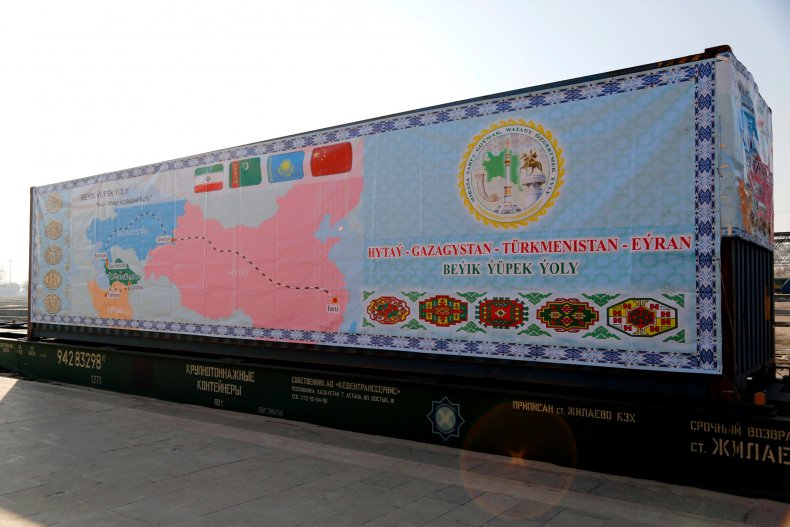 The contents of this "final edition," which Iranian officials denied reflected any concrete commitments until signed, reflected an expanded version of a joint statement issued by both countries five years ago following talks between Xi and Iranian President Hassan Rouhani in Tehran. Trade and infrastructure were areas of emphasis.
Scita called these elements "the most obvious fields in which China and Iran could mutually benefit from deeper cooperation."
"Tehran has to offer Beijing a major flow of oil sold at a favorable price, but also a huge domestic market that is potentially very receptive when it comes to infrastructure development, high tech, and investments," he said. "To put it simply, it's a quite straightforward supply-and-demand logic."
The agreement also calls for increased engagement on issues of defense. However, such interactions would be carefully calculated as not to upset the regional balance of power, Scita explained.
"The documents leaked in July 2020 call for the establishment of a joint commission for military industries, design, and production of armaments, as well as cooperation in the field of counterterrorism, and an increase in joint military drills," Scita said. "If confirmed in the final agreement, this represents a 'controlled escalation' in the military cooperation between the two countries—something that gives Iran a bit more political and practical space to maneuver without compromising China's risk-averse approach to Persian Gulf security."
Yazdanshenas brought up another factor—weapons sales. The Trump administration unsuccessfully pushed to extend a decade-long United Nations arms embargo on Iran that expired as a result of the nuclear deal.
The People's Liberation Army and the Islamic Republic of Iran Armed Forces have trained together in the past, mostly in exercises overseen by a shared strategic partner, Russia. In late 2019, the trio advanced their military collaboration by holding their first joint naval drills in the Indian Ocean, and a second set of maritime maneuvers was announced last month.
Naval power is a hot-button issue for the U.S.-China rivalry, and Sadeghi linked the two developments.
"China seeks to challenge the United States. As the U.S. military presence in the Pacific increases, China will take a more aggressive approach, especially in the Middle East," he said. "It is desirable for China to use Iran's vast capabilities in the Middle East to weaken the United States. China even looks to security and military cooperation with Iran to protect its trade interests in the Middle East."
But with Chinese and Iranian militaries already having boosted cooperation, Figueroa argued that the defense-oriented section of the China-Iran agreement "represents an attempt to bring Sino-Iranian relations back in line with the rest of the Middle East, rather than a significant expansion of Sino-Iranian relations beyond the norm for China's engagement with the region."
As evidenced by the breadth of Wang's ongoing Middle East trip, China has sought to balance its ties with regional players, including Saudi Arabia, a rival of Iran. The Chinese effort to expand its presence here falls in line with the country's broader foreign policy vision, as the Persian Gulf remains a volatile venue.
Beijing views itself as a stabilizing factor.
"With the spread of the epidemic, ongoing instabilities and recurring hotspots in the Middle East," Chinese Foreign Ministry spokesperson Hua Chunying said Wednesday, "countries in this region hope to enhance anti-epidemic and development cooperation and deepen exchanges on state governance with China, and hope that China will play a bigger role in regional affairs."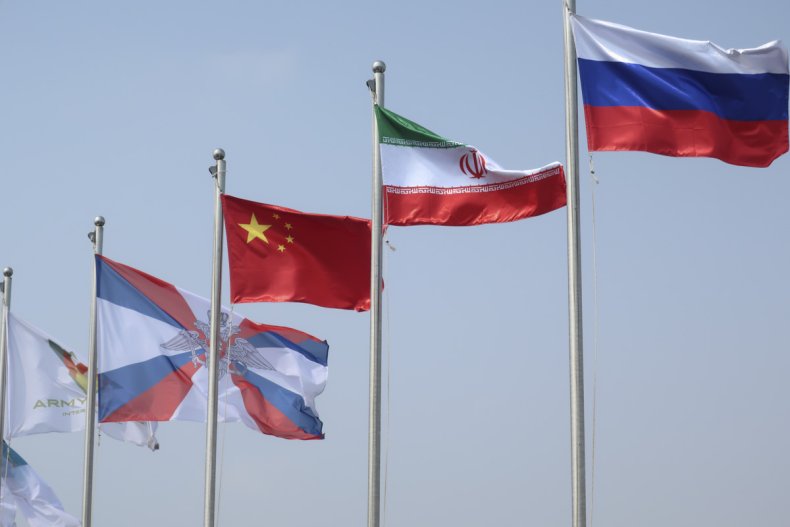 On Friday, she expanded on China's views of the Middle East, which she referred to as once being "a highland of brilliant civilizations in human history."
"Due to protracted conflicts and turmoil in the more recent history, the region descended into a security lowland," Hua said. "For the region to emerge from chaos and enjoy stability, it must break free from the shadows of big-power geopolitical rivalry, stay impervious to external pressure and interference, and explore development paths suited to its regional realities. It must build a security architecture that accommodates the legitimate concerns of all sides."
Much of the recent unrest in the region has occurred in the wake of the Trump administration's "maximum pressure" campaign, as U.S. sanctions restricted the sale of Iranian oil after Washington left the Iran deal. China is a party to the deal as well and, along with Russia, has encouraged other signatories to live up to their commitments.
The JCPOA also came up during the U.S.-China talks in Alaska. While much attention has been focused on the potential signing of the 25-year deal between China and Iran, the nuclear deal is likely to be a major topic of discussion in Tehran as well.
A day before Wang's visit to Iran, Chinese Vice Foreign Minister Ma Zhaoxu spoke via telephone with U.S. special representative for Iran Robert Malley.
"Ma Zhaoxu said that considering the new changes in the Iranian nuclear situation, all parties need to increase the sense of urgency," the Chinese Foreign Ministry said in a readout released Thursday. "The U.S. side should take concrete actions as soon as possible, and both the United States and Iran need to meet each other halfway for the latter's return to compliance at an early date. China will continue to play a constructive role in bringing the Joint Comprehensive Plan of Action back on track."
Hua expanded on these comments on Friday.
"The pressing task is for the U.S. to take substantive measures to lift its unilateral sanctions on Iran and long-arm jurisdiction on third parties," she said, "and for Iran to resume reciprocal compliance with its nuclear commitments, in an effort to achieve early harvest."