Top U.S. Foes Russia, China, Iran to Train, Trade Together as Biden Claims 'America is Back'
Russia, China and Iran will soon hold their second-ever joint naval exercises, while the Islamic Republic nears finalizing new long-term deals with Beijing and Moscow.
All this is unfolding in the nascent administration of Joe Biden, who has vowed to reclaim for the United States its preeminent role in world affairs.
The trilateral military drills were announced Monday by Moscow's ambassador to Tehran Levan Jagaryan during an RIA Novosti interview later shared by the Russian Foreign Ministry. Asked if Russia, China and Iran planned a sequel to their first joint maritime maneuvers in late 2019, Jagaryan said another round was planned for later this month.
"The next multilateral naval exercise will be held in the northern Indian Ocean in mid-February 2021," Jagaryan said. "In the course of them, it is planned, among other things, to work out cooperation in conducting search and rescue operations and measures to ensure the safety of navigation."
The rare convergence of U.S. rivals comes as Biden proclaims that "America is back," indicating an apparent return to traditional foreign policy trends recalibrated under former President Donald Trump's "America First" policy.
However, just how far Biden will take this recalibration is not yet clear.
Although his administration has vowed to be tougher on Russia, it has left Trump's hardline policies toward China and Iran in place. The U.S. levied devastating sanctions against Iran when Trump decided unilaterally to leave the 2015 nuclear deal to which Beijing and Moscow were also parties, along with France, Germany and the United Kingdom.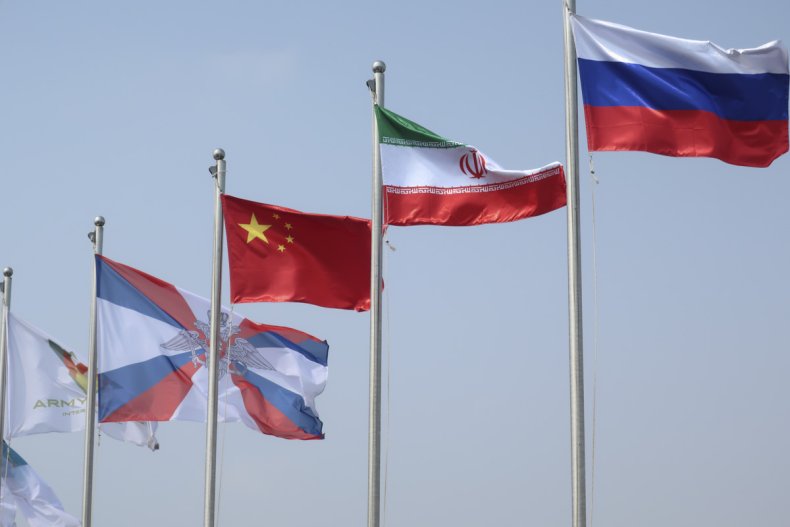 Jagaryan reiterated Russia's endorsement of the agreement and touted ongoing cooperation with Iran, including projects like the nuclear power plant in Bushehr. Their discussions reached beyond the borders of Iran, including joint efforts on Syria and in the arms trade field, an arena partially opened to the Islamic Republic for the first time in a decade due to the expiration of an arms embargo last October.
"The modern history of Russian-Iranian military-technical cooperation is more than 50 years old," Jagaryan said. "Over the years, in this sensitive area, stable contacts have developed between our countries aimed at mutually beneficial cooperation with the obligatory consideration of the interests of both parties."
The Russian diplomat said he expected a two-decade deal charting out bilateral relations between Moscow and Tehran to be automatically renewed for five years, and left the door open for a potential new agreement to be reached.
Another possible long-term agreement in the works was hinted at a day earlier by Iranian Foreign Minister Mohammad Javad Zarif. Speaking to the semi-official Islamic of Republic Iran Broadcast network, he said the finalization of a 25-year economic cooperation plan with China was "not far away."
"Our strategic view on the region must be inclusive, not based on omission," Zarif said. "Iran is indispensable to the region. Nobody can omit Iran from the regional equations."
Beijing and Tehran recently marked the 50th anniversary of their relations, an event that Iranian ambassador to China Mohammad Keshavarzzadeh said Friday would be "accompanied by good news in the relations between the two countries."
Iran continues to suffer from intensive economic restrictions imposed by the U.S., which, under Biden, has declined to reenter the nuclear deal, officially known as the Joint Comprehensive Plant of Action (JCPOA), unless Iran reintroduced limits on enriching uranium. Iran suspended those caps in retaliation to the sanctions and the subsequent failure of European parties to normalize their trade ties.
But China and Russia have remained staunchly in support of the JCPOA, and have urged the U.S. to return to compliance. Iranian supreme leader Ali Khamenei thanked the two nations for their stance in a message conveyed Monday by Iranian Parliament Speaker Mohammad Bagher Ghalibaf.
The top Iranian authority laid out the country's stance toward the nuclear deal during a gathering Sunday.
"If they want Iran to return to its JCPOA commitments, the U.S. should remove all sanctions in action," Khamenei said. "After they have done this, we will check if the sanctions have truly been removed. Once this is done, we will resume our JCPOA commitments."
During a press conference Monday, State Department spokesperson Ned Price acknowledged that the U.S. was the first to fall out of the deal, but he maintained the Biden administration's position that Iran would have to make the first move to return.
Price said it was "a starting point that Iran resume that full compliance with the nuclear deal Iran resumes that full compliance."
"That's why it's been the predicate of our diplomatic path that we have put forward," Price said. "Iran resumes that full compliance, the United States will do the same. We'll then undertake diplomacy to lengthen, strengthen the provisions and to use it, again, as not the ceiling but the floor for follow-on agreements to take on other elements of Iran's malign activity."