Iran Could Pay 'Significantly More' Compensation for Downed Plane Than U.S. Did For Destroying Jet in 1988, Expert Says
Forced to admit responsibility for downing Ukraine International Airlines flight 752 last week, Iran is now facing demands for compensation from the families of those killed and the governments representing them.
The Boeing 737-800 was shot down by an Iranian anti-aircraft battery shortly after taking off from Imam Khomeini airport in Tehran. Hours before, Iran had launched ballistic missiles against American troops in Iraq. Iranian anti-aircraft operators were on high alert, and misidentified the departing Ukrainian aircraft as an enemy military plane.
Iran initially reported that the plane went down due to technical failure. As first reported by Newsweek, U.S. and Canadian intelligence briefings forced the Iranian regime to admit that its troops were at fault. All 176 people aboard were killed, including 82 Iranians and 57 Canadians. Other victims were from Ukraine, Sweden, Afghanistan and the U.K.
Canada, Ukraine and the U.S. have all demanded that Iran compensate the families of those killed in the disaster. Investigations into the incident have begun, and the subsequent legal process looks set to be a lengthy one.
There are only a handful of similar incidents in modern history. While the situation is similar to the shooting down of Malaysia Airlines Flight 17 by Russian-backed separatists over Ukraine in 2014, Russia nor its separatist Ukrainian allies have ever admitted fault.
One of the most salient examples of such a situation is from 1988, when the American USS Vincennes guided missile destroyer shot down an Iranian airliner over the Perisan Gulf, killing all 290 people aboard.
In that case, the American sailors—on high alert following multiple clashes with Iranian forces—misidentified Iran Air Flight 655 as an enemy aircraft and shot it down.
Though the U.S. never admitted liability or formally apologized for the incident, the government agreed to pay Iran a $131.8 million settlement—around $216 million in 2020 accounting for inflation—to end a case brought by Tehran in 1989. Of this, $61.8 million was compensation to the families of the Iranian victims.
Steve Marks, a Miami-based aviation attorney and Partner at Podhurst Orseck, has been involved in more than 30 lawsuits on behalf of victims of Boeing 737 Max-8 crashes. He told Newsweek that it is premature to predict how much compensation Iran will have to pay related to the tragedy.
Marks noted that the 1988 incident does not set a precedent "as every situation is unique." Still, he added, "For a variety of reasons, I would expect significantly more compensation to be paid in this case.
"In the event litigation can be maintained in the United States, of course, the compensation figures would be much more significant."
But any compensation will be largely determined by political bodies rather than through traditional litigation, Marks said.
"It is likely that the countries that lost their citizens in this accident—perhaps several of them—will bring claims in the International Court of Justice," Marks said.
Indeed, it was through the International Court of Justice that the U.S. agreed to pay Iran following the 1988 incident.
"The fact that multiple countries are implicated in this case complicates matters because it could result in unfair or disparate treatment for passengers' families," Marks said. "The best way forward would be for the countries whose interests are implicated in the tragedy to speak with one voice to seek justice."
How forthcoming the Iranian authorities will be remains to be seen. The head of the country's judiciary, Ebrahim Raisi, said Monday: "People should be assured that all the material and moral rights of the deceased and their families will be fully fulfilled and the establishment is resolute with regard to this issue." However, Marks said it is difficult to predict what Iran may do.
Many of those killed in the incident were Canadian citizens, and Prime Minister Justin Trudeau has taken center stage in international reaction.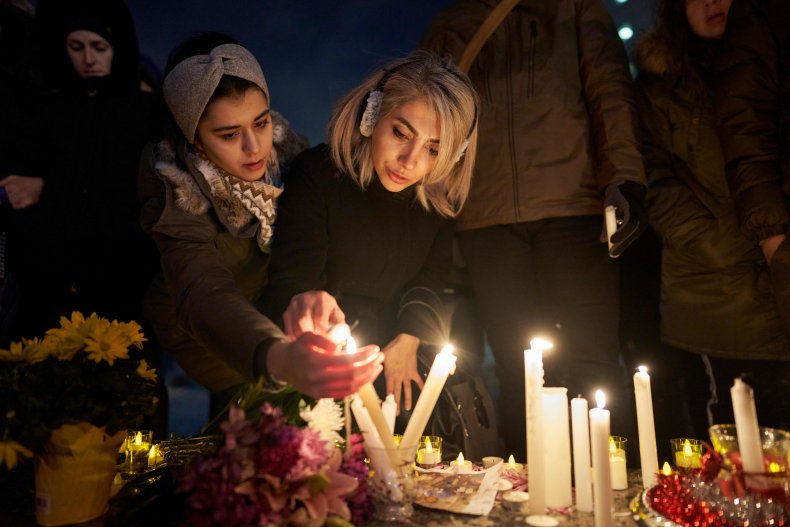 Joe Fiorante, a partner at the Canadian Camp, Fiorante, Matthews and Mogerman law firm, told Newsweek he agreed that it is yet not possible to estimate how much compensation Iran will be required to pay.
"The assessment of damages is highly individualistic and involves assessments of lost financial support which in turn requires an assessment of what the decedent would have earned," he explained.
Canadians affected by the incident can claim against Iran either through the Canadian government on a "state to state" basis, or through a claim of civil damages in a Canadian court. The latter option, Fiorante said, is fraught with difficulty.
"Past attempts to sue the state of Iran in the courts of Canada have been dismissed on the basis of state immunity," he said. Iran has also simply not responded to past cases brought this way.
But state immunity does not apply for acts of terrorism and offences against the Convention for the Suppression of Unlawful Activity against Civil Aircraft. Fiorante noted, "This is a highly complex legal issue which involves issues of criminal law, sovereign immunity, and other international conventions."
Fiorante said those affected could also claim against the carrier. If the missile strike is considered an accident—which he said is likely under the 1999 Montreal Convention, to which Canada and Ukraine are signatories but Iran is not—then the carrier could be held liable by a Canadian court.
Those on one-way tickets to Canada or round trip tickets from Canada, via Kiev to Tehran and back will fall under Canadian jurisdiction and thus the Montreal Convention, Fiorante explained.
The agreement dictates that, in the event of an accident, a carrier is liable to pay compensation for provable damages up to an initial threshold of around $177,535. Above that, the carrier must prove it was not caused by negligence.
"The question of whether the carrier was negligent for taking off in the circumstances—or other reasons—would come into play," Fiorante said.
This would be "quite complicated" and "almost certainly require a thorough investigation involving experts in aviation accident investigation, air safety, and risk assessment," he explained.
Fiorante's firm was involved in a similar situation on behalf of a Canadian family regarding Malaysian Airlines Flight 17.
"Claims were brought against the carrier on the basis that the shoot-down was an accident and that the carrier was negligent for routing the flight over an active combat zone where there was a known history of surface to air missiles being used," he explained. That case, filed in Canada, was eventually settled for a confidential amount.