Iran Cheers on Palestinian Fight with Israel and Suggests Vote to End Conflict
Iran's top authority issued words of support to the Palestinian fighters engaged in a severe escalation with Israel, and its top diplomat laid out a plan to resolve the decades-long conflict between the two peoples once and for all.
Iranian Supreme Leader Ayatollah Ali Khamenei railed against Israel's "malicious behavior" after the country's security forces stormed the sacred Al-Aqsa Mosque in Jerusalem on Friday, interrupting worshippers at a time of already heightened tensions stemming from attempts by Israelis to expel Palestinians from the Sheikh Jarrah neighborhood.
Temperatures have since boiled over, with groups such as Hamas and Palestinian Islamic Jihad firing rockets against Israel and the Israel Defense Forces conducting airstrikes on the Gaza Strip in some of the worst violence between the two sides in years.
Khamenei said the time had come.
"Palestinians are awake and determined," Iran's top authority said via social media. "They must continue this path. One can only talk with the language of power with these criminals. They must increase their strength, stand strong, confront the enemy, and force them to stop their crimes."
Iranian Foreign Minister Mohammad Javad Zarif also addressed the conflict on Tuesday, and he too attributed blame to Israel's actions.
In a roughly two-minute Arabic-language posted to Twitter on Tuesday, Zarif referred to Israel's recent storming of the revered Al-Aqsa Mosque in the disputed city of Jerusalem as "the largest evidence of the racist, criminal nature of the usurping entity that was always the primary cause of insecurity and instability in this region."
Like Khamenei, he argued the Palestinian struggle for statehood should unite all Muslims and free peoples across the globe.
But as the situation worsened on the ground, with a dispute over housing rights having devolved into Palestinian rocket attacks from the Gaza Strip and Israeli airstrikes, Zarif offered a more democratic solution.
"It must be said that there is only one fair solution to the issue of Palestine," Zarif said, "and we have expressed it at the United Nations and at the Organization of Islamic Cooperation, and this is to refer it to a popular referendum that will set its future and destiny."
The idea was first put forth by Khamenei himself around seven years ago. Israelis and Palestinians have made little diplomatic headway since then, however, while Iran has continued to weigh in on behalf of Palestinians, and to provide weapons technology to groups such as Hamas.
"The Islamic Republic of Iran will always and forever remain on the side of the Palestinians," Zarif added.
Both Zarif and Iranian Parliamentary Speaker Mohammad Bagher Qalibaf have also phoned Hamas Political Burea Chair Ismail Haniyeh to expressed their support for its campaign.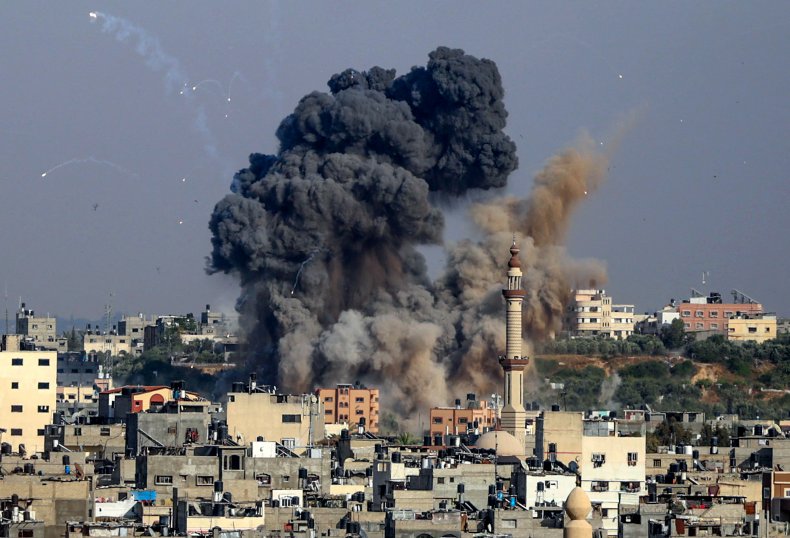 An Israel Defense Forces spokesperson told Newsweek that up to 630 rockets had been fired by Hamas and fellow Gaza-based Palestinian Islamic Jihad, including 480 fired toward Israeli territory and 150 that blew up within the Gaza Strip. Around 200 of the projectiles were intercepted by the Iron Dome air defense system, though at least two Israelis have been killed and several more injured.
Hamas has vowed to continue the wave of rockets in response to what it views as Israeli aggression against the Palestinian people.
"The reason for the demonstrations and the firing of the rockets is trying to deter the Israeli occupation and its settlers and extremist Knesset Members who insist on desecrating Al-Aqsa Mosque, which is the third holiest place for all Muslims around the world and the holiest site for us as the Palestinians," a Hamas spokesperson recently told Newsweek. "In addition, to deter the Israeli authorities who have been working along with the settlers' organizations to expel the Palestinian families in Sheikh Jarrah from their homes and replace them with settlers."
Israeli warplanes have conducted a comprehensive campaign of airstrikes, hitting an estimated more than 100 targets, including rocket launching pits, senior commanders and tunnels used to infiltrate under a fortified security fence surrounding the enclave of Gaza. One Israeli airstrike destroyed an apartment building in Gaza City, prompting Hamas to announce the firing of some 130 additional rockets toward the metropolitan city of Tel Aviv.
Iran has also threatened to strike Tel Aviv in the past should a wider conflict break out between the two archfoes. The two countries have been engaged in a shadowy conflict on the backdrop of mostly unclaimed attacks targeting one other's interests across the Middle East, including at sea.
Israel's ally, the United States, has repeatedly offered security assurances against what they both perceive to be a threat posed by Iran, its missile arsenal and its regional network of allied militias. At the same time, Washington and Tehran were engaged in indirect diplomacy alongside world powers in Vienna with the aim of coordinating a potential U.S reentry into a 2015 nuclear deal abandoned three years ago by former President Donald Trump.
Trump would go on to enforce a "maximum pressure" campaign including severe sanctions against Iran. The previous president also aligned a number of his policies closely with those of Israel, including recognizing Jerusalem as its capital in spite of Palestinian counterclaims to the sacred city viewed as disputed and partially occupied by Israel under international law.
Trump also oversaw Israel's normalization of ties with the United Arab Emirates, Bahrain, Sudan and Morocco in a set of deals known as the Abraham Accords. Prior to these countries, only Egypt and Jordan had struck peace with Israel, and both U.S. and Israeli officials hoped at the time that Saudi Arabia might also join next.
But Arab states, including the six with diplomatic ties with Israel, have taken a decisive stance against Israel's recent actions both in Jerusalem and against Gaza. And on Monday, Iran confirmed that it had engaged in quiet talks over the past few weeks with Saudi Arabia, which also hosted top officials from Turkey and Qatar on Monday despite strained ties with those two countries.
The Hamas spokesperson said that a de-escalation among Arab and other Middle East powers, especially Iran and Saudi Arabia, could prove a major gain for Palestinians.
"We hope the talks will succeed, and we expect that this would help stabilize Iran and the whole region," the Hamas spokesperson told Newsweek. "This for sure will help increasing solidarity with the Palestinians."
The State Department, for its part, had also reacted positively to the prospect last week of potential Iranian-Saudi rapprochement. Statements today from the State Department and White House focused on calling for calm and condemning the firing of missiles at cities as the Israeli-Palestinian row worsened,
This is a developing news story. More information will be added as it becomes available.