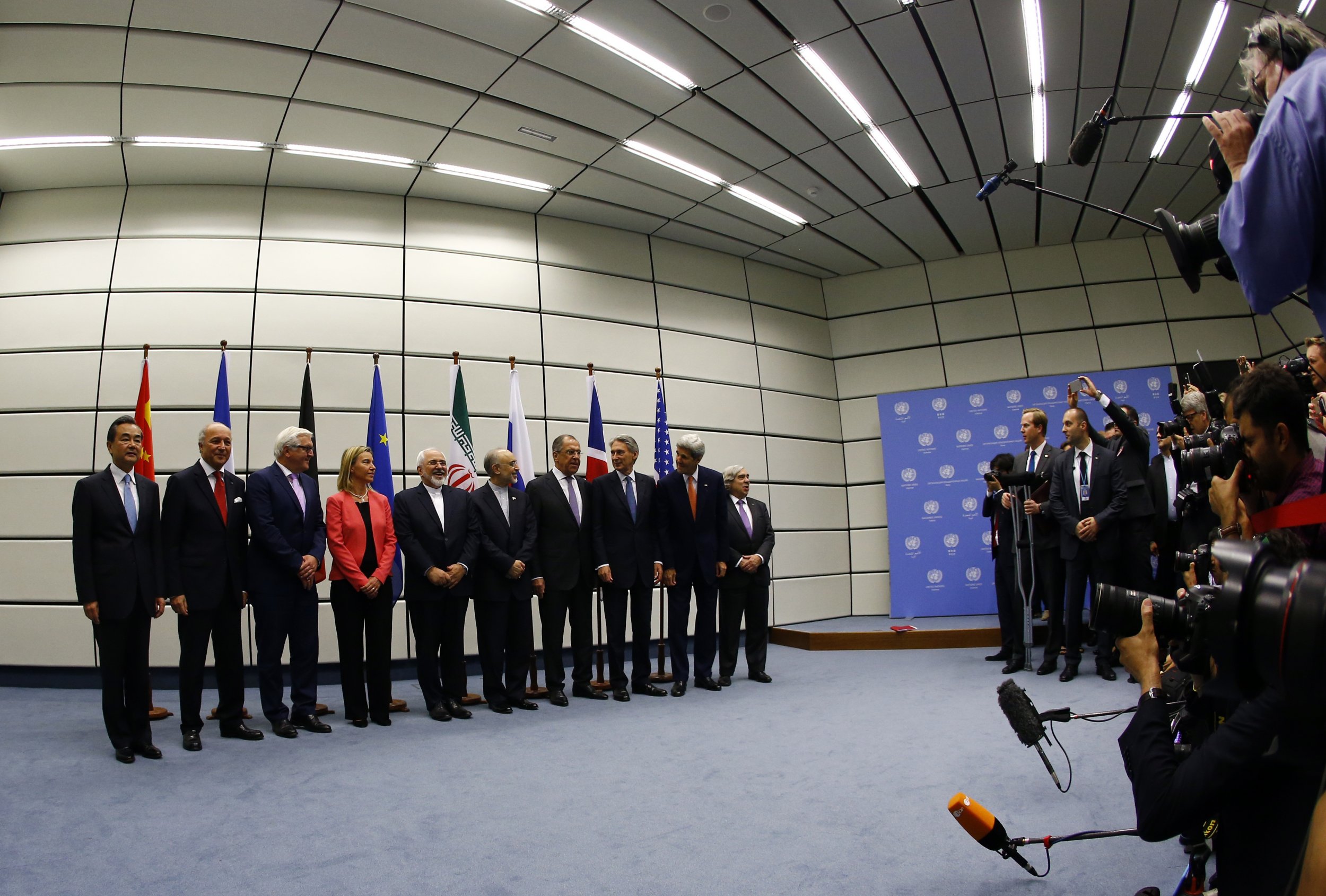 Updated | An agreement between Iran and world powers that would limit Iran's nuclear program in exchange for the lifting of harsh economic sanctions was finally reached by negotiators on Tuesday morning. The deal, years in the making, was "not built on trust" but "on verification," President Barack Obama said.
Critics of the negotiations, including many Republicans, slammed the agreement, and Israeli Prime Minister Benjamin Netanyahu tweeted that the deal was a "historic mistake."
While the United States has not yet published the full text of the deal, a document that appears to be the full text has been posted on the website of the Russian Ministry of Foreign Affairs. The agreement states that inspectors at the nuclear sites can come from only nations that have diplomatic relations with Iran, which means no Americans, the Guardian reports. Diplomats speaking with Reuters also said if Iran violates the deal, economic sanctions could be restored within 65 days, and a U.N. arms embargo will remain in place for five years, while missile sanctions will remain in place for eight years. Iran's nuclear production will be limited for 10 years, and access to nuclear fuel and equipment will be limited for 15 years, NBC News reports. Iran must show it has reached the limitations imposed on its nuclear program before the lifting of economic sanctions comes into effect.
According to the Guardian, Iran's stockpile of low-enriched uranium will be reduced by 98 percent by diluting it or shipping it out of the country, while its enrichment capacity will fall by two-thirds. The deal also includes limits on Iran's ability to produce large amounts of plutonium by removing and redesigning the core of the heavy water reactor in Arak.
In an early-morning address from the White House, President Obama said the deal "demonstrates that American diplomacy can bring about real and meaningful change," adding that the agreement has helped divert the risk of nuclear weapons spreading to more countries in the Middle East. The deal "meets every single one of the bottom lines" outlined in the framework created in the spring and means "every pathway to a nuclear weapon is cut off," said Obama.
Iran will not produce highly enriched uranium and weapons-grade plutonium, and it will remove two-thirds of its installed centrifuges, which will be placed under heavy supervision, said Obama. Iran is also permanently prohibited from pursuing a nuclear weapon, he said.
Without the deal, Obama warned, "Iran could produce, operate and test more centrifuges. Iran could fuel a reactor capable of producing plutonium for a bomb."
Congress will need to vote on the agreement and has 60 days to review the deal, CNBC News reports. Obama said Tuesday he would veto any move by Congress to block the advancement of the deal.
Many Republicans, including those running for the 2016 presidential nomination, oppose the deal, including former Arkansas Governor Mike Huckabee. On Tuesday, Huckabee tweeted, "Shame on the Obama admin for agreeing to a deal that empowers an evil Iranian regime to carry out its threat to 'wipe Israel off the map.'"
Iranian President Hassan Rouhani, who was due to address the Iranian people later on Tuesday, tweeted that the deal "shows constructive engagement works."
"With this unnecessary crisis resolved, new horizons emerge with a focus on shared challenges," his tweet said.
Speaking with reporters in Vienna, Iran Foreign Minister Javad Zarif called the agreement a "historic moment" and a "win-win solution."
"We are reaching an agreement that is not perfect for anybody, but it is what we could accomplish, and it is an important achievement for all of us," Zarif said. "Today could have been the end of hope on this issue, but now we are starting a new chapter of hope."
The Vienna-based International Atomic Energy Agency (IAEA) tweeted that it had signed, along with Iran, a "road-map for clarification of past & present outstanding issues regarding Iran's nuclear program."
The U.S., U.K., France, Germany, Russia and China have spent years locked in seemingly never-ending negotiations on a nuclear deal. Israel and Saudi Arabia were both staunchly opposed to a deal, arguing that allowing Iran any nuclear program would have disastrous consequences.
In a statement released shortly after the deal was agreed upon, IAEA Director General Yukiya Amano said it represents "a significant step forward towards clarifying outstanding issues regarding Iran's nuclear programme." The road map will allow IAEA to "make an assessment of issues relating to possible military dimensions to Iran's nuclear program by the end of 2015."
Ahead of deadlines for the talks last month, Iran's human rights record was heavily scrutinized in the State Department's annual human rights country reports. Despite the Iranian government practicing "cruel, inhuman or degrading treatment or punishment," Tom Malinowski, assistant secretary of state for democracy, human rights and labor, told a press briefing at the State Department on Thursday that the U.S. will "continue to speak up and speak out" against human rights violations in Iran and that human rights sanctions will remain in place if nuclear sanctions are lifted.