As Nuclear Deadline Looms, U.S. Slams Iran's Human Rights Record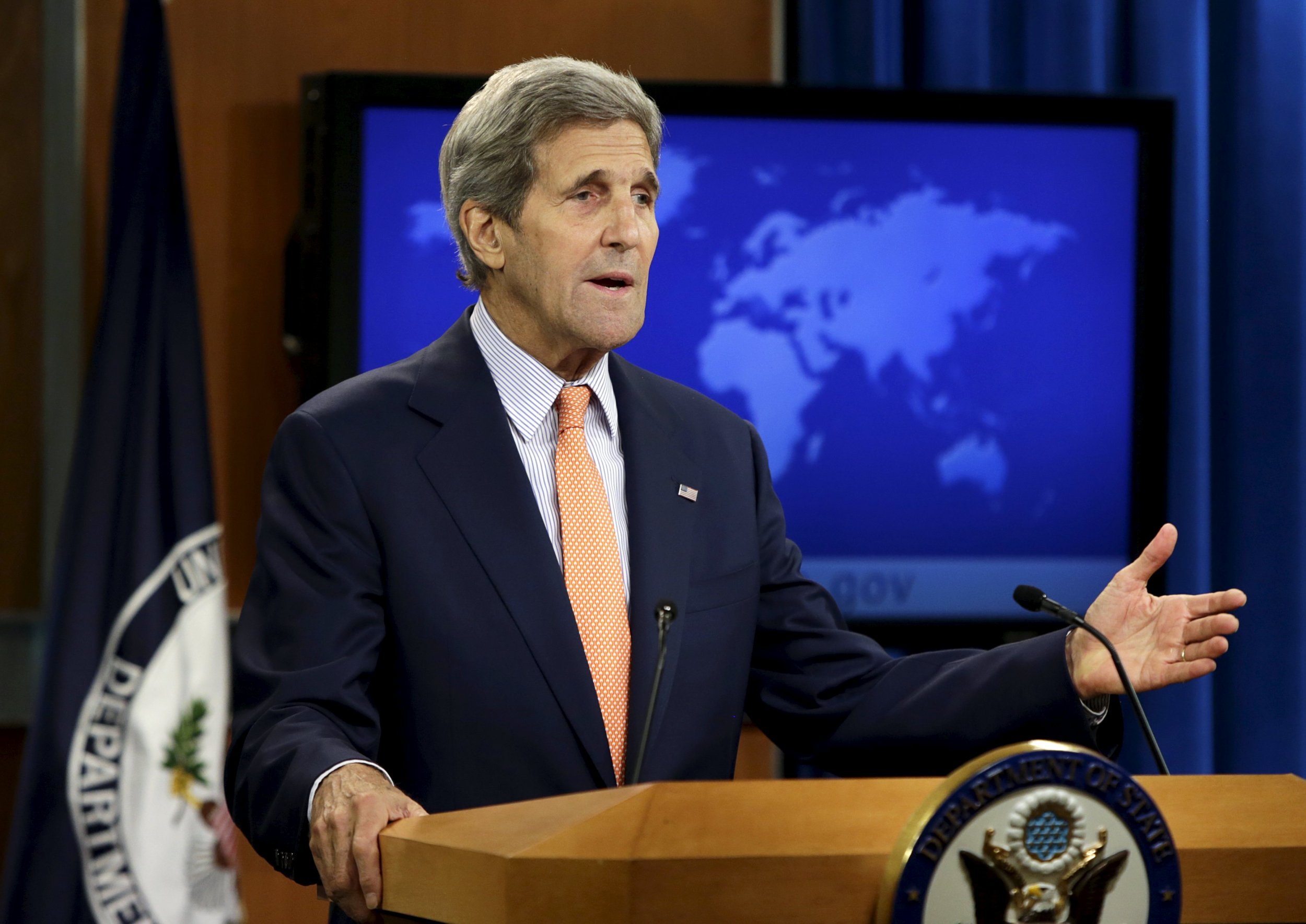 Days before the deadline for Washington's nuclear talks with Iran, the State Department issued a scathing review of Iran's human rights record in part of an annual report released on Thursday.
The Iranian government practices "cruel, inhuman, or degrading treatment or punishment," the report says. Those punishments include rape, amputations, flogging, holding prisoners in life-threatening conditions and restricting freedom of speech. Tehran, the report adds, also discriminates against women, children, ethnic and religious minorities as well as gays, lesbians, bisexuals and transgender people.
Human rights issues are not on the table as the deadline for the nuclear accord on June 30 approaches. But Tom Malinowski, assistant secretary of state for democracy, human rights and labor, told a press briefing at the State Department on Thursday that the U.S. will "continue to speak up and speak out against human rights in Iran and human rights sanctions will remain in plan if nuclear sanctions are lifted."
The report's release, originally intended for February, came as critics suggested it was been delayed to avoid embarrassing Iran during the negotiations. The State Department said it was delayed in part due to the travel schedule of Secretary of State John Kerry, as well as a bicycle accident he suffered in May. But some critics remained skeptical.
"Persons with a more suspicious (or perhaps more realistic) bent of mind have a different explanation: Iran," Elliot Abrams, a Middle East analyst and Council on Foreign Relations fellow, wrote in a blog post earlier this month. "That is, the Obama administration does not wish to make public an honest report on human rights abuses in Iran before the nuclear deal is done. The continuing delay makes that explanation more and more persuasive."
The report came as Ayatollah Ali Khamenei, Iran's supreme leader, declared most sanctions against Iran should be lifted before the country begins dismantling its nuclear program and ruled out freezing nuclear enrichment for as long as a decade. Iran's parliament also voted in favor of a bill banning international access to military sites, documents and scientists and demands the lifting of all sanctions. Kerry, however, told reporters on Thursday he remains "hopeful," that a deal can soon be finalized.
The State Department's report follows other scathing assessments of Iran's human rights record. Last year, the country executed 721 people, nearly three times the official number that Iran announced, according to the report. That means Iran executed more people than anywhere else in the world in 2014, according to Amnesty International.
Other human rights trends in Iran include torture, political imprisonment and government harassment of journalists and bloggers. While he isn't mentioned in the report, Malinowski talked about Jason Rezaian during a question-and-answer session with reporters. The Washington Post reporter has been held in Iran since July 22, 2014, and is currently on trial in Iran for espionage and other related charges. His family say he's innocent.
"Plainclothes officials often seized journalists and activists without warning, and government officials refused to acknowledge custody or provide information on them," the report said. "In other cases, authorities detained persons incommunicado for lengthy periods before permitting them to contact family members."
Across the globe, the report says 2014 was marked by increased violence by non-state actors like the Islamic State (ISIS) and Boko Haram. "Overall 2014 was a tough year for human rights and human rights activists," said Malinowski.
Restrictions on technology was another worrying trend, according to the report. Kerry cited Turkey's decision to block YouTube and Twitter, as well as China decision to block of Gmail, in 2014, in saying that access to information is critical to fighting corruption.
Despite many conflicts and human rights abuses in 2014, there were some positive signs. In Burkina Faso, many took to the streets to defend the country's constitution, while in Afghanistan and Indonesia, voters elected candidates who support democracy. While too late to include in the report, elections in Nigeria and Sri Lanka this year were also signs of progress, Kerry said.