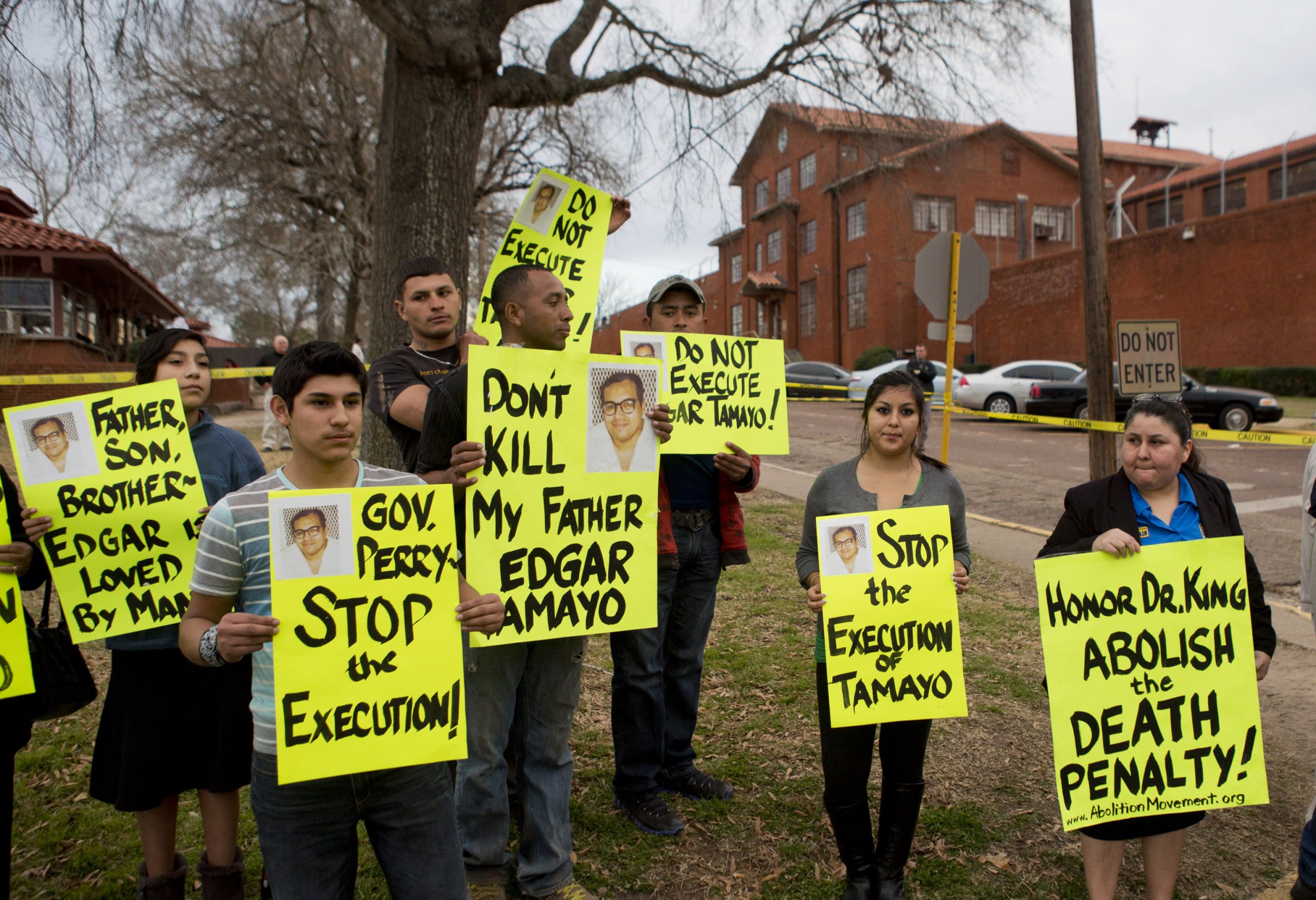 Global use of the death penalty is in decline, but there was a spike in the number of people sentenced to death last year, according to an annual report from international rights group Amnesty International.
At least 607 people were executed in 22 countries in 2014, with China, Iran, Saudi Arabia, Iraq and the United States carrying out the largest number of executions. The official number of executions in China is a state secret, but Amnesty's monitoring leads it to believe China executed more people than all other countries combined in 2014. The group stopped reporting on China's death penalty figures in 2009 and instead called on the government to publish its own figures in a bid to increase transparency.
Mass convictions in Egypt and Nigeria are the main cause of the increase in the number of death sentences in 2014, according to the report. In Egypt, 509 death sentences were issued in 2014, up from 109 in 2013, many of which were meted out after what Amnesty said were "grossly unfair" trials of people believed to associated with the Muslim Brotherhood.
"In Egypt, what we saw were mass trials and mass death sentences in some cases," said Audrey Gaughran, director of global thematic issues at Amnesty International. "Similarly in Nigeria, we saw people sentenced to death for crimes, but there were also soldiers sentenced, sometimes in mass sentencing, in their refusal to fight Boko Haram."
Nigeria handed out 659 death sentences last year, up from the 141 in 2013, but did not carry out any executions. The global increase is also due to more figures being reported by governments; Tanzania, for example, sent Amnesty better numbers than it has in the past, said Gaughran.
"In some respects we're seeing one trend of fewer countries using the death penalty and we're seeing the potential for a crop of countries to take the legal step to abolish it. At the same time, we're seeing this increase in death sentences, which definitely makes us worried that the figures of executions next year could be higher in certain countries," said Gaughran.
In 2014, the U.S. executed 35 people, down from 39 in 2013. Currently 3,035 people are on death row in the U.S.; 745 of them are in California and 404 in Florida. Eighty percent of all executions in the U.S. happen in Missouri, Florida and Texas, which, since 1977, has executed a total of 512 people and has "always been in a league of its own in its zeal to execute," said Marc Mauer, executive director of the Washington, D.C–based Sentencing Project, which advocates for prison reform.
Public support for the death penalty in the U.S. has weakened in recent years, particularly after the gruesome botched execution of Oklahoma inmate Clayton Lockett last year. Lockett died of a massive heart attack 40 minutes after the lethal injection had been administered.
"It sort of looks like a high school chemistry class sometimes. Let's try this drug and this drug and see what happens," said Mauer. "Then we get these horrendous stories of pain and suffering that go on in the death chamber."
According to a Pew Research poll, 55 percent of Americans said they supported the death penalty after the incident last April, the lowest number in four decades despite still being a majority. Support for the death penalty peaked at around 78 percent in the mid-1990s. The number of executions in the U.S. has declined over the past few years after reaching a high of 98 in 1999.
"The trend line there is very significant and comes about from a range of factors, but is generally supportive of a declining zeal to use the death penalty," Mauer said.
One of the main factors contributing to the decline in the use of the death penalty in the U.S. is the rise of the innocence movement, which works to secure the release of people who have spent decades in prison for a crime they didn't commit, said Mauer. A record number of U.S. convicts were cleared of wrongdoing in 2014, including Ricky Jackson and Wiley Bridgeman, who both served 39 years in prison for murder, attempted murder and robbery in Ohio. Jackson was recently awarded $1 million for wrongful imprisonment.
Yet many U.S. states are committed to using the death penalty. Five states, including Missouri, considered draft legislation that would speed up the process of executions by streamlining the appeals process, according to the report. Murder of a prison worker is now a capital crime in Louisiana and Colorado saw the introduction of a bill that limits the power of the state's governor to grant clemency. Earlier this month, a bill allowing execution by firing squad in Utah advanced in the state senate.
Amnesty said there were a few slivers of progress in the report. Ninety-eight countries have abolished the death penalty, up from 59 countries in 1995. The total number of executions has also decreased by nearly half in 20 years.
Use of the death penalty decreased in all but one region of the world: Europe and Central Asia. Three people were executed in Belarus in 2014, ending a two-year hiatus on the death penalty on the continent. In some cases in Belarus, family members and lawyers weren't informed of the killings in advance and the victims' bodies weren't returned to their relatives, said Gaughran.
Overall, executions are down by 22 percent worldwide from 2013, including in the Middle East and North Africa, which continues to be a region of "grave concern" for Amnesty. Death sentences more than doubled—from 373 in 2013 to 785 in 2014—and Yemen saw a 69 percent increase in executions in 2014. In Saudi Arabia, where more than 90 were killed last year, executions were carried out for "disobeying and breaking allegiance to the ruler" while in Iran, "insulting the prophet of Islam" resulted in death in a number of cases.
As was the case in 2012 and 2013, Amnesty was unable confirm if executions had taken place in Syria due to the ongoing conflict and difficulty accessing data.
At 289, Iran had the largest number of known executions, although the number could be as many as 743 when taking into account numbers reported by non-state sources. Fourteen people in Iran were killed for crimes committed when they were under 18 years old. China's executions and death sentences were part of the country's "Strike Hard" campaign, a response to hard-line religious extremism in China's northwest Xinjiang province. Harvesting organs from prisoners continued in 2014, but will be phased out beginning this year, according to the report.
The official number of executions in North Korea is unknown, but Amnesty believes the minimum number in 2014 was 50; reasons for executions included watching banned foreign movies.
All the numbers reported by Amnesty are minimum numbers, according to the report.
While seven countries stopped executions last year, another seven resumed using the death penalty. Pakistan and Jordan brought back the death penalty in response to terrorism charges or national security threats, and Indonesia resumed executions in 2014 for drug-related charges.
"One of the biggest obstacles to ending the death penalty globally is if governments are going to start portraying it as a solution to crime and terrorism, which is completely accepted. There's no credible evidence that the death penalty is any more of a deterrent to crime than other forms of punishment," said Gaughran.
"We have a great concern when governments start to not only do this but to then tell the public to connect the death penalty to combating crime and combating terrorism. It's feeding into a false discourse," she said.