Iran Restocking Putin With Drones After Repeatedly Denying Shipment: Report
Iran is strengthening its commitment to Russian President Vladimir Putin and sending additional missiles and drones to Moscow, according to new reports, just days after Iranian officials denied Ukrainian claims it was bolstering the Russian military's supplies.
On Tuesday, both Reuters and The Washington Post reported that Iran had promised to restock Putin's depleting weapons and ammunition, citing senior Iranian officials and United States security officials, respectively.
The deal was first reached on October 6 during Iranian First Vice President Mohammad Mokhber's visit to Moscow, according to Reuters. Among the arms Iran has reportedly agreed to deliver are the first Iranian-made surface-to-surface missiles.
Yet on Saturday, Iranian Foreign Minister Hossein Amir-Abdollahian said the country "has not and will not provide any weapon to be used in the war in Ukraine."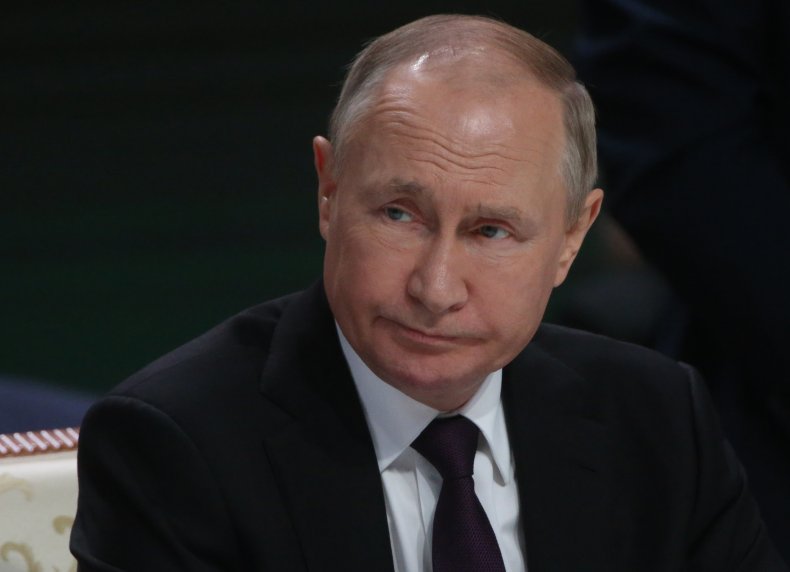 Ukrainian forces have repeatedly said that it has shot down a number of Iranian-made "kamikaze" drones that have been put to use by Russia. The Pentagon has also publicly confirmed the use of Iranian weapons in Moscow's airstrikes and the White House has accused Tehran of lying about not delivering drones to Russia.
The increased flow of drones and missiles to Russia could help Putin make up for the gaping losses of military equipment that Ukraine's Western allies had hoped would result in a ceasefire sooner rather than later.
Last week, Ukraine's defense minister said Moscow had only a third of its initial inventory of missiles left. Putin's remarks about holding off on any foreseeable mass strikes had also suggested Russia's war efforts were being hindered by a shortage of weaponry.
"The Russians had asked for more drones and those Iranian ballistic missiles with improved accuracy, particularly the Fateh and Zolfaghar missiles family," an Iranian diplomat was quoted as saying by Reuters.
On Tuesday, Kremlin spokesman Dmitry Peskov told the outlet it had no information on the use of Iranian drones, saying "Russian equipment with Russian nomenclature is used."
While the Iranian drones have helped Russia offset its dwindling military inventory, experts say the drones have not been nearly as deadly as Putin had hoped and are "easy to shoot down" for Ukraine.
"Given the sheer number [of Iranian drones] launched and the limited damage and loss of life, we would not assess them to be very effective as a weapon at this point," military expert and veteran Sean Spoonts previously told Newsweek. "It also points to the lack of conventional cruise missiles in the Russian inventory to shoot at Ukraine's civilian centers."
Newsweek reached out to Iran's ministry of foreign affairs for comment.