Iran Will 'Slap Britain in the Face' to Retaliate Over Tanker Seizure, Cleric Says
A prominent Iranian cleric has warned that Iran will soon retaliate over the British seizure of an Iranian oil tanker last week, as relations between the two nations continue to deteriorate.
The current Iran-U.K. spat began last week when British commandos seized an Iranian oil tanker off the coast of Gibraltar. British authorities said the tanker was suspected of trying to transport oil to Syria in support of President Bashir al-Assad, in contravention of European Union sanctions on the war torn nation. Incensed Iranian officials condemned the move and called for retaliation, for example a reciprocal tanker seizure.
On Wednesday, Islamic Revolutionary Guard Corps vessels reportedly attempted to seize a British tanker as it transited the strategically-vital Strait of Hormuz, off the coast of Iran.
British warship HMS Montrose chased the small Iranian craft away from the British Heritage tanker. The Montrose trained its guns on the assailants, but the Iranian crews heeded verbal warnings and backed off before warning shots were fired.
Iran denied that its forces had tried to hijack the ship, claiming there "have been no encounters with foreign vessels, including English ones." U.S. officials said a nearby spy plane captured the harassment on camera, though has not yet released the footage.
Despite the failure of this effort, Iranian officials have remained bullish about the U.K.'s action. During Friday prayers, cleric Kazem Sedighi told worshipers that "Iran's strong establishment will soon slap Britain in the face for daring to seize the Iranian oil tanker," Reuters reported.
Earlier on Friday, Iran's foreign ministry spokesperson Abbas Mousavi called on Britain to release the seized tanker immediately. "This is a dangerous game and has consequences," he warned, claiming "the legal pretexts for the capture are not valid."
"The release of the tanker is in all countries' interest," Mousavi added. "Foreign powers should leave the region because Iran and other regional countries are capable of securing the regional security."
The graphic below, provided by Statista, illustrates the strategic importance of the Strait of Hormuz.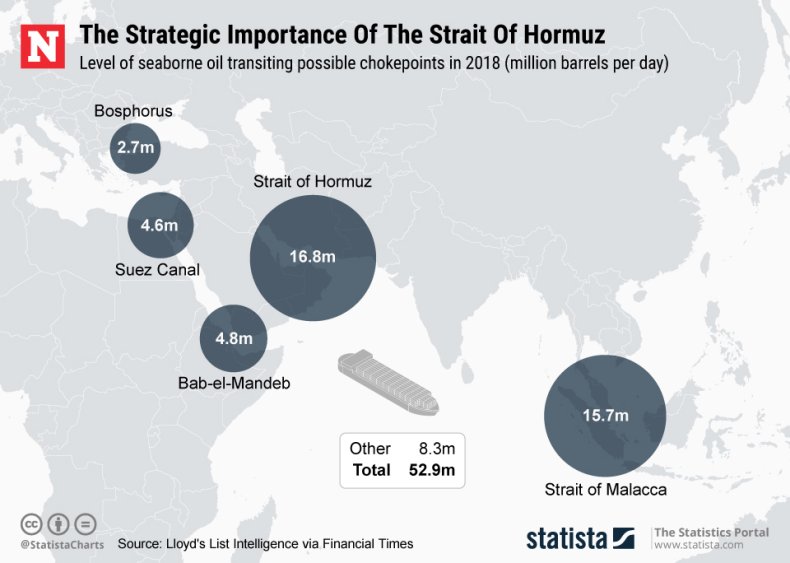 The U.K. is one of the remaining parties to the Joint Comprehensive Plan of Action, also known as the Iran nuclear deal. Tensions have been high in the Persian Gulf since President Donald Trump withdrew the U.S. from the accord last year, arguing it was insufficient.
The U.S. reintroduced economic sanctions on Iran but issued waivers to other nations allowing them to continue doing business with Tehran without risking penalties. In May, the administration began withdrawing these waivers.
The escalation prompted military posturing and threats from both sides. Later, commercial tankers were bombed—allegedly by Iranian forces—in the area around the Strait of Hormuz in two separate incidents. With tensions already high, the IRGC then shot down a U.S. drone flying over or near the strait, raising fears that open conflict could break out.