Iran Commando Leader Killed as Protesters Accused of Igniting 'Armed War'
A colonel in Iran's special forces has reportedly been killed as the unrest that has gripped the country for the past two months continues with widespread protests.
State news agency Tasnim said the commander of the special unit of Isfahan province, Ismail Chiraghi, was "martyred" after being hit by a bullet in the Khaneh neighborhood of Isfahan. Six people were killed in the Isfahan area, Al Jazeera reported, while reports of further deaths in Kurdistan increased Wednesday's death toll to 15.
In the deadliest incident, at least seven people were killed in the city of Izeh, in the southwestern province of Khuzestan. Iranian authorities said two "terrorists" on a motorcycle opened fire on a crowd using an assault rifle. Two boys, aged 9 and 13, were among the victims.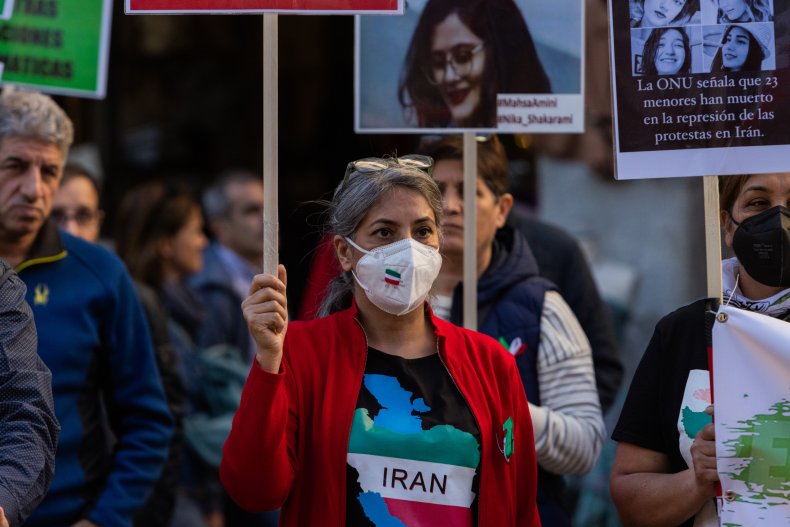 Protesters said members of the Basij militia, which operates under the Islamic Revolutionary Guards Corps, were responsible, The Guardian reported.
Parham Ghobadi, a reporter with BBC Persian, tweeted that Iranian security forces shot Sepehr Maghsoodi, 14, in the head with a live round in Izeh. Ghobadi cited a source close to the family.
Nazenin Ansari, the editor of publications for the global Iranian community Kayhan London and KayhanLife.com, said that the demonstrations are more of a threat to the regime than the 2019 protests were. "There is more engagement than three years ago, and they have really evolved from slogans to statements through to being participants in the process," she told Newsweek.
She said that groups that are protesting "all agree on basic human rights, on individual self-determination, on freedom of expression and the release of all political prisoners."
In addition, they want a "secular democratic Iran, not a theocracy," Ansari said.
Following the deaths, Iranian Foreign Minister Hossein Ami-Abdollahian said that Israel and Western intelligence services had "made plans for a civil war and the destruction and disintegration of Iran," satellite news channel Al Mayadeen, which is based in Beirut, reported.
An Al Mayadeen correspondent tweeted that Iranian security sources said the protesters were aiming to cause an "internal armed war in Iran."
In their reports, Iranian news agencies have followed the government line that anti-government forces or members of the Islamic State militant group (ISIS) are responsible for the unrest. But witnesses have said that unarmed civilians were shot.
On Wednesday, chaotic scenes were reported in dozens of cities during the protests and strikes, which coincided with the third anniversary of a crackdown against demonstrations in which hundreds were killed.
Online videos on Tuesday and Wednesday showed protests and strikes in such cities as Gorgan, Tabriz, Arak, Sanandaj, Mashhad, Kerman, Shiraz and Bandar Abbas.
The protests began after the death of a 22-year-old Kurdish woman, Mahsa Amini, on September 16 after her arrest by the country's morality police three days earlier. She had been accused of improperly wearing her hijab, or headscarf.
Initially, the demonstrations focused on the treatment of women but have turned into a wider protest against the regime. French President Emmanuel Macron has described the unrest as a "revolution."