Iran Protesters Defy Regime to Mark 'Bloody Friday'
Unprecedented levels of civil unrest have continued in Iran with protesters in the southeast marking a massacre at the end of September known as "Bloody Friday."
Amnesty International said that, on September 30, security forces unlawfully killed at least 66 people, including children after firing live ammunition, metal pellets and tear gas at protesters in Zahedan, the capital of flashpoint Sistan-Baluchestan province.
Protesters took to the streets on Friday to mark the massacre, with videos online showing men emerging from mosques in Zahedan, chanting "Death to Khamenei," referring to Supreme Leader Ayatollah Ali Khamenei, Reuters reported.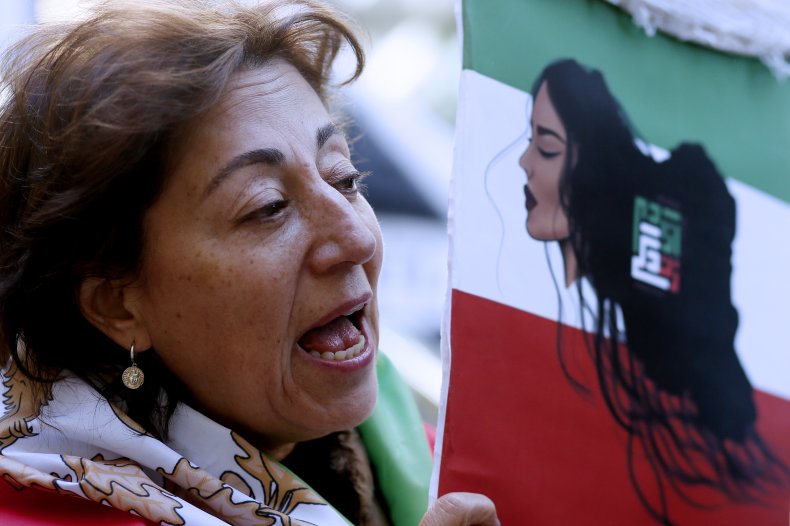 A video posted by the widely followed 1500Tasvir activist Twitter account purported to show thousands marching again in Zahedan, as did a clip shared by Farzin Kadkhodae.
Another video by 1500Tasvir read that it was from the town of Khash in the southeastern Sistan-Baluchestan province. It showed protesters breaking a street sign bearing the name of Qassem Soleimani, the general who was assassinated in a U.S. drone attack in 2020.
The protests took place three days after Iran's parliament urged its judiciary to crack down harshly on protesters, with an estimated 15,000 already jailed.
Iranian lawmaker Zoreh Elahian, who backed the call, was in New York this week for a U.N. General Assembly committee meeting that discussed human rights.
Anger over the death of 22-year-old Mahsa Amini on September 16 after her detention by the morality police prompted demonstrations that took aim at Iran's restrictive rules for women.
The Kurdish woman was arrested on September 13 while visiting Tehran for reportedly wearing an "improper" form of hijab. She was allegedly fatally beaten while in custody, although Iranian authorities have denied any responsibility.
The protests have morphed into a nationwide movement against the clerical leadership, which faces its biggest threat since the 1979 revolution. Some of the worst violence has been in areas with minority ethnic groups that held grievances against the state.
"Iranians are finding various ways to show their support of anti-regime protests," tweeted BBC journalist Rana Rahimpour, next to a video of Iran's basketball team refusing to sing the national anthem before a match with China.
In October, the UN special rapporteur to Iran, Javaid Rehman, told Newsweek that the international community "has a major role to play" in conveying to the Iranian authorities "that repression and brutality is not an answer."
"They have to address genuine concerns, and an important starting-point would be the rights of women in Iran," said Rehman, whose duties include monitoring and investigating human-rights violations in the country.
Newsweek has contacted Iran's foreign ministry for comment.
Correction 11/15/22, 12.45p.m. ET: This article and headline were updated to remove the reference to the Iranian Parliament voting for death sentences. A majority of the parliament supported a letter to the judiciary calling for harsh punishments of protesters, which could include the death penalty.