Iran Blames America, Israel for Suicide Blast That Killed 27 Elite Revolutionary Guards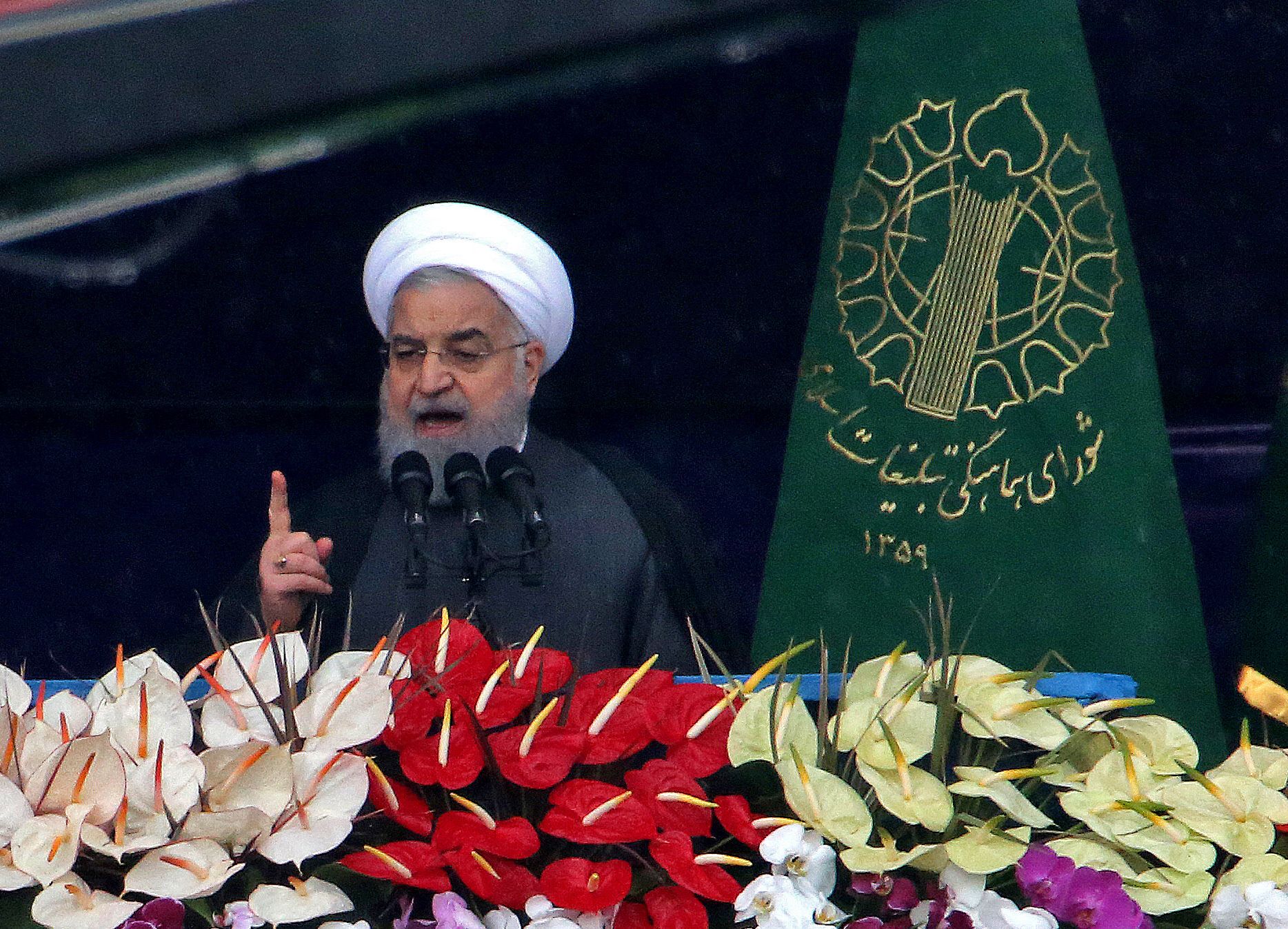 The U.S. and Israel are to blame for a deadly suicide bomb attack in Iran on Wednesday, the country's President Hassan Rouhani said.
Speaking on state television Thursday, Rouhani said the deadly attack was the latest example of America's support for terrorism in Iran, aided by Israeli and other unnamed regional allies.
At least 27 members of Iran's elite Islamic Revolutionary Guard Corps were killed when a vehicle laden with explosives detonated next to their bus on a road in the restive province of Sistan-Baluchestan in the southeast of the country.
Though a Sunni Muslim militant group—Jaish al Adl, meaning Army of Justice—claimed responsibility for the attack, Rouhani said the influence of foreign actors was clear, Reuters reported.
"The crime will remain as a 'dirty stain' in the black record of the main supporters of terrorism in the White House, Tel Aviv and their regional agents," Rouhani said. In the past, Iran has also blamed its Sunni rival Saudi Arabia of being behind similar attacks, though Riyadh has denied the allegations.
Jaish al Adl—founded in 2012—is fighting for improved rights and living conditions for ethnic minority Baluchis in the southeast of the country. Predominantly Sunni, the Baluchi community claims it is oppressed by the Shiite theocracy. Jaish al Adl has launched several attacks in the region, including against Pakistani border guards, in recent years.
Rouhani's accusation came as more than 60 nations attended a two-day Middle East security conference in Warsaw, Poland, led by the U.S. The summit appears to be a way to further isolate and undermine Iran, with representatives from Saudi Arabia, Israel and Jordan, among other countries, attending.
Speaking at the conference, Vice President Mike Pence said attendees had agreed that Iran represents the "greatest threat" in the Middle East, and demanded that America's European allies follow Washington's lead and withdraw from the 2015 Iran nuclear deal.
Pence added that U.S. sanctions on Iran "will get tougher still unless and until Iran changes its dangerous and destabilizing behavior." President Donald Trump and his administration have demanded a renegotiation of the Obama-era deal to include restrictions on Tehran's ballistic missile program and regional influence.
Iranian Foreign Minister Mohammad Javad Zarif added his criticism of the U.S., describing the summit as a "charade" and "another attempt by the United States to pursue an obsession with Iran," Al Jazeera reported.
Zarif also accused the U.S. of involvement in Wednesday's bomb attack. "Is it no coincidence that Iran is hit by terror on the very day that #WarsawCircus begins?" he tweeted. "Especially when cohorts of same terrorists cheer it from Warsaw streets & support it with twitter bots? US seems to always make the same wrong choices, but expect different results."