Iran Oil Tensions are Again Pitting U.S. and Israel against Russia and China
The United States and Israel are pushing for more aggressive actions against Iran in response to recent incidents involving oil tankers, but Russia and China have repeatedly called for calm on all sides.
About a week after the United Kingdom seized an Iranian supertanker accused of carrying oil to Syria past U.K.-controlled Gibraltar, a number of outlets based in the U.S. and U.K. reported Wednesday on an alleged encounter in the Persian Gulf where the U.K.'s Duke-class frigate HMS Montrose was said to have chased off vessels of Iran's Revolutionary Guards as they approached the British Heritage oil tanker.
Amid Iranian denials, State Department spokesperson Judd Deere told reporters Thursday that President Donald Trump spoke with Israeli Prime Minister Benjamin Netanyahu shortly after the incident.
"The two leaders discussed cooperation between the United States and Israel in advancing shared national security interests, including efforts to prevent Iran's malign actions in the region," Deere said.
A statement shared Thursday by Netanyahu's office said, "the two discussed regional developments and security issues, first and foremost Iran," and that "Prime Minister Netanyahu expressed appreciation for the president's intention to increase the sanctions against Iran"—a threat Trump issued over Twitter just hours before the alleged incident in the Persian Gulf.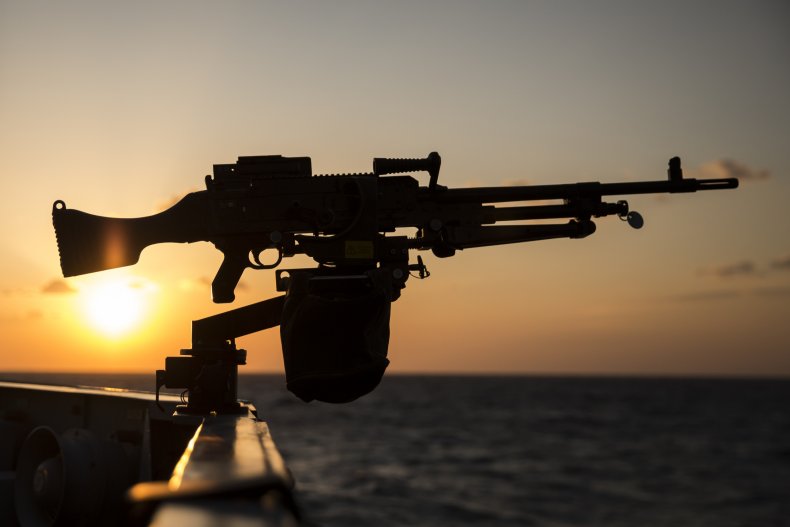 The Revolutionary Guards issued their own statement Thursday, asserting their vessels had been patrolling the nearby waters "according to regular procedures" but that, "during the last 24 hours, there have been no encounters with foreign vessels, including English ones."
Iranian Foreign Minister Mohammad Javad Zarif also dismissed the claims as "worthless," saying the U.S. and U.K. "are seeking to cover up their weaknesses with such claims."
Iranian officials have, however, threatened to take action against U.K. ships in response to the seizure of the supertanker, called Grace 1, in Gibraltar. Iranian Deputy Foreign Minister Abbas Araghchi claimed Sunday that the Iranian vessel was not — counter to the U.K. assertion — bringing oil to Syria. Syrian Foreign Relations Committee Vice President Ammar al-Assad backed that claim in an interview with Russian newspaper Izvestia.
The European Union has banned the sale of oil to the Syrian government, which it has accused of war crimes in its nearly decade-long civil war against rebels and jihadis. While such a move was not against the law in Iran, a staunch ally of Syrian President Bashar al-Assad, Gibraltar police on Thursday arrested the captain and the chief officer of the detained Grace 1—a move likely to further incite Iranian fury.
While Israel—which semi-regularly attacks suspected Iranian positions in neighboring Syria—has championed the U.S. hard-line position against Iran, two other major powers have tried to temper it. Russia and China, both of whom have also backed Assad in Syria, maintained relatively friendly ties with Israel, but have struggled to deal with the U.S. in recent years and have repeatedly warned Trump against escalations around the world.
Russian Foreign Ministry spokesperson Maria Zakharova accused the U.K. on Thursday of "exacerbating tensions in the region" by seizing the Grace 1 in the first place and, in response to Wednesday's alleged incident, she called on countries involved to "act in such a way that the situation comes to a negotiation process in order to resolve issues arising from the parties."
Russian Deputy Foreign Minister Sergei Ryabkov called the situation "very alarming" and claimed, "Washington purposefully seeks to raise tensions," while Kremlin spokesperson Dmitry Peskov said that, after looking at both the U.K. and Iranian accounts of the latest reports, "we continue to call on everyone to show restraint in the Persian Gulf so as not to up the ante and resolve the situation through dialogue," according to the state-run Tass Russian News Agency.
In Beijing, Chinese Foreign Ministry spokesperson Geng Shuang said he was still looking into the reports, but also asked that all "relevant sides will remain calm, exercise restraint, take concrete measures to prevent escalation and jointly uphold peace and stability in the region."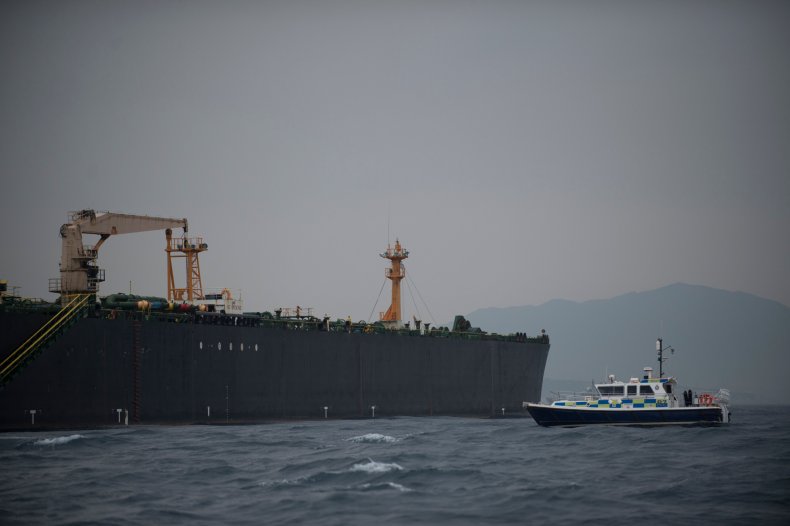 Ongoing tensions between the U.S. and Iran have wreaked havoc stability in the Middle East since Trump withdrew last year from a historic 2015 nuclear deal also signed by Iran, China, the EU, France, Germany, Russia and the U.K. In that deal, Iran agreed to severely scale back its nuclear program in exchange for relief from international sanctions. However, the Trump administration argued the deal did not go far enough to curb Iran's alleged support for militant groups or its ballistic missile program and failed to adequately stop the country from obtaining a nuclear weapon.
Iran has always denied seeking such weapons, but — faced with mounting U.S. sanctions that European countries such as the U.K. have struggled to bypass — Iran has begun enriching uranium slightly beyond the deal's limits. In the month since Iranian officials announced they would do so in May, the U.S. has warned of a heightened threat posed by Iran and its allies and the White House has since blamed Tehran for two series of attacks that struck international tankers in the Gulf of Oman, a waterway connecting the Persian Gulf to the Strait of Hormuz, the world's most important oil chokepoint.
Iran too has denied any connection to these attacks, but the Revolutionary Guards openly downed a U.S. Navy spy drone they claim flew within Iranian airspace; an allegation the Pentagon has disputed. The incident led Trump to order strikes against Iranian military sites, but the president pulled out at the last minute, citing likely civilian casualties he felt would not be justified by the loss of an unmanned surveillance device. The White House has also stated that it was not convinced that leadership in Tehran had specifically ordered the attack on the drone.
Trump has said he sought a diplomatic approach to the issue, but laid out further sanctions on Iran in response to the drone shoot-down and has threatened even more restrictions. Tehran too has left the door open for talks, but has refused to negotiate until the U.S. returned to the nuclear deal it helped establish four years ago. In an effort to bridge the gap, French presidential adviser Emmanuel Bonne visited Tehran Wednesday to speak with top officials, though it was unclear if his trip would be overshadowed by unrest in the Persian Gulf as many felt Japanese Prime Minister Abe Shinzo's was last month.