Iranian military officials vowed to avenge the death of Iran's top nuclear scientist on Friday, as talks to formalize deepening ties between Israel and Saudi Arabia reportedly fell apart despite the countries' shared distrust of Tehran.
The leaders of Israel and Saudi Arabia attended a meeting last weekend to discuss normalizing relations between the two countries, according to The Wall Street Journal. The paper published its report on the meeting just hours after Iran's Ministry of Defense announced that Dr. Mohsen Fakhrizadeh, the scientist believed to have led the country's "Project Amad" nuclear program in the early 2000s, had died following a roadside attack on Friday. Some political and military officials in Iran referred to Fakhrizadeh's death as "murder" and accused Israel of conducting the attack.
"Terrorists murdered an eminent Iranian scientist today. This cowardice—with serious indications of Israeli role—shows desperate warmongering of perpetrators," Foreign Affairs Minister of Iran Javad Zarif wrote on Twitter. "Iran calls on int'l community—and especially EU—to end their shameful double standards & condemn this act of state terror."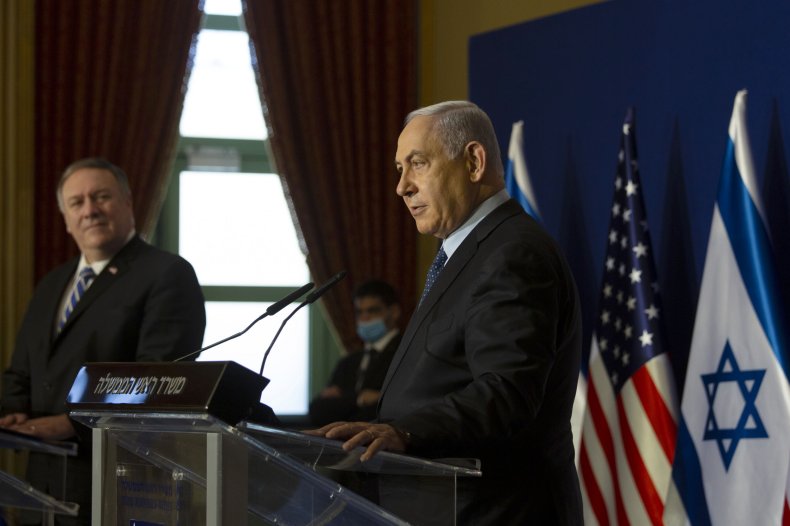 Other Iranian officials called for retribution in the wake of Fakhrizadeh's death.
"In the last days of their gambling ally's political life, the Zionists seek to intensify and increase pressure on Iran to wage a full-blown war," Hossein Dehghan, an adviser to Iran's supreme leader, wrote in a tweet that, as translated by The Times of Israel, appeared to refer to both Israel and the U.S. "We will descend like lightning on the killers of this oppressed martyr and we will make them regret their actions!"
Iran's military chief, Mohammad Bagheri, also referred to "the malicious Zionist entity" in comments that The Times of Israel obtained about the attack. "Terrorist groups, commanders and elements involved in this cowardly act [should know] a difficult retaliation awaits them," Bagheri said.
Newsweek reached out to the Israel Ministry of Foreign Affairs for comment but did not receive a response in time for publication.
The Wall Street Journal reported that Saudi, Israeli and U.S. officials confirmed to its reporters that last weekend's meeting occurred, despite Saudi Arabia's denials that such a meeting took place. Officials reportedly told the paper that Saudi Arabia may be more likely to resume negotiations once President-elect Joe Biden takes office as a way to build up some goodwill with the incoming administration. President Donald Trump's administration has aspired to smooth over turbulent relationships in the Middle East and appeared to take a step closer to doing so with the signing of the Abraham Accord in September, a peace agreement between Israel and both the United Arab Emirates and Bahrain.
Last weekend's discussion could have handed Trump another foreign policy victory before he leaves the White House in January, if it had ended differently. Talks to improve the relationship between Israel and Saudi Arabia are based upon a shared distrust of Iran. Israel has long been critical of Iran for its nuclear program and obtained a trove of documents in 2018 that appeared to demonstrate the ways in which Iran was moving forward with its program, despite earlier agreements that the country would no longer do so. Israel is also believed to have targeted Iranian nuclear scientists in past attacks. Meanwhile, Saudi Arabia's decades-long conflict with Iran surrounds both of those countries' efforts to influence the politics of the region. Iran's history of hostility with both nations has given them common cause to explore peace negotiations.
According to The Wall Street Journal, those negotiations will likely have to wait until Biden takes office.
"Saudi Arabia is trying to figure out how best to use this to repair its image in Washington and generate goodwill with Biden and Congress," a U.S. official told the paper.