Iran Begins Massive War Games to Show Off Its First-Ever Submarine Missiles
Iran has launched a massive set of war games featuring the country's submarine-launched cruise missiles in the waters surrounding the Persian Gulf.
Iranian naval forces began their Velayat-97 drill Friday, a three-day exercise that would cover more than 770,000 square miles in the Strait of Hormuz, Sea of Oman and Indian Ocean. The maneuvers were set to involve hundreds of equipment, including surface ships, submarines, hovercraft, planes and helicopters, but most notably, the brand new Fateh cruise missile submarine and Moudge-class destroyer Sahand.
The purpose was "to protect the territorial waters of our country, maintain lines of communication and promote the flag of the Islamic Republic of Iran," according to the Iranian navy's official media.
The training also reportedly was set to include coastal defenses and surveillance operations spanning vast stretches of some of the some of the world's most important shipping routes, especially for oil. The United States has attempted to deny Iran's ability to export oil with strict sanctions that have ramped up tensions between the two rivals.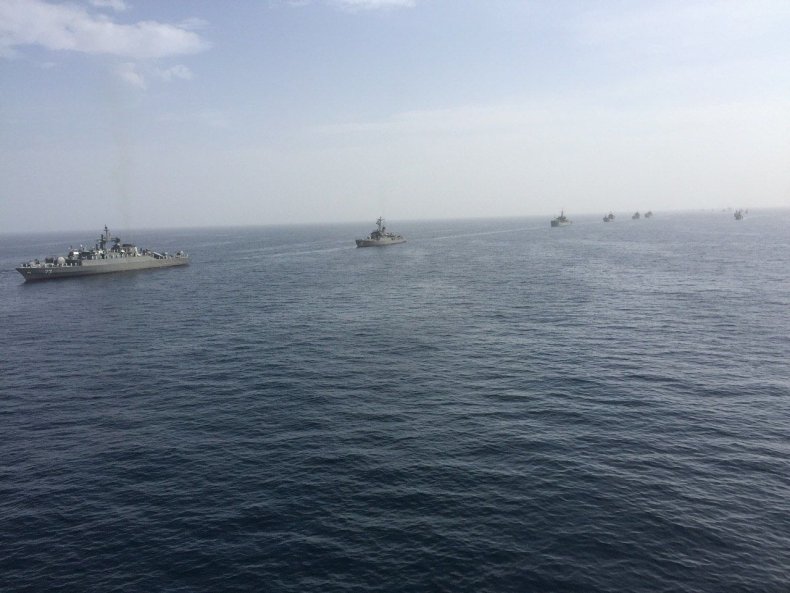 The Velayat war games were one of several annual demonstrations of power held by Iran, which has increasingly sought to demonstrate its military might as relations with the U.S. and its regional allies deteriorate. Washington and Tehran severed ties after the 1979 Islamic Revolution that saw a pro-West monarchy ousted and a revolutionary Shiite Muslim leadership take its place.
Following the brief detente that surrounded the 2015 signing of a nuclear deal between the two longtime foes—alongside China, France, Germany, Russia and the United Kingdom—the U.S. and Iran again fell out following the election of President Donald Trump, who ultimately scrapped the deal in May. The White House has accused Tehran of using sanctions relief to fund militant groups and develop ballistic missiles and has targeted Iran's embattled economy with further sanctions.
The dispute escalated as Iran marked the 40th anniversary of its revolution amid familiar chants of "Death to America" earlier this month, with Trump and White House national security John Bolton posting threatening messages on social media and Iranian officials issuing their own warnings in response. Iran also marked the occasion by testing the new Hoveizeh cruise missile and a precision warhead-fitted Khorramshahr 2 ballistic missile.
The two weapons were the latest additions to what was already the largest missile arsenal in the Middle East. On top of this, Iran maintains close ties to various regional militias, including the Lebanese Shiite Muslim Hezbollah movement, which commands its own extensive array of missiles, as do Tehran's other allies in Iraq, Syria and Yemen, though Iranian officials have denied directly supplying these groups.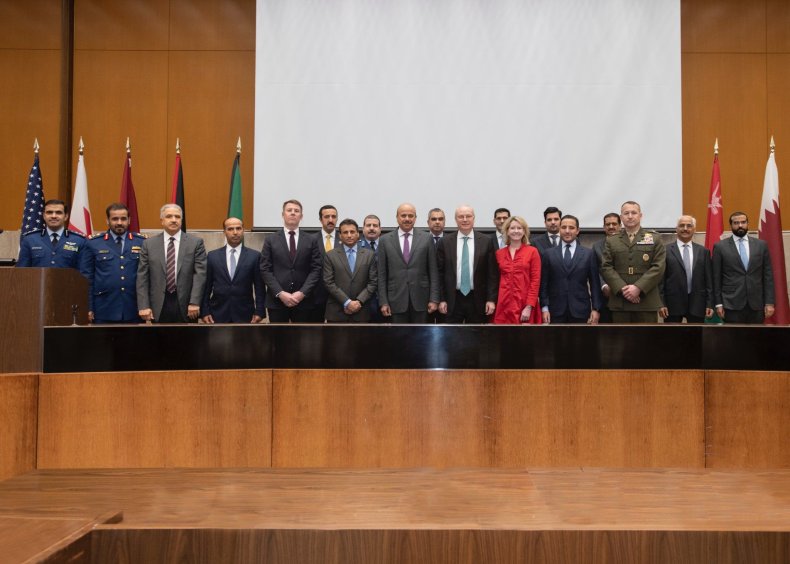 Though the U.S. and Iran have both contributed to the fight against the Islamic State militant group (ISIS) in Iraq and Syria, they have done so with competing agendas and have accused one another of destabilizing the region.
Secretary of State Mike Pompeo last week attended a Warsaw conference co-hosted by the U.S. and Poland in hopes of rallying Western and Middle Eastern allies in unison against Iran, whose top regional adversaries include Israel and Saudi Arabia. In an interview Thursday with Fox Business, the diplomat described the meeting as a "historic gathering" due to the joint Arab-Israeli presence.
Though most Arab states have never formally recognized Israel since its 1948 establishment, which was followed by a Palestinian exodus and the first of at least two major Arab-Israeli conflicts, some of these countries—especially Saudi Arabia and its allies—have begun to view Iran as a common threat. Israel has waged a unilateral campaign of airstrikes against suspected Iranian targets in Syria. Saudi Arabia was involved in a four-year struggle to oust a Yemeni Zaidi Shiite Muslim rebel group (known as Ansar Allah or the Houthis) suspected of receiving Iranian backing from power in the neighboring country.
The European Union, as well as China and Russia, have moved to defy Trump's sanctions, however, vowing to continue doing business with Iran.