Iranian American Oscar Nominee Cautions Against Any Negotiations With Iran
Shohreh Aghdashloo may be most recognizable by her deep, easily identifiable voice found in projects including The Flight Attendant, The Punisher, an Oscar-nominated role in House of Sand and Fog and an Emmy win for HBO's House of Saddam. The actress, an Iranian American born in Tehran, fled to England before the Iranian Revolution in 1979, when she was 25.
Aghdashloo talked to Newsweek about the tumult in her home country after the September 13 killing of 22-year-old Mahsa Amini by the morality police for failing to wear a hijab. Iranian authorities said that she suffered sudden heart failure, but her family and those protesting say she died, after spending three days in a coma, because they beat her. Her death sparked a national movement—videos of women cutting their hair and burning their hijabs flooded social media before the country enforced a media blackout—and a global outcry against the Islamic morality code.
The White House issued a statement on September 28 from National Security Advisor Jake Sullivan stating that the U.S. would be pursuing sanctions against Iran. The two countries had been in talks to revive the 2015 Joint Comprehensive Plan of Action (JCPOA) nuclear pact, which lifted sanctions on Iran in exchange for nuclear restriction.
Aghdashloo cautioned against any negotiations with the Iranian government.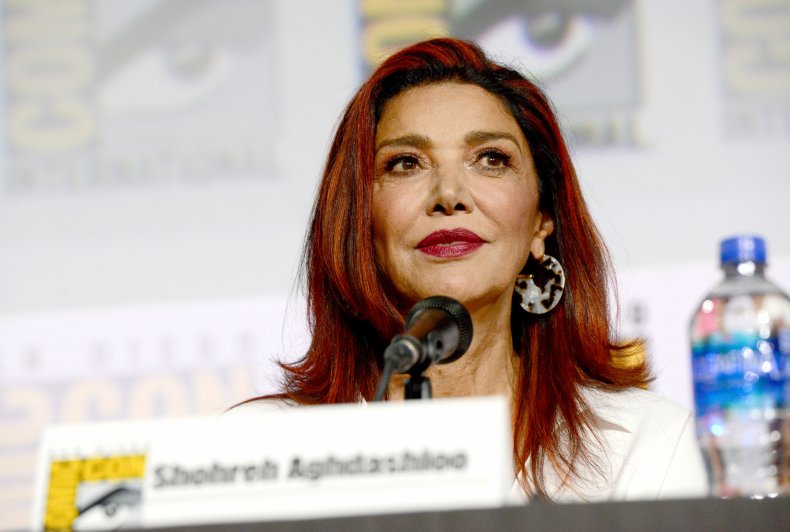 "We're no longer talking about the importance of the nuclear war and how close the Iranian government is to uranium and making a nuclear bomb," Aghdashloo told Newsweek. "That is not at stake right now. What is at stake right now is the life of thousands of Iranian youths who are fighting for their rights, and therefore any kind of negotiations with Iran are in vain.
"Obviously the government is not willing to give in," she continued, "is not willing to listen to their youth, is not willing to make Iran a better place, is not willing to give their youth freedom, is not willing to go with democracy. It is a religious tyranny and it will remain a religious tyranny if the people of Iran cannot get rid of them. Any kind of trying to negotiate with the government of Iran and the Islamic Republic is wrong and should not take place."
Aghdashloo herself was an activist in Iran, who fled in 1978 after a violent protest in the weeks before the revolution. "I had participated in a pro-democracy demonstration that Dr. [Shapour] Bakhtiar, the prime minister at the time, had asked for. Thousands of Iranians participated in that demonstration and walked for hours to get to Baharestan Square [in Tehran].... As soon as we arrived at the square, before Dr. Bakhtiar even started speaking to us, we were stoned by Muslim fanatics."
She continued: "My head was broken... I had my head stitched and they gave me painkillers and I went home. If my generation was familiar with how to politically defeat the enemy in their own country... I would have not gone home, even though my head was broken. I would have taken a couple of painkillers and went back until we got what we were asking for: democracy, freedom. My generation wasn't properly politically educated."
Aghdashloo jumped in her car and drove to England from Tehran—"it was 12 days of agony," she says—and never returned. She sees a difference in ability to effect change in the new generation of activists.
"Now looks very much like the movement back then, but the huge difference here is the fact that my generation was not familiar with religious tyranny... We had not seen people being hanged on the cranes; we had not seen our young people being tortured, being killed for asking for their basic human rights. We had not seen graves full of young people... This generation knows exactly what is going on, and that is what makes it even more precious and glorious."
She credits the internet—"it has made a hell of a difference"—in terms of educating young people and connecting them to other parts of the world. Since the beginning of the country's recent upheaval, the government has used internet throttling and restrictions to limit connectivity.
Aghdashloo says of the protesters, "They know that they are going to lose their lives, they know the fight is either going to end with them dying or freedom, and they are still running toward their enemies. They are showing them their chests and saying, 'Shoot me, but I'm not going to let go of my basic human rights. I'm not going to let you do this to me.'"
She said that her own family members who are still in Iran tell her, "Don't worry about us: We'll either die or get our freedom back."
Aghdashloo is particularly proud of the movement's leadership—"Seeing Iranian women at the front of this is just amazing"—and grateful for the global support the protesters demand. "The American artists, sports people, politicians who are with the people of Iran are now announcing it, posting clips on social media. Ms. Viola Davis, Sharon Stone, Jessica Chastain, Penelope Cruz... the list is long."
She notes that "being supported by any foreign entity would be considered interfering with the internal affairs of Iran and have a huge backlash on the young people of Iran who are fighting for their freedom," but that "echoing their voice [and] posting their clips will give them the support and stamina they need to go on and fight and not give up or stop."
As for whether this generation of activists will be able to effect change and restore democracy in Iran, she says, "I have a strong feeling, and I'm not alone in this, that this movement will be successful. This movement is going to take care of the Islamic Republic for good. It's just a matter of time."
But, she adds, "is it going to involve a lot of bloodshed in Iran? Yes, unfortunately, it looks like it."