Iranian Foreign Minister Trolls U.S. on Twitter, Mocks Weapon Sales Hypocrisy
Iranian Foreign Minister Javad Zarif has demanded that the U.S. stop selling weapons to Iran's rivals in the Middle East, accusing Washington of hypocrisy and destabilizing the region.
Zarif is currently in New York for meetings at the United Nations headquarters, under an unusually strict visa that will restrict him and his team to a six-block area between the Iranian mission and the UN building.
He is using his time in the U.S. to launch fresh attacks on the U.S. and President Donald Trump's administration as the diplomatic crisis between the two countries rolls on.
Over several months of tensions, the U.S. has characterized Iran as a malign actor bent on destabilizing the Middle East and undermining the interests of the U.S. and its allies. Whether through its nuclear program, ballistic missile research, or funding and guiding foreign proxy forces, American officials have suggested that Iran is at the root of much of the region's problems.
Get your unlimited Newsweek trial >
Such activities were a major factor in Trump's decision to withdraw from the Joint Comprehensive Plan of Action—or Iran nuclear deal—signed in 2015 under President Barack Obama. Trump has claimed that the agreement, which introduced limits on Iran's nuclear program in exchange for the lifting of crippling sanctions, was insufficient.
But in a Wednesday tweet, Zarif suggested the American stance was inherently dishonest, and that Iran has only developed a potent military arsenal because the U.S. has armed all of its local rivals.
Referring to the ferocious Iran-Iraq War that raged through most of the 1980s, Zarif said that for eight years, "Saddam showered our cities with missiles & bombs provided by East & West."
Get your unlimited Newsweek trial >
The U.S. was an important supporter of Saddam during the war, and backed the dictator in the hope he would be able to topple the revolutionary Islamic regime that took control of Iran in 1979. Indeed, when the war broke out, Iran was still holding 52 American prisoners taken hostage during the revolution.
The U.S. gave Saddam economic and diplomatic aid while arranging military supplies from third-party nations, among other kinds of support. This public support stretched across two administrations—President Ronald Reagan's second term and that of his successor President George H. W. Bush.
"Meanwhile, NO ONE sold Iran any means of defense," Zarif added. This is inaccurate. Iran received huge shipments of arms from nations including North Korea, China, Syria and Libya. While backing the Iraqis in public, the U.S. also provided Tehran with weapons indirectly as part of the secret Iran-Contra program. Even Israel sold Iran military equipment during the 1980s, including spare jet parts and tanks.
Regardless, Zarif claimed that Iran's isolation in the war meant the nation "had no choice" but to build up its indigenous arms industry. "Now they complain," he added, referring to the U.S.
"Instead of skirting the issue, US must end arms sales to Saddam's reincarnations," he concluded. Though he did not specify who, Zarif has regularly condemned a group he describes as the "B-team," which he claims is pushing Trump towards conflict with Iran.
Israeli Prime Minister Benjamin Netanyahu, Saudi Crown Prince Mohammed bin Salman and Emirati Crown Prince Mohammed bin Zayed Al-Nahyan are three pillars of Zarif's B-team, and all lead nations that are major customers for U.S. weapons.
Zarif included several images alongside his tweet, apparently depicting the proliferation of U.S. arms throughout the Middle East. The images were of the destroyed Iranian city of Khorramshahr during the Iran-Iraq war, American munitions in Yemen and wounded Palestinians in the Gaza Strip.
The foreign minister also posed a mocking cartoon showing a woman stood among a huge pile used American weapons, holding one bearing an Iranian flag. The figure is proclaiming, "We've unearthed a missile that proves Iranian weapons are killing civilians here in the Middle East, and destabilizing the region."
But Iran has been active in driving armed conflict in the Middle East. Tehran has been accused of funding, training and arming multiple groups to wage proxy conflicts against its rivals.
In Yemen, Houthi rebels are reportedly using Iranian-supplied ballistic missiles and drones to hit Saudi targets. In Iraq, Tehran-backed Shiite militias have been accused of attacks on American interests. In Lebanon Iran has funded the powerful Hezbollah militia.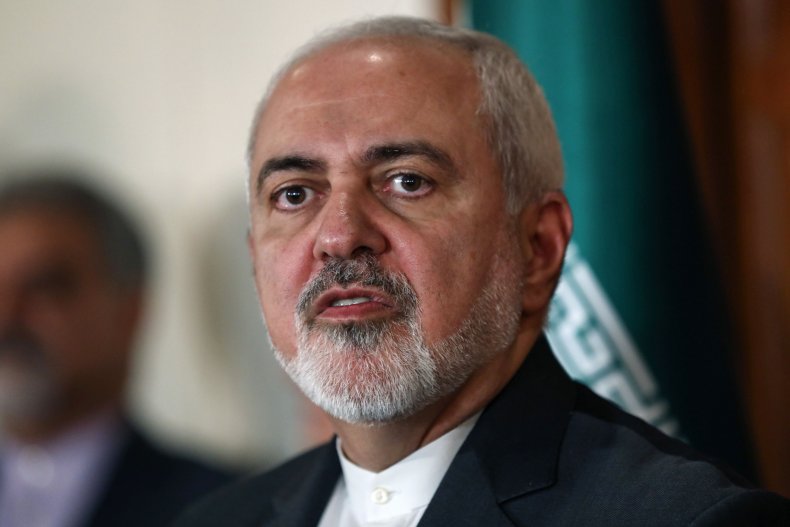 Iranian Foreign Minister Trolls U.S. on Twitter, Mocks Weapon Sales Hypocrisy | News