Iranian Official Brags About Women's Rights After Supporting Executions
An Iranian member of parliament supporting the death sentence as a possible punishment for protesters recently visited the United Nations General Assembly in New York, urging the U.N. to "come see for themselves" the progress Iranian women have made in recent years.
Protests have spanned Iran in the last two months after the death of 22-year-old Mahsa Amini, a Kurdish woman who was arrested by Iran's morality police and accused of improperly wearing a hijab, or headscarf. Amini allegedly was severely beaten while in custody and later died from a fatal head injury. Iranian authorities have not taken responsibility for her death.
Since protests started, thousands of demonstrators have been arrested. Many protesters are Iranian university students and women protesting by burning their hijabs and cutting their hair in public. The actions go against Iran's Islamic rules.
Last week, Iranian members of parliament overwhelmingly supported harsh punishments for those participating in the protests, which could include sentencing some of the offenders to death, in a statement read by the parliament. Among those supporting the harsh sentences is Zohreh Elahian, a member of parliament, according to Masih Alinejad, an Iranian reporter.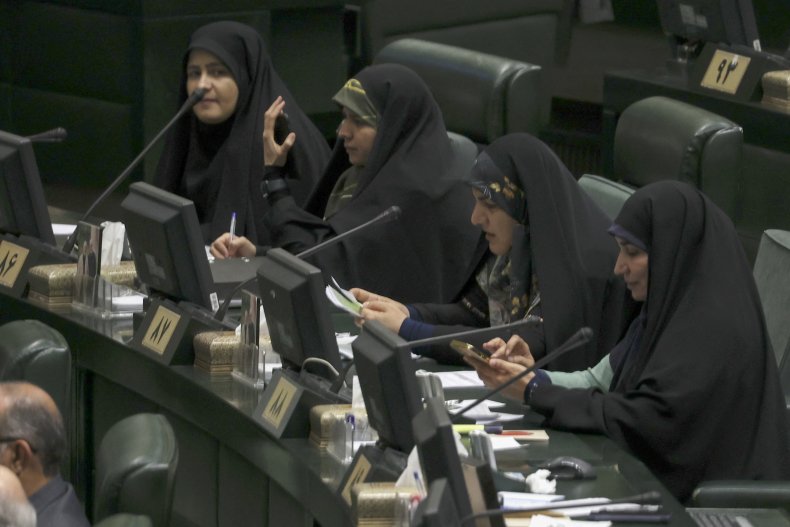 Despite the rising unrest, Elahian said Iranian women's rights have progressed.
"We urged some of the authorities (at the U.N.) to come and see for themselves the women in Iran...so that they can witness the path taken by Iranian women over the past 40 years and the distinct progress they have made," Elahian said on Tuesday, according to the Islamic Republic News Agency, an official Iranian government news website.
Elahian and Kazem Gharibabadi, Iran's deputy judiciary chief, attended a meeting of the United Nation's General Assembly's Third Committee last week.
The Islamic Republic News Agency said Gharibabadi planned to "meet and talk with members of the Non-Aligned Movement, the Group of Friends in Defense of the Charter of the United Nations, and ambassadors and permanent representatives of different countries."
A day before Elahian was reported to be seen at the U.N. General Assembly, the Third Committee approved a resolution in favor of eliminating all forms of violence against women and girls, according to the U.N.'s website.
According to Elahian, Iranian women account for one-third of professors and lecturers in Iranian universities. She said the literacy rate for Iranian women is at 99.3 percent. She said countries shouldn't believe media reports about Iran.
Newsweek reached out to the United Nations, the National Iranian American Council and several humanitarian experts for comment but has not heard back yet.
Iceland and Germany requested a special session among U.N. leaders to discuss the "human rights situation in Iran," which will take place on November 24.