Iranians Celebrate England Thrashing Their Team at World Cup, Video Shows
Iranians celebrated England thrashing their national team in their opening game at the World Cup on Monday.
A video shared on Twitter by Iran International shows people in Tehran's Shahran district celebrating and chanting "death to dictator" after England scored its third goal against Iran in the match at Khalifa International Stadium in Doha.
England went on to score three more goals against Iran, with the match finishing 6-2.
Iran is competing in the tournament as a massive women's protest movement is roiling the country.
The unrest was sparked by the September 16 death of 22-year-old Mahsa Amini in the custody of the country's morality police.
Security forces have violently cracked down on demonstrations, killing at least 419 people, according to Human Rights Activists in Iran, a group that has been monitoring the protests.
In Iran, authorities have closed all soccer matches to the public since the protests began.
At Monday's game, Iran fans could be seen wearing T-shirts or waving signs bearing the mantra of the uprising—"Woman, Life, Freedom"—or the names of female protesters killed by Iranian security forces.
They booed and jeered their own national anthem while the team's players refused to sing the words.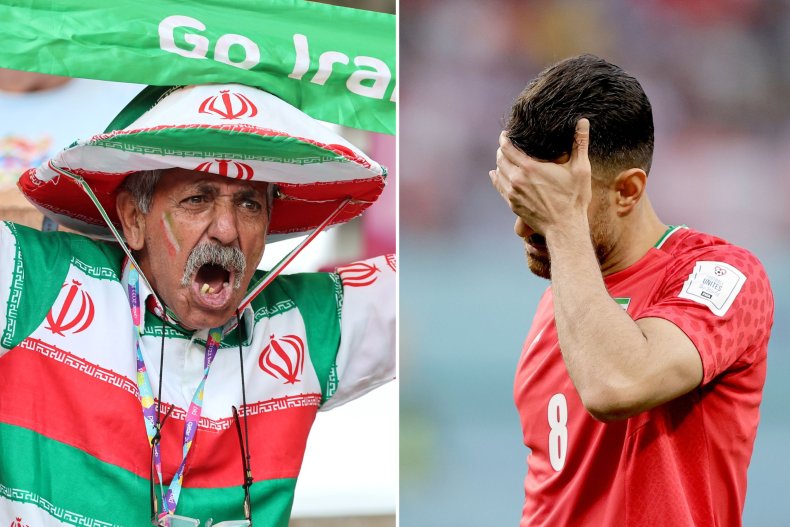 Ahead of the game, Iran's Alireza Jahanbakhsh said the team would decide together whether or not to refuse to sing the anthem in a show of solidarity with protesters in their home nation.
Ehsan Hajsafi, the team's captain, spoke out in support of the protesters ahead of Monday's game.
"Before anything else, I would like to express my condolences to all of the bereaved families in Iran," he said at the start of a news conference.
"We have to accept that the conditions in our country are not right, and our people are not happy."
Some had called on FIFA, soccer's governing body, to ban Iran from competing in the tournaments while others urged players to show solidarity with the protesters.
Ahead of Monday's game, actor and comedian Omid Djalili, who was born in London to Iranian parents, called on players who score a goal against Iran to mimic cutting their hair—which women in the country have used as a sign of defiance against the rules of compulsory hijab wearing.
"My message to England players right now is you have an opportunity to do a very, very small gesture to make massive global impact," Djalili said in a video shared on Twitter.
"I think England players, Wales and USA players—when they score, if you just make this one simple of statement of like hair, snip, that sends a huge message to the women and girls of Iran."