'No Longer Afraid': How Iranian Women Fight Surveillance With Sanitary Pads
Women in Iran have told Newsweek about their creative solution to avoiding surveillance—turning something widely seen as taboo into a weapon against the ruling regime.
They have been covering security cameras with sanitary products to prevent the authorities identifying protesters, then posting the pictures on social media.
Protests have raged through the country in recent weeks, with young women at the forefront. They were sparked by the death of 22-year-old Mahsa Amini, who was arrested by so-called morality police for wearing an "improper hijab."
Pictures of sanitary towels being used to cover cameras in the subway were first shared on Twitter by Negar, a woman in Iran who—like all the women interviewed by Newsweek—wanted to be identified only by her first name for fear of reprisals.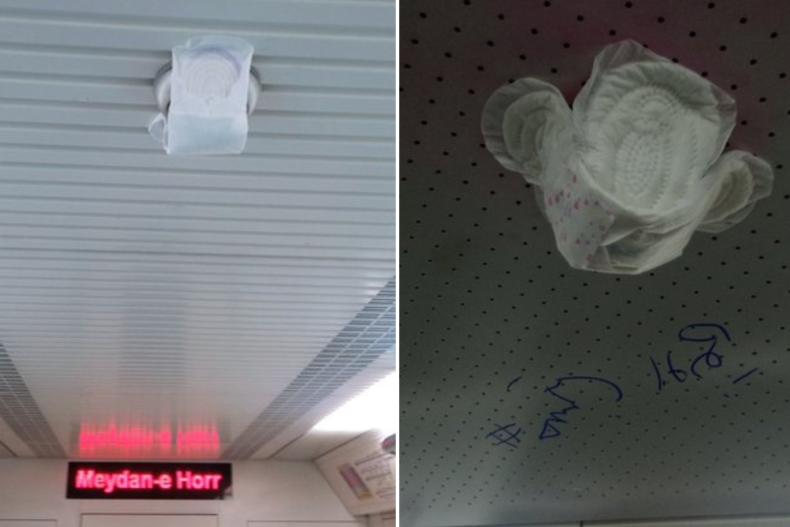 "The mullahs filter our internet, they even destroy our youth, they consider our entertainment as haram and they monitor us when we want to do something," Negar told Newsweek. "In response to them, we filtered their vision [with] the same sanitary pad."
She said: "If they force us to do things like [wearing the] hijab and filter everything for us we will filter their visibility. Women are no longer afraid."
She added: "We will take back the life that was taken from us at the cost of our lives, no one should force anyone to do anything."
Multiple pictures of the tactic have since been reposted on Twitter and on Reddit, with users praising the idea.
Roze, 23, said that she has participated in protests in recent days—and took some of the images of the sanitary towels. She told Newsweek: "Cameras help the government to identify and arrest protesters and then torture them, so we have to cover the cameras with any means we can."
As protests continue throughout Iran, the country's authorities are working to crack down on opponents, issuing harsh punishments, which could include the death penalty.
The NGO Iran Human Rights warned that Iranian officials may be planning to quickly execute protesters in an article on Monday.
A member of the Balóch Women Movement, a protest group, told Newsweek: "They cover government cameras with sanitary products so that the image of the protester is not recognized and they are not arrested by the government."
One image shared on Twitter showed a sanitary product taped to the ceiling camera, next to a piece of graffiti featuring the hashtag for Hossein Ronaghi, an Iranian activist most recently arrested as part of the crackdown on protests. Another shows the illuminated name of the Meydan-e Horr subway station in Tehran.
Other pictures appeared to show similar set-ups as sanitary products were used to cover cameras to prevent image capturing. While Newsweek has taken steps to verify the images, including interviewing those who have been sharing them on social media, it has not been possible to conclude definitely exactly when and where they were taken.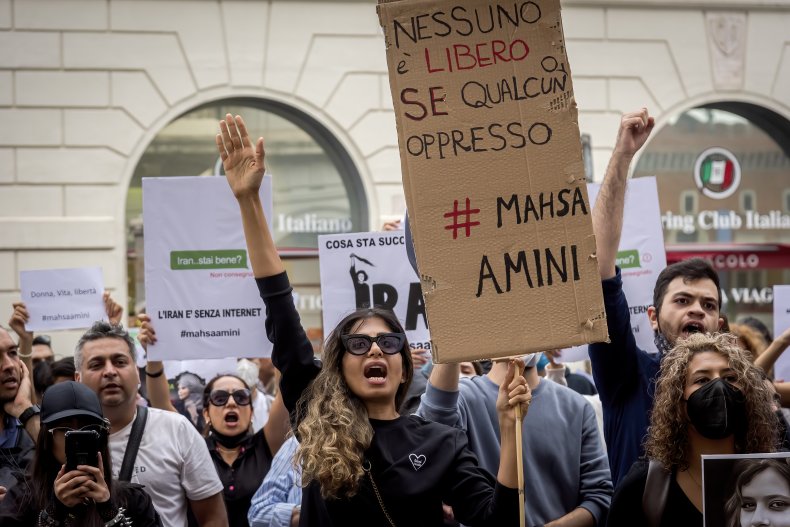 There has been evidence for some time that female puberty, and particularly menstruation, has been seen as taboo in Iran.
"In Iran, the Islamic Republic has made us feel ashamed of our periods and bodies," said Negar. "[They want us to] hide them or put them in black bags so that others don't see them."
In 2012, researchers from Islamic Azad University published the results of in-depth interviews with 38 girls aged 12-20 years old. Results found that puberty was an overwhelmingly unpleasant experience for young women in Iran due to lack of education and sense of shame caused by what they called "scholastic dysfunction and religious considerations."
Iranian women's rights activist Masha said many members of her immediate family are still in Iran. She told Newsweek: "My best friend travels to work every day via train and said she saw it too.
"The irony is that when women purchase pads they put them in black plastic bags as if our period is a crime, now women are using the same thing which is taboo to fight back the regime," she said.
During over 10 weeks of unrest, reports have emerged of female protestors casting off their legally required headscarves as they protest their clerical leadership and oppressive restrictions over their daily lives.
Yassamine Mather, a Middle East specialist at the University of Oxford, previously told Newsweek that the level of anger on the streets has been "caused not just by the treatment of women, religious interference in the private lives of citizens, but also severe economic hardships."