Iran's Supreme Leader Vows to Finish 'Evil' Women's Rights Protesters
Iran's Supreme Leader Ayatollah Ali Khamenei vowed on Saturday to finish the "evil" women rights protesters and other demonstrators who have taken to the streets to defy his authoritarian regime despite a draconian crackdown that has left hundreds dead.
The large-scale anti-government demonstrations began across the country in mid-September after the death of Mahsa Amini, a 22-year-old woman who was arrested by Iran's conservative morality police for showing too much of her hair. Under Iran's ultra-conservative laws, women are required to wear headscarves in public, and face arrest and fines if authorities do not believe they are adequately adhering to modesty standards.
After Amini died following her arrest and alleged abuse at the hands of the morality police, demonstrations took place in Tehran and other major cities. Iran's hardline government responded by cracking down violently, resulting in the death of at least 362 protesters—including 56 children, according to the Iranian Human Rights Activists News Agency (HRANA). Some 16,000 demonstrators have also been detained by security forces.
In response to international outcry and condemnation, Iran's leaders have doubled-down on their opposition to demonstrators. Speaking on Saturday, Khamenei promised to continue to maintain a hardline against the protesters.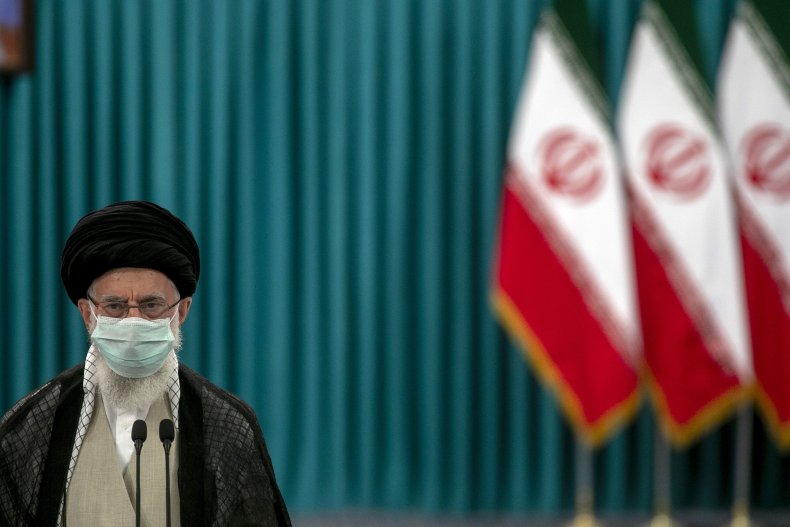 "The evils will be undoubtedly finished, and the Iranian nation will continue to move forward in the path of progress with more strength and a fresher spirit," the Iranian leader said, according to Iranian media.
He went on to say that Iran's goal is to "invalidate the logic of liberal democracy," which the crackdown on protesters clearly demonstrates.
"Now, if a government or a system is established in the world that rejects the logic of liberal democracy and it uses real logic to give people an identity, to give the people of its country an identity, to revive them, to awaken them, and to strengthen them while standing up to liberal democracy, this will invalidate the logic of liberal democracy. This is how the Islamic Republic is," Khamenei said.
Demonstrators have called for toppling Tehran's government and for significantly greater freedoms, particularly for women. "Woman, life, freedom" and "Death to the dictator," a reference to Khamenei, have been popular chants among protesters in the streets.
Iran's judiciary has already issued at least four death sentences against individuals involved in the anti-government protests. The first was issued last Sunday, while three more were handed down on Thursday. More than 1,000 people have been indicted, and the majority of the Iranian parliament earlier this month signed a letter calling for protesters to face harsh punishments. After the letter was signed, the Iranian officials chanted "death to seditionists."
"In Iran, UNICEF remains deeply concerned by reports of children being killed, injured, and detained. Despite a lack of official data, since late September an estimated 50 children have reportedly lost their lives in the public unrest in Iran. The latest of such horrible losses was 10-year-old Kiyan who was shot dead while in the car with his family. This is terrifying and must stop," the United Nations Children's Fund said in a statement emailed to Newsweek.
Meanwhile, United Against Nuclear Iran (UANI) CEO Ambassador Mark D. Wallace said in a statement emailed to Newsweek that "the Iranian people should not have to risk their lives fighting the regime with one hand tied behind their backs."
Wallace said that the regime should be held "accountable" and that Western nations should "commit themselves to unrelenting economic pressure and diplomatic isolation against this regime."