Can Iraq Bring Iran and Saudi Arabia Together? Rivals to Meet, Along With Syria and Other Neighbors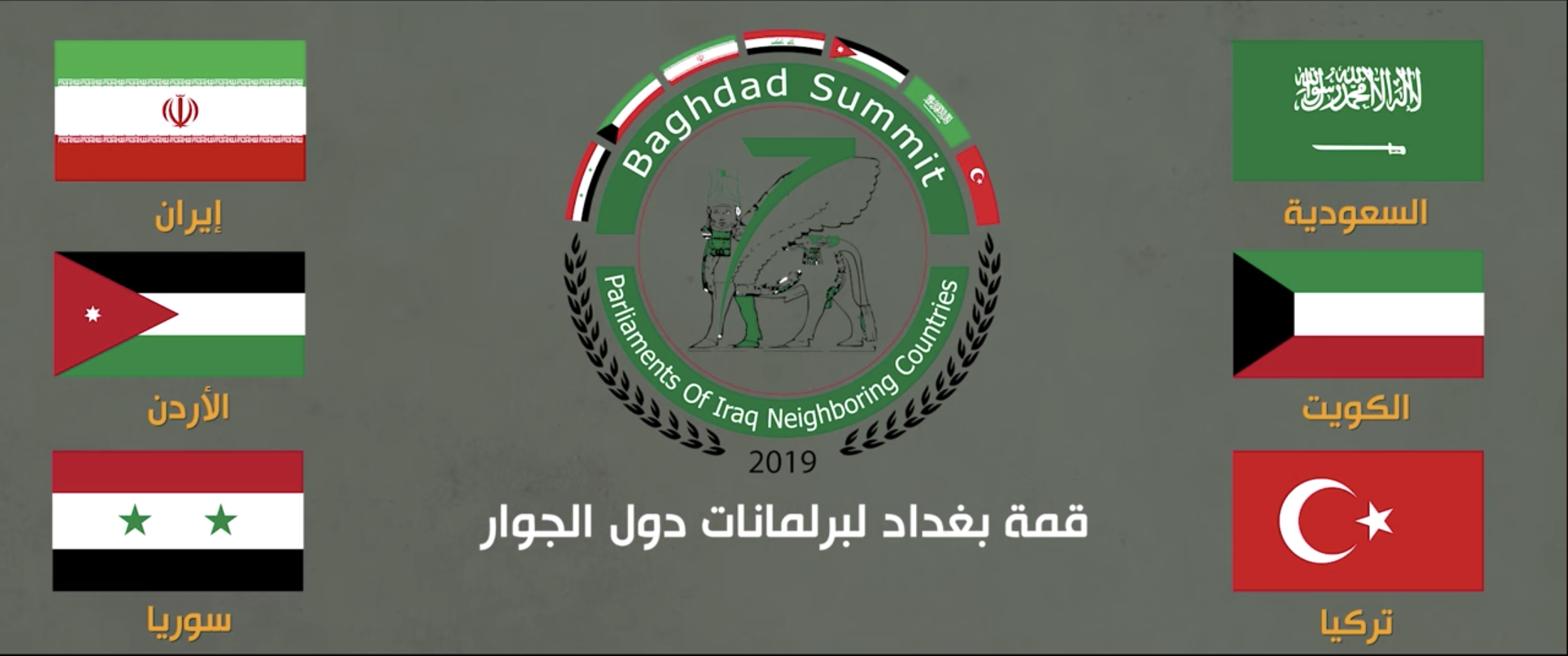 Iraq was set to host a historic meeting involving all of its neighbors, including representatives from top Middle Eastern foes Iran and Saudi Arabia, who have not had formal ties for years.
The Council of Representatives, Iraq's legislature, was set to host a summit Saturday in Baghdad involving the parliamentary heads of the centrally located country's six neighbors, which include Iran, Jordan, Kuwait, Saudi Arabia, Syria and Turkey. The gathering would be a display of rare regional unity at a time when ongoing conflicts, competing interests and foreign influence had left it deeply divided.
"Iraq, proud, prideful and victorious over terrorism, is honored by the presence of its neighbors in Baghdad," tweeted Mohammed al-Halbusi, Iraq's youngest-ever parliament speaker. The 38-year-old touted the capital's history of "Arabism, Islam and peace."
His deputy, Bashir Haddad, called the summit, "a valuable initiative and opportunity for strategic partnerships between Iraq and its neighbors" in a separate statement.
He added: "This is a positive message to all neighboring countries and the world that Iraq is determined to regain its health and return to its Arab, regional environment and assume its rightful place in the map of the balance of power. It will have a significant impact on enhancing cooperation and efforts to achieve security and stability in the region."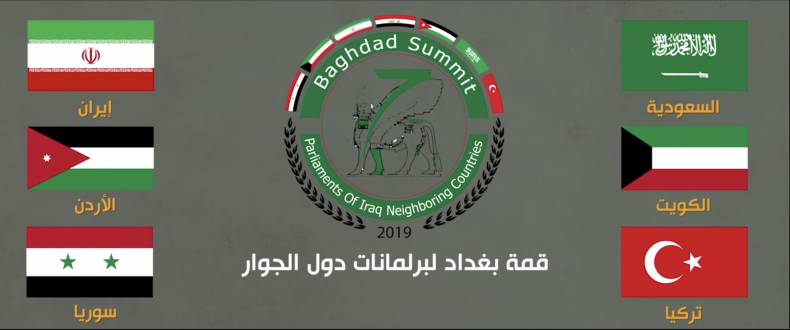 Iraq, traditionally a major Arab player, has had a tumultuous modern history of relations with its neighbors. Former President Saddam Hussein attacked Iran—one of only two other majority-Shiite Muslim nations in the Middle East, the other being Sunni-ruled Bahrain—shortly after the 1979 revolution that brought Ayatollah Ruhollah Khomeini to power. Rival Baathist President Hafez al-Assad of Syria backed Iran, while other Arab leaders backed Hussein, who later went on to invade Kuwait, incurring the wrath of the U.S. and its local allies in the early 1990s.
The 2003 U.S. invasion of Iraq was a watershed movement for the Middle East's balance of power. Hussein, overthrown on charges of weapons of mass destruction possession later proven untrue, was replaced with a Shiite Muslim leadership that sought to rebuild ties with its neighbors, including Iran and Syria. As a Sunni Muslim insurgency, stirred by the U.S. intervention, morphed into the rise of the Islamic State militant group (ISIS), Baghdad backed separate campaigns supported by Washington and Tehran both at home and in Syria.
With ISIS largely eradicated, Iraq's political landscape has become a highly-contested battleground for a regional proxy war of influence being waged by Iran and Saudi Arabia. The U.S. and Israel have attempted to rally the Arab World against Iran, but the two have made moves seen as deeply controversial across much of the Middle East.
Specifically, President Donald Trump's decision to recognize Jerusalem as the capital of Israel, dismissing competing Palestinian claims in late 2017, and his recognition of the occupied Golan Heights in Syria as part of Israel have united the region—and the overwhelming majority of the international community—against him. At the same time, Iran has continued to shore up ties despite mounting U.S. sanctions that were issued due Iran's continued ballistic missile development and alleged support for militant groups in multiple countries, including Iraq and Syria.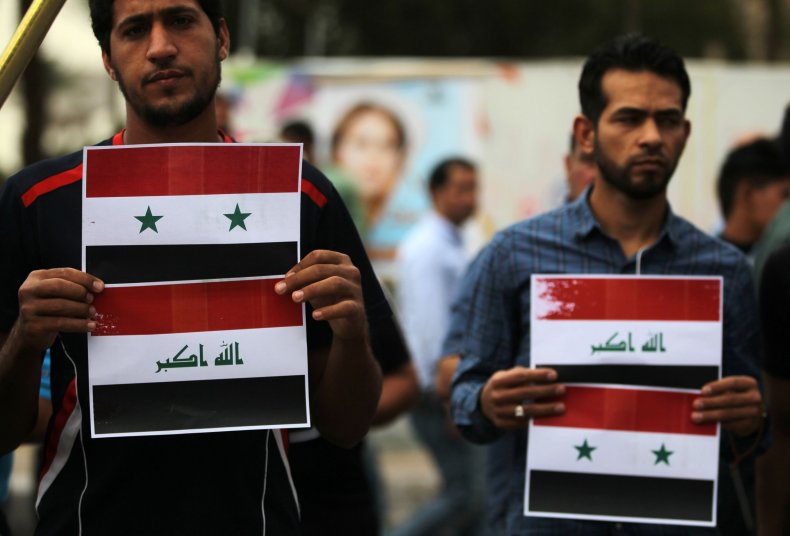 Tehran recently signed economic agreements with Baghdad and Damascus, and all three have exchanged high-level visits in hopes of coordinating closely on matters such as security. Iranian Foreign Minister Mohammed Javad Zarif recently wrapped up visits to Syria and Turkey, while Syrian parliament speaker Hammouda al-Sabbagh joined Halbusi in Iraq.
"Halbusi welcomed the visiting Syrian delegation and its participation in the Baghdad Summit of Parliaments of Neighboring Countries of Iraq, pointing to the depth of the historical relationship between the two brotherly peoples," a statement from Iraqi parliament's office read. "The two sides also reviewed the bilateral relations between Iraq and Syria and means of developing joint cooperation in all field."
Iraqi Prime Minister Adel Abdul-Mahdi, who recently visited both Iran and Saudi Arabia, has backed a bid for Syria to return to the Arab League following its 2011 expulsion. Syrian President Bashar al-Assad was accused of human rights abuses in cracking down on a rebel and jihadi uprising backed by the U.S., Saudi Arabia and Turkey among others, but support from Iran and Russia has helped allow him to once again emerge as the leading actor in his country. While the Pentagon has operated in Iraq with permission from Baghdad, Damascus considered the U.S.—and Turkish—military presence in Syria unwelcome.
Though this month's Arab League summit in Tunis went on without Syria, some countries have begun to rebuild ties with Damascus, and Turkey—the last major supporter of the Islamist-led insurgency against Assad—revealed in February it had maintained low-level contacts with Assad's government. In a statement carried by Turkey's official Anadolu Agency, Turkish parliament speaker Mustafa Sentop confirmed his attendance at Saturday's summit in Baghdad.