Irish Rep's O'Casey Season Continues With Rarely Performed Staged Readings
In the pantheon of 20th century playwrights, Ireland's Sean O'Casey holds a prominent place. His plays are funny, political and tragic, many times within the same work. So a company devoting its whole season to his works is, by any measure, a big deal in the New York theater scene and by extension the country. Irish Repertory Theatre's 30th anniversary season celebrates O'Casey plays with full productions of his Dublin Trilogy—The Shadow of a Gunman, Juno and the Paycock and The Plough and the Stars, symposiums, film screenings, music exhibitions and staged readings. For those who choose to make it so, it could be an education; for the rest of us, it should just be a good stretch of the imagination.
While staged readings might be easy to overlook—often they feature a few actors sitting on stools at music stands—looks can be deceiving. A lot can be gleaned from a few good actors and a bare stage, especially when they are holding a great script. In many cases, readings make a play available that for other reasons—usually financial—would not be doable. And artistic director Charlotte Moore does not treat them lightly, "The O'Casey readings are a big part of our O'Casey season."
Moore and Nicola Murphy, who is directing several of the readings, shared their thoughts about O'Casey and in particular, the readings of his plays that Irish Rep is presenting this season.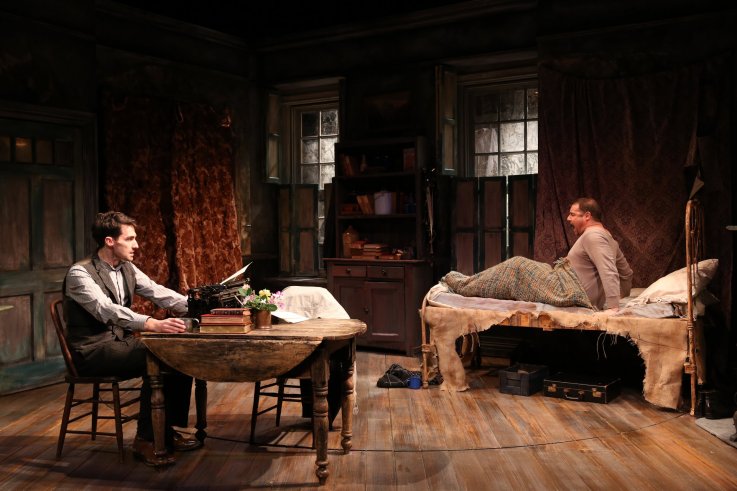 Charlotte Moore
Why are you devoting a whole season to Sean O'Casey?
Other than showing O'Casey's evolution in thought, they show his evolution in skill. The way he uses the language is always colorful and interesting, but how his courage rises is a different matter. He is never cautious, but he develops stronger and stronger opinions. And the ways he displays them are fascinating. Most people —even O'Casey people—have not read the plays, other than the Dublin Trilogy. What a fascinating journey the never-read pieces take us on! I think the readings are one of the very best aspects of our season. Each is one a surprise.
Why do this now?
As we're celebrating 30 years, it seemed appropriate to honor the writer we began with [with The Plough and the Stars in 1988] and the writer who seems—with Brian Friel—the closest to our mission. We've done O'Casey regularly over the years, and our appreciation grows every time we produce one of his. They're not easy to do, but the rewards are great and continue to be great.
[Friel was a prolific Irish dramatist more famous works include Lovers, Philadelphia Here I Come, Dancing at Lughnasa, Freedom of the City and Molly Sweeney.]
Does O'Casey become more relevant, politically speaking, with Brexit looming? Can you imagine what he'd think about it?
How Sean would love all the to-do about Brexit! He would love the very words put together: Britain and exit! I won't venture to state his opinions, but I do know they would be passionate, dramatic and political. Perfect for him!
Have you seen a reading that made you say, "Hey, we should do a full production of this play?"
I really want to do both Red Roses for Me and Cock-a-Doodle Dandy. One of these days, I will.
[Red Roses for Me is set during the Irish Railways lockout of 1913–1914. O'Casey participated in the uprising, and this play is seen as being very autobiographical. Cock-a-Doodle Dandy (1949) is a fantasy in which an enchanted cockerel appears in Nyadnanave and gets villagers to let go of their inhibitions and in so doing arouses the ire of the town's religious leaders.]
You've even included Harold Prince's Grandchild of Kings. It's not by O'Casey. Why was that play important for you to include?
Hal Prince is delighted his Grandchild of Kings [first performed by Irish Rep in 1992] has been included in our O'Casey season. Adapted from O'Casey's autobiographies, Mr. Prince's version comes very close to being the best dramatic version of his life. He and his wife, Judy—to whom Grandchild is dedicated—are both rabid O'Casey fans and have been close friends of our theater since the first day.
Irish Rep has done the mainstage plays a few times? Have they changed for you?
The mainstage productions—having directed all three Dublin plays, some twice—most certainly change drastically for me every time I direct a production! First, the actors change and bring their own special personalities and talents to each production.
Many of our company's fathers and grandfathers were alive and well and active in the years O'Casey was writing about. We are blessed with authenticity here! Nothing better than having a member of a cast recollect how his grandfather talked about "the auld times," and how things really were.
Of course, the political landscape changes around us, just as the landscape changes in Ireland in the plays. All of us feel close to both changes and react differently in different decades. Wherever history takes us, I've never felt nor heard of anybody who felt indifferent to an O'Casey play. It gets into your bones no matter your physical and financial place in the universe!
Nicola Murphy
It must be at least a little crazy with 16 readings (13 readings, made up of 16 plays). What is the rehearsal process like?
It is a little crazy, but also very exciting to get to work on some of O'Casey's lesser-known plays. Generally, myself and the cast will meet for a couple hours of music rehearsal on Friday with music director Stephen Kennedy Murphy, (all the plays I have worked on thus far have had significant musical elements), and Saturday we have a full rehearsal day, with an 8 p.m. performance.
Generally his plays have very large casts and are between three and four acts, so there is a lot to accomplish in a short amount of time!
Is it just a few hours?
I usually take some time at the beginning of Saturday to talk through a brief history of O'Casey's life and work, as it's interesting to see the parallels of his point of view of the time come through his work, and I think it's important to take a moment to recognize the scope of his writing over a lifetime.
I have a chance to give a few minimal notes before the 3 p.m. reading on Sunday, and then when it's all over we generally crack open a bottle of Jameson to salute O'Casey and ourselves for pulling it all together! It's a real privilege to be presenting these plays to audiences that are eager to know more of O'Casey's work, and I'm really delighted to be involved.
What do you hope to achieve in such a limited amount of time?
Most of us are familiar with the Dublin Trilogy—Gunman, Juno and Plough—but know little about his other work, which is a real shame. I think that's why this reading series is so important. My objective is to crack open the heart and spirit of the play and to encourage a really fun environment.
Some O'Casey plays are more familiar to audiences—even Irish Rep audiences—than others. Do you have a favorite one that may be more obscure?
I think Within the Gates [an allegory first produced on stage in 1934] is a masterpiece, and I'd absolutely love to see it given a full production. It has about 25 characters in it and the most music I've encountered in any of his work, but it's extremely funny and timeless. He actually originally wrote it as a film that he wanted Alfred Hitchcock to direct, which makes sense because the script is extremely visual.
What is the biggest surprise you've had working on the readings—something you didn't know about O'Casey or his work before this series started?
I have always felt that O'Casey was one of the few Irish playwrights who wrote "state of the nation" plays, and that certainly rings true even more from having worked on the reading series. But I definitely underestimated how prolific he was.
I also really admire his courage and artistic integrity. He got a lot of resistance when he began to incorporate other styles into his writing. He also had the church condemn his work many times, but he persisted with the issues that felt important to him, and really gave voice to working-class people and the realities of their lives.
Also, given that he had quite poor eyesight, you can really sense how much he listened to others. He said in an interview once that he used to write down little phrases and sayings he would hear in his daily life and use them later on in his work. It makes me nostalgic in a way, because I think listening is a skill that we are losing in today's technologically driven world. I suppose it feels even more important that we're doing these readings of his work now because they really do stand the test of being just listened to in this kind of environment.
Readings of 16 Sean O'Casey plays will be playing at the Irish Repertory Theater, 132 West 22nd Street through April 28. For more information about this or the rest of the O'Casey season go to IrishRep.org/OCasey.
Irish Rep's O'Casey Season Continues With Rarely Performed Staged Readings | Culture