IRS Issues Stimulus Warning, Urges Not to Mistake Payments as Junk Mail
The Internal Revenue Service (IRS) has issued a stimulus warning, urging Americans not to mistake the second round of $600 payments as junk mail.
About 8 million Americans are expecting to receive their payment as prepaid debit cards mailed to their home address, instead of a paper check.
Government officials urged people to keep an eye on their mail to make sure they don't throw their payments away, in a statement issued earlier this week.
The debit cards are set to come in plain white envelopes with a Treasury Department seal. The cards will bear a Visa logo in the front, and have been issued by MetaBank, which is displayed in the back.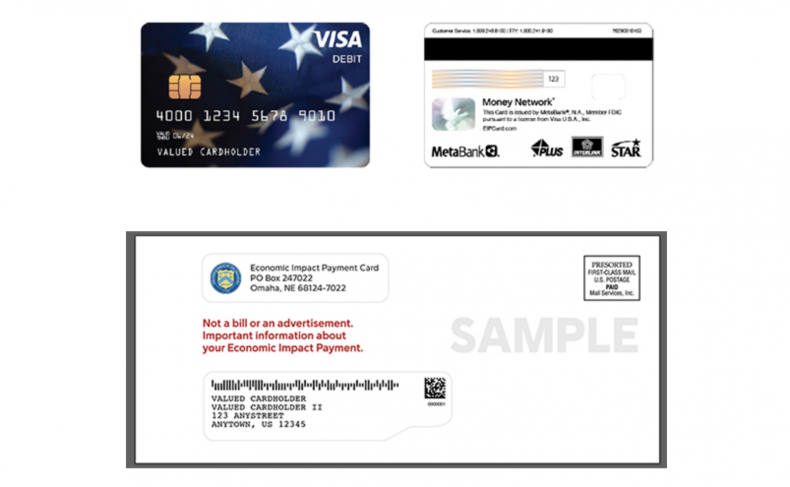 The change from paper checks to debit cards may cause confusion for some, prompting the IRS to note that the second payment mailed out may be in a different form than the first.
"Some people who received a paper check last time might receive a prepaid debit card this time, and some people who received a prepaid debit card last time may receive a paper check," the IRS said.
The prepaid debit card is intended to be a more convenient form of payment.
The IRS and the Treasury Department began delivering the second round of payments from December 29 after Trump signed a $900 billion economic relief package on December 27.
The second round of payments follows the more than $270 billion in CARES Act Economic Impact Payments issued earlier this year.
The payments are generally $600 for singles who earned less than $75,000, and $1,200 for married couples who filed taxes jointly and earn less than $150,000. Those earning more are set to receive reduced payments.
People with qualifying children will also receive $600 for each child. Dependents who are older than 17, however, are not eligible for the additional payment.
The IRS said people can track both their first and second payments through its "Get My Payments" portal.
Last week, millions of Americans who use Intuit's TurboTax were told they will begin receiving their money from Friday, January 8 after their payments were delayed due to an error by the IRS.
Earlier this month, the IRS warned some second stimulus payments may have been sent to bank accounts that are no longer valid.
"Because of the speed at which [the] IRS issued this second round of payments, some payments may have been sent to an account that may be closed or no longer active. By law, the financial institution must return the payment to the IRS, they cannot hold and issue the payment to an individual when the account is no longer active," the IRS said.
In an updated statement on Thursday, the IRS advised: "The direct deposit payments may take several days to post to individual accounts. Some Americans may have seen the direct deposit payments as pending or as provisional payments in their accounts before the scheduled payment date of January 4, 2021, which is the official date funds are available.
"Paper checks also began going out and will continue to be sent through January. Some people will be mailed debit cards in January, and the IRS urges people to carefully check their mail.
"Mailed payments will require more processing and mailing time. Those who reside abroad will have longer wait times for checks as disruptions to air travel and mail delivery in some countries will slow delivery," the IRS noted.
Those who do not receive their full second stimulus payment by the time they file their 2020 tax returns can claim a Recovery Rebate Credit on their tax returns.