ISIS Blooper Video Posted by al-Qaeda Proves Terrorists Can Be Petty Too
Terrorist group al-Qaeda has released a new video mocking its rival, the Islamic State.
Proving that fundamentalist zeal and bloodlust are no match for pettiness, the legacy terror organization posted a clip of a recruit in Yemen stumbling as he tries to renew his vows to ISIS.
The video supercut shows the man repeatedly falter as he tries to renew his allegiance to the terrorist organization that had murdered more than 1,400 people globally as of 2018, according to data gathered by CNN.
British newspaper The Telegraph identified the absent-minded radical as Abu Muhammad al-Adeni.
Unable to remember the words, the forgetful fighter pulls out a piece of paper to review his lines. He starts over as someone off-camera tells him to "stay calm, keep cool" according to a translation by The Telegraph.
Then he gets distracted by a loud bird call.
To the bumbler's right, a man with his face covered occasionally alternates between picking at the ground in front of him and looking up at the camera, his scarf hiding his identity but not his side-eye.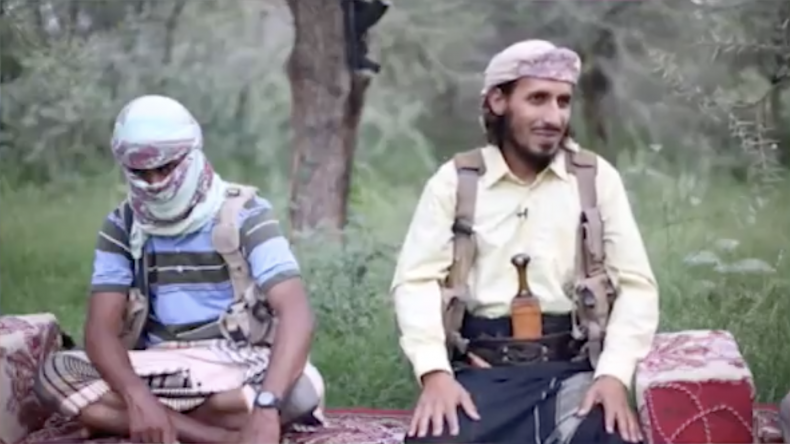 This is not the first time al-Qaeda has poked fun at the upstart competitor, which began as a splinter group back in 2014.
The post made its way on to mainstream social media thanks to Oxford University professor of Oriental studies, Dr. Elisabeth Kendall, who shared it on Twitter on Tuesday.
In a follow-up tweet, Kendall reported that the video was originally posted by Hidaya Media, al-Qaeda's propaganda wing, earlier in the week. The video appears to use outtakes from an Yemeni ISIS promotional video from September 2017, she added—because good academics cite their sources, even on social media.
The next day Kendall provided a speculative status update on the interrupting fowl: "The final #ISIS cut of their shambolic pledge video ended with the jihadists huddled around a cooking pot, so I fear our heroic bird didn't make it."
She continued, enquiring, "Now that 'Business Insider' has picked it up, anyone want to buy the film rights to 'Black Squawk Down'?"
Media outlets across the West ran with the story. The Telegraph uploaded the video to Youtube, but the video sharing platform's administrators quickly took it down.
Kendall seems to revel in the attention her tweet has garnered from the press. Noting that she had made it into a popular British tabloid, she tweeted again:
"An article in that great British institution of shamelessly brilliant muck-raking pseudo-journalism:@TheSun. I might as well retire now."