ISIS Celebrates California Wildfires Death Toll as Supporters Suggest Ways to Make It Worse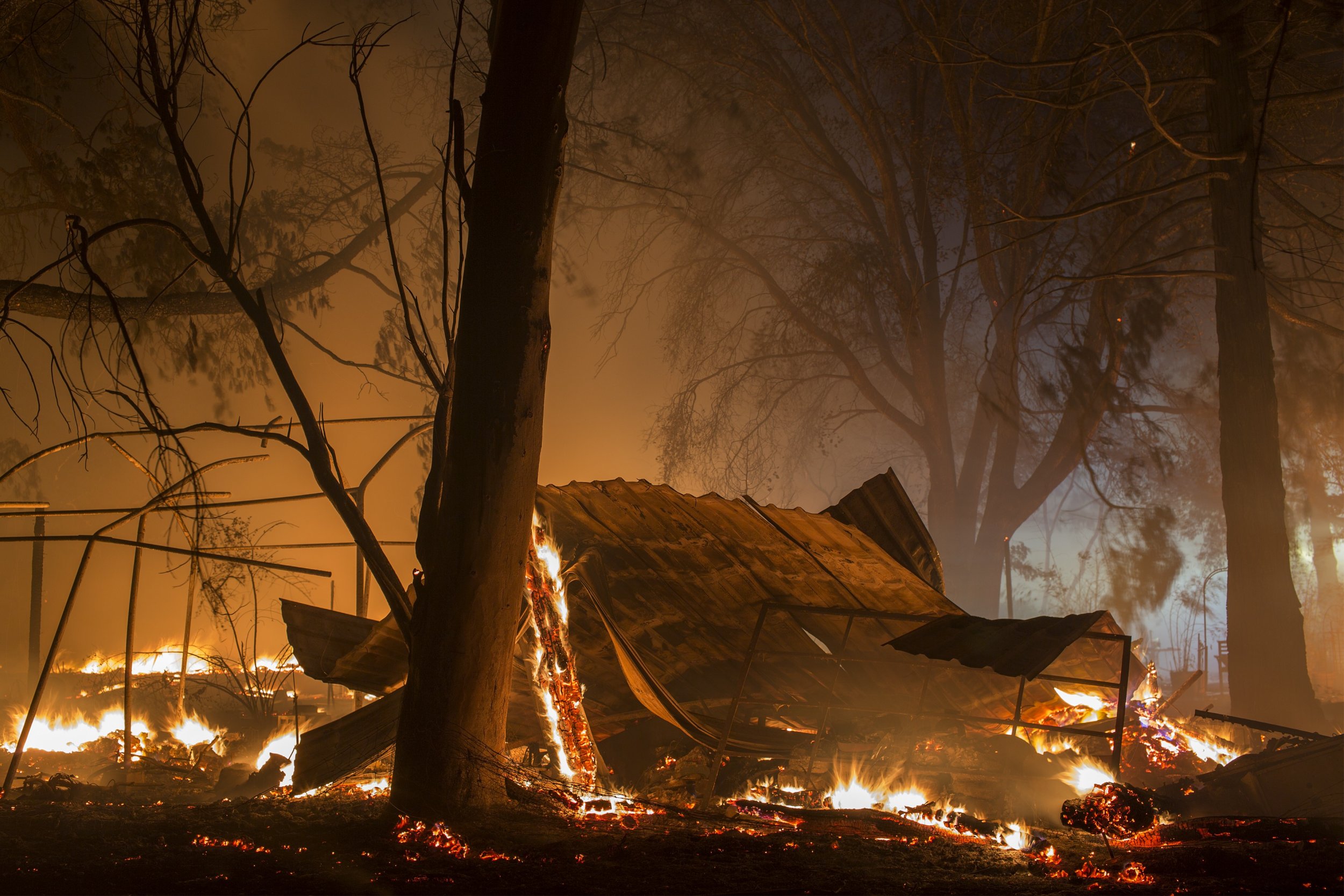 The Islamic State militant group (ISIS) described the death and destruction associated with the recent California wildfires in its latest newsletter, days after supporters suggested laying gasoline-filled bottles in the woods to inflict further damage.
ISIS has not claimed responsibility for the raging blazes that have killed at least 41 people and injured 100 more across California, but the jihadis appeared eager to share the news of what they called "the worst fire disaster in the history of the United States." In the "Events This Week" section of ISIS's weekly Al-Naba magazine, the militant group told readers Thursday that recent conditions have hindered firefighting and search-and-rescue efforts.
Related: If ISIS was behind Las Vegas shooting, there's a terrifying reason it won't prove it yet
"The fires that broke out Sunday (Muharram/18) swept the state, displaced thousands of people and destroyed more than 200,000 hectares of land. Strong winds have led to the hampering of the efforts of nearly 8,000 firefighters fighting 20 fires," the online ISIS publication said.
"Meteorological forecasts do not indicate improved weather conditions," it added.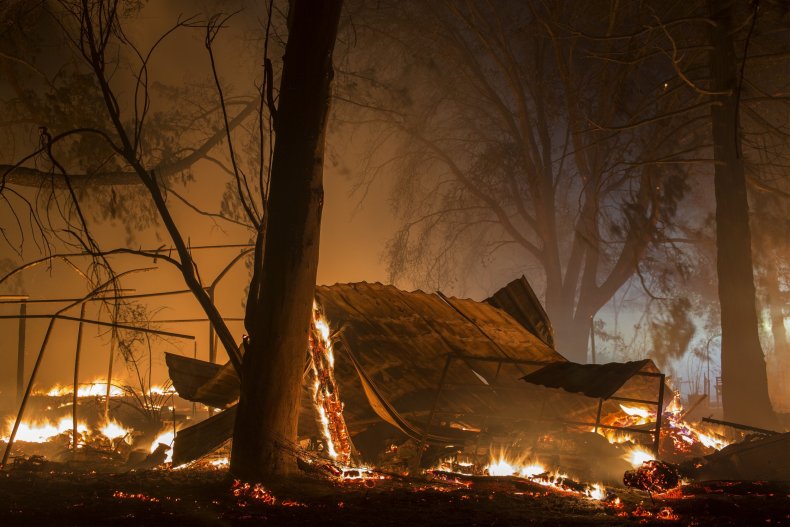 The wildfires may have appeared only as a footnote in the magazine's 101st issue, which included in-depth articles about battles with Syrian troops in Deir Ezzor and the killing of a top Syrian Republican Guard member, Major General Issam Zahreddine, but its release came only days after an ISIS supporter shared a homemade plot to make the fatal fires even deadlier.
On the encrypted messaging application Telegram, where Al-Naba was also widely distributed among pro-ISIS channels, a user posted an image Monday of a forest fire above a second image of two liquid-filled plastic bottles. Beneath the images, which were featured on a group titled the Abu al-Mughira al-Qahtani Batallion, named after the late ISIS Libya commander killed by a U.S. airstrike in November 2015, the user wrote "with only 4€" in Arabic, followed by a series of emojis indicating gasoline, trees, flames, hospitals and homes.
The post was likely a reference to other wildfires that broke out last week in Portugal and Spain. Up to 100 blazes broke out, killing up to 44 people, mostly in Portugal, and resulting in the resignation of Portuguese Interior Minister Constanca Urbano de Sousa, according to Reuters.
ISIS in the past has encouraged its followers to use fire as a weapon against the West. Featuring a flaming cover, the fifth issue of the Al-Rumiyah English-language digital magazine, released in January, included instructions for "Arson Attacks" under the "Just Terror Tactics" section.
"Throughout history and until the present day, incendiary attacks have played a significant role in modern and guerilla warfare, as well as in 'lone wolf' terrorism. Such attacks have been behind the destruction of towns, neighborhoods, and public, private, and governmental property, while likewise claiming numerous lives," the article read.
The piece included instructions on how to create such flammable weapons as molotov cocktails and when to strike, in order to best target "Crusaders" and to send them from "the fire of this world to the inferno of Hellfire." It specifically includes "forest fires" as a method of attack.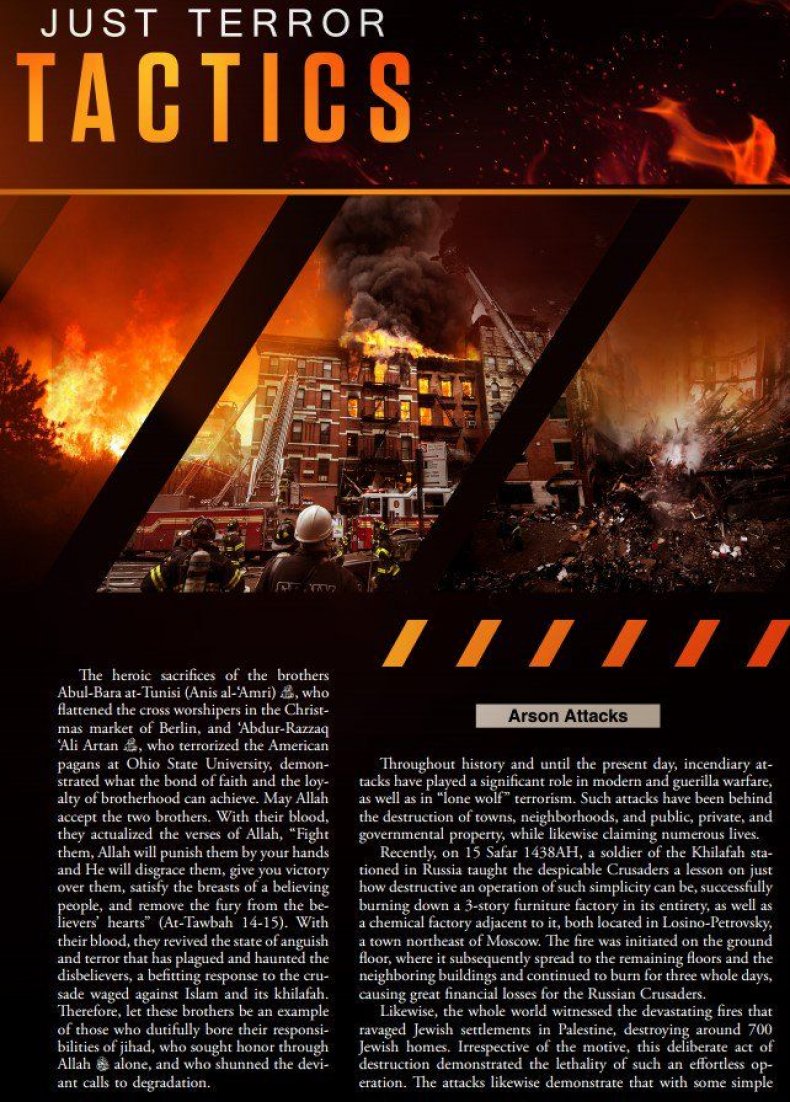 ISIS has also rallied behind other recent natural disasters that have befallen the U.S. At the tail end of a particularly devastating hurricane season for the Western hemisphere, ISIS's Al-Barakah media outlet released an English-language video last month in which a scarf-wearing ISIS member explains how the powerful storms that struck Texas, Florida, Puerto Rico and elsewhere furthered the militant group's cause.
"By Allah, the Muslims are extremely overjoyed with the series of hurricanes that is running over the United States of America. Oh Americans, we take delight in every form of harm that afflicts you and we call upon Allah day and night to overwhelm you with disaster and illness as revenge for you," a man said in the video, which was sent to Newsweek by terrorism analyst Michael S. Smith II.
"And, oh Americans, do not rejoice over the fact that these hurricanes have not destroyed everything and uprooted you, for it is the way of Allah to send upon the wrongdoers signs that perhaps they may repent and return to guidance," the individual added.