ISIS Claims Murder of Priest in Sinai, Where Egypt's Christians Are Under Threat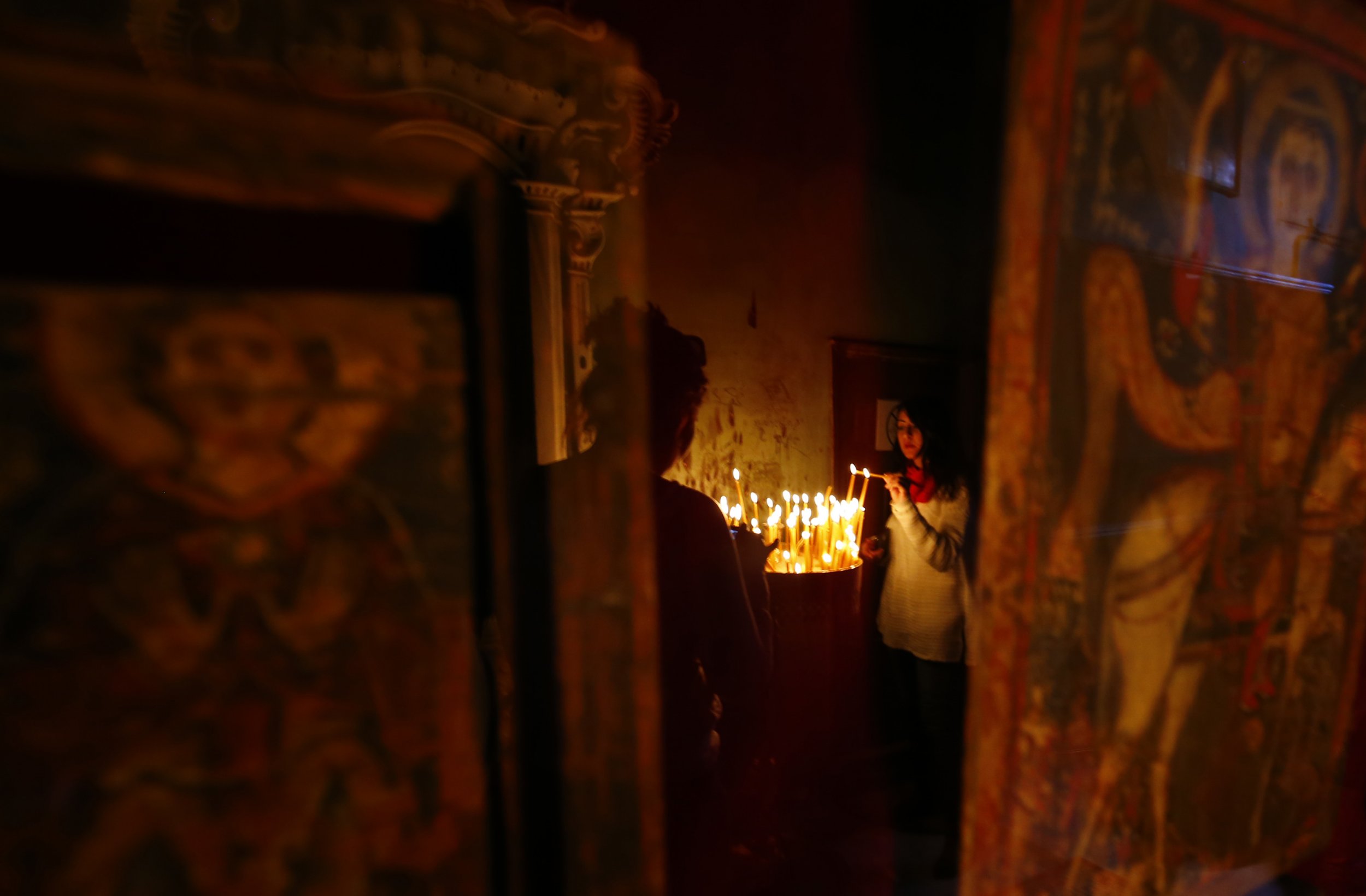 An Egyptian affiliate of the Islamic State militant group (ISIS) claimed responsibility Thursday for the murder of a priest in the Sinai Peninsula, a region with great spiritual significance for Christians but where they are facing threats from extremists.
Rafael Moussa, 46, a Coptic Orthodox minister at the Mar Girgis (St. George) Church in Arish, was having his car fixed at a repair shop when he was gunned down Thursday, The New York Times reported. A masked gunman shot the priest before threatening witnesses and then fleeing, a minister from a nearby church told the newspaper.
In its claim of responsibility, ISIS's Sinai Province—which operates in the Sinai Peninsula—described Moussa as a "disbelieving combatant," according to a translation by extremist monitors the SITE Intelligence Group.
Moussa's death is not the first time a priest has been targeted in Arish, the capital of Egypt's North Sinai province in the vast and restive Sinai Peninsula. In July 2013, Mina Aboud Sharween was shot dead by suspected Islamist gunmen in the town just days after Muslim Brotherhood leader and then-Egyptian President Mohamed Morsi was overthrown by the military and replaced by General Abdel Fattah al-Sisi. A total of eight Christians have been killed in targeted attacks since 2013, prompting some of Sinai's Christian minority to emigrate to the capital Cairo and other areas.
Bishop Angaelos, the General Bishop of the Coptic Orthodox Church in the U.K., tells Newsweek that the Coptic community in Sinai were shocked by Moussa's killing. "He was not just a priest, he was a father, he was a husband, he was a pastor to many people," says Angaelos, who adds that Moussa was probably targeted because a priest "symbolizes a [Christian] community."
The Sinai Province regularly claims responsibility for attacks on Egyptian security forces and police in the region and also claimed it brought down a Russian jet in October 2015, which resulted in the death of all 224 people on board. Analysts have estimated that the group has more than 1,000 active fighters, although it does not control any territory in Egypt.
In other areas of the Middle East and North Africa, ISIS has persecuted Christians and other religious minorities, forcing them to convert or punishing them, often with death. When ISIS overran Iraq's second city of Mosul in 2014, thousands of Christians were forced to flee the city, while the militant group massacred members of the Yazidi religious minority after overrunning the town of Sinjar in 2014.
John Pontifex, a spokesperson for U.K. charity Aid to the Church in Need, which supports persecuted Christians, says that the murder of Moussa shows that there is a "real threat" towards Christians in Egypt from Islamist militants. "It seems an ISIS-affiliated group has claimed responsibility for it. This means they share the ISIS mentality, which is very clearly an attempt to wipe out all Christian and other minority influence within the region," says Pontifex.
Egypt has a small but ancient Christian minority that makes up between 5-10 percent of the population; most belong to the Coptic Orthodox church. The North African country, and the Sinai Peninsula, in particular, holds rich biblical history for Christians—Mount Sinai, which lies in the south of the peninsula, is the purported site where Moses received the Ten Commandments. The Coptic Orthodox church traces its origins back to St Mark, an author of one of the four biblical gospels, who is traditionally believed to have founded the church in the first century CE.
But Egypt's Christians complain that they still suffer discrimination and even violence in some cases. A 70-year-old Christian woman was stripped naked by a Muslim mob in the Minya province in Upper Egypt in May, following rumors that the woman's son had had an affair with a Muslim woman. Seven Christian homes were also ransacked and torched in the incident.
Mina Thabet, a Coptic activist at the Egyptian Commission for Rights and Freedoms, a civil society group based in Cairo, tells Newsweek that Moussa's killing cannot be taken out of context. "You can't separate this from the problem of discrimination against Christians and religious minorities in general in Egypt. We can't deny that there is a discrimination problem, there is inequality and acts of violence against minority communities in Egypt," says Thabet. "I know a lot of Christians have left Sinai."