Last ISIS Fighters Demand Evacuation From Devastated Village to Rebel-held Syria: Report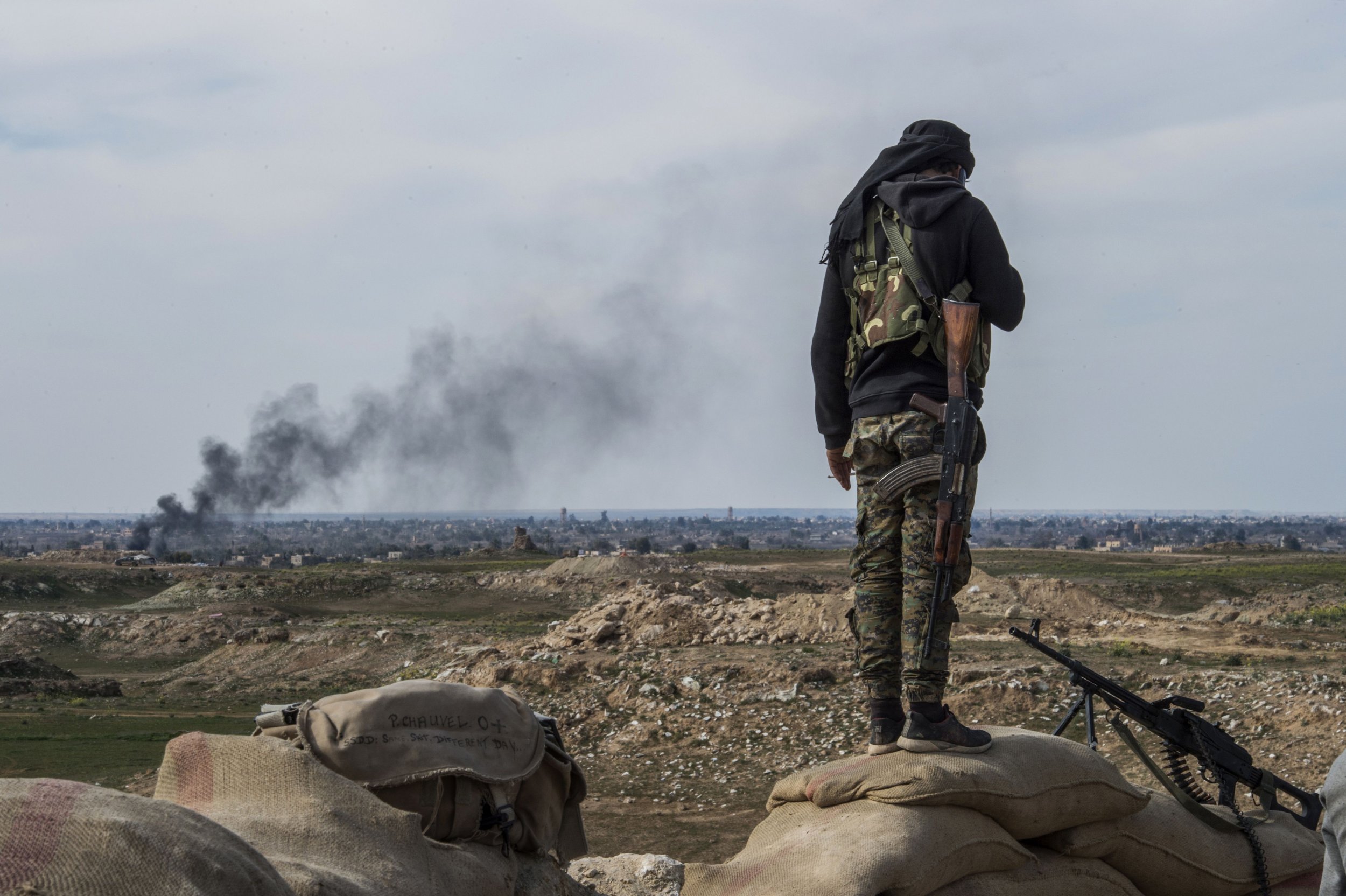 Hundreds of ISIS fighters surrounded in the last village under their control are trying to negotiate safe passage to rebel-held areas of Syria.
According to The Associated Press, up to 300 militants remain in the village of Baghouz in southeastern Syria, which marks the last corner of their once expansive and wealthy caliphate.
Citing Syrian activists and a person close to the negotiations, the AP reported that the remaining militants—many of whom are foreign fighters—are refusing to surrender to the Syrian Democratic Forces (SDF), an alliance of militias led by the Kurdish People's Protection Units (YPJ) and backed by the U.S.
Hundreds of civilians remain in the destroyed village. ISIS will reportedly not let them leave and are using them as human shields. Some fighters, their families and hostages are believed to be taking refuge in a network of tunnels dug below the small village on the banks of the Euphrates River by the Iraqi border.
According to an anonymous person familiar with the negotiations, ISIS fighters have asked for a safe corridor to travel to the rebel-held area of Idlib in northwestern Syria—the only significant area of the country not under the control of government forces loyal to President Bashar al-Assad, the Kurds or Turkey.
The U.K.-based Syrian Observatory for Human Rights (SOHR) monitor said an ISIS request for passage to Iraq had already been refused.
According to activist group DeirEzzor 24, trucks loaded with food were allowed to enter ISIS-held areas of Baghouz on Sunday and Monday after the two sides agreed to a five-day truce. Both DeirEzzor 24 and the SOHR said 10 captured SDF soldiers were also released Sunday, though it was not clear whether this was linked to the food delivery or if ISIS had won any other concessions as a result.
U.S. military officials and their local and international allies are keen to announce the eradication of all ISIS territorial control. They have previously suggested that the battle for Baghouz could be over within days, ending a costly four-year military campaign.
ISIS has been pushed out of northern Syria by the SDF and out of Iraq by government forces there. The group has since been confined to a thin strip of towns and villages in the Euphrates River valley, as ground operations and coalition airstrikes further degraded its strength.
Baghouz marks the last refuge for the group, which once controlled a population of between 7 million and 8 million people across a swath of Iraq and Syria.
But the liberation of Baghouz will be the end for the group. Last week, the commander of the U.S. Central Command, General Joseph Votel, warned that ISIS "still has leaders, still has fighters, it still has facilitators, it still has resources, so our continued military pressure is necessary to continue to go after that network."
The SDF and the U.S. are also struggling to process hundreds of prisoners suspected of being loyal to ISIS. Some are foreigners who answered the call to join the caliphate, and President Donald Trump has warned Western allies that fighters may be released if they are not repatriated.
Analysts expect remaining fighters to return to a guerilla warfare approach once its conventional forces have been defeated. This has been evident in Iraq, where while the government declared victory over the group in December 2017, ISIS assassinations, bombings and kidnappings have been on the rise.