ISIS Is 'Simmering Powder Keg' Under Biden, Congressman Warns
Two days after U.S. forces and local partners conducted a helicopter raid in northeastern Syria in which an Islamic State militant group (ISIS) leader was killed, Florida Republican Representative Mike Waltz tweeted that "ISIS is back under Biden."
ISIS senior leader Hamza al-Homsi was killed in the raid by U.S. and Syrian Democratic Forces (SDF) that resulted in injuries to four U.S. soldiers and a working dog, U.S. Central Command (CENTCOM) said in a statement Friday, adding that "the U.S. servicemembers and working dog were receiving treatment in a U.S. medical facility in Iraq."
Waltz referred to the raid and added that "I wanna keep them on their back feet over there rather than waiting till they come home over here" in an interview with Fox & Friends Weekend.
"ISIS is back," he said. "It's a simmering powder keg in the Middle East right now. There are tens of thousands of ISIS fighters in these prison camps that are being guarded by the Kurds. Thank God for our special operators. that are still there. Look, for everybody who says just bring the troops home, well we have to have the helicopters there, the drones there. And we just had a raid a few nights ago where we had four of our special operators wounded, including a service dog, but they took out yet another ISIS commander. I wanna keep them on their back feet over there rather than waiting till they come home over here.
"But this problem hasn't gone away. The terrorists didn't get the memo from Biden saying the war on terrorism's over because he wished it was over."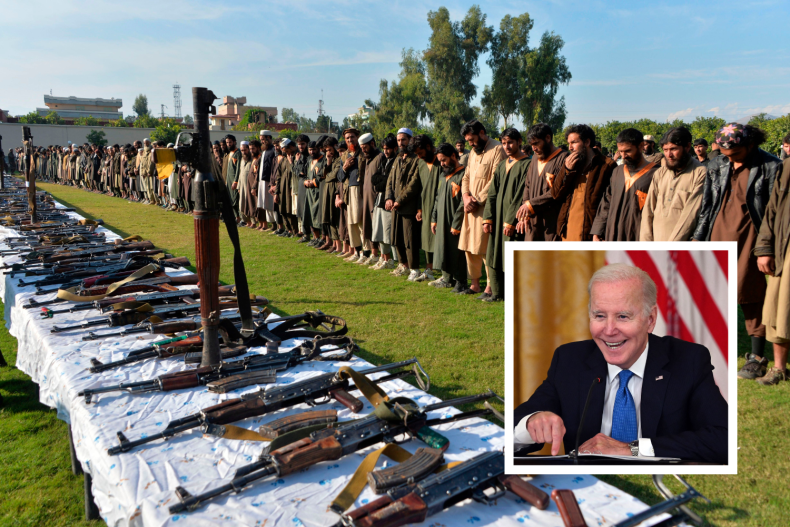 The latest raid came after CENTCOM announced a raid conducted alongside partners on February 10 in which weapons and ammunition were seized and another ISIS official said to be involved in attacks on detention centers in Syria was killed.
After the U.S. invasion of Iraq, ISIS took advantage of unrest surrounding the civil war in Syria to spread to the neighboring country in 2013. In 2014, the U.S. launched a multinational coalition to defeat the group in Iraq and Syria. In 2015, the Pentagon shifted its focus to backing the Kurdish-led SDF in the fight against ISIS.
Campaigns led by the U.S.-led coalition and the SDF, as well as by the Syrian government and its Russian and Iranian allies, have continued to target the group, which remains active in certain stretches under the control of various factions in the country.
Defense Priorities senior fellow and military expert Lieutenant Colonel Daniel L. Davis told Newsweek on Saturday that the idea that the U.S. needs to stay in Syria to guard "tens of thousands' of ISIS members in jails in Syria, guarded by the SDF, is a real problem.
"The 'tens of thousands' of ISIS members in jails in Syria, guarded by the Syrian Democratic Force (SDF) is a real problem I warned about [this] many years ago," Davis said. "There was never a plan on what to do with them and no one has since come up with a plan. Men festering in a prison, with no judicial process, and no idea when or if they'll ever be released, are naturally going to become even more radicalized the longer they stay there.
"But the idea that the U.S. needs to stay in Syria to guard these prisoners or because ISIS members exist in Syria is to argue to stay forever. The members of ISIS are no more dangerous to the U.S. than the 67 other terrorist entities listed by the State Department [Foreign Terrorist Organizations-United States Department of State]. The reality is, the United States is no safer because of the handful of troops we keep in Syria than we would be if they all redeployed tomorrow."
The Biden administration said that the U.S. military's January killing of a key ISIS figure in Somalia showed the extent to which the jihadi group has continued to spread despite international efforts.
"Our approach starts from fundamental recognition that the terrorism threat today is more diffuse, ideologically diverse and geographically dispersed than it was 20 or so years ago," an administration official previously told Newsweek. "That means, as you've heard us say before, that we could not afford to allocate our troops globally, in a way that reflected the threat landscape of September 2001, rather than the threat landscape we actually face today.
"Instead, we needed to have a combination of light footprints, operational agility and intelligence inside to determine where threats to Americans arise from now."
Davis pointed out that U.S. security is not ensured by having a handful of troops on the ground in Syria, or in other places such as Somalia, Niger or Iraq.
"But by our excellent ability to track and strike targets that are direct threats to our security, no matter where in the world they may be," he said. "Close cooperation between our federal, state and local law enforcement agencies—together with the U.S. Armed Forces and vast intelligence capacities—will ensure we identify and eliminate any threats to our security and keep Americans safe."