ISIS Strikes Back in Iraq and Syria Amid U.S.-Iran Tensions, Coronavirus Concerns
The Islamic State militant group (ISIS) has staged resurgent strikes in Iraq and Syria as the two war-torn nations now dealt with heightened tensions between the United States and Iran, as well as the novel coronavirus pandemic.
The Iraqi military and state-sponsored Popular Mobilization Forces militias launched on Monday a new joint push entitled into the western desert of Al-Anbar province, searching for remnants of the ISIS jihadi organization forced underground after its defeat about two and a half years ago. Once in control of Iraq's second city of Mosul, ISIS today has resorted to a campaign of ambushes to continue to pressure Baghdad-backed forces and managed over the weekend to stage one of its most brazen operations in months.
Iraq's Security Media Cell reported Saturday that six members of the Popular Mobilization Forces' 35th Brigade were killed by ISIS gunfire near Mekeeshfa in the Salahuddin province north of the capital. Three more fighters were killed there in a subsequent suicide blast and another militiaman of the 41st Brigade was shot dead in Tel al-Thahab village of Samarra province.
Clashes between the Popular Mobilization Forces and ISIS continued on through Monday in Salahuddin and other parts of the country as Iraq stepped up its anti-ISIS efforts.
But the militant group also recently rose up against security forces in neighboring Syria, killing what the pro-opposition, United Kingdom-based Syrian Observatory for Human Rights reported Thursday to be six soldiers—including an officer—after their bus hit a landmine near Sokhna, Homs province. Here, too, ISIS was largely decimated by local, regional and international forces in recent years but now threatens to regroup by exploiting government weaknesses.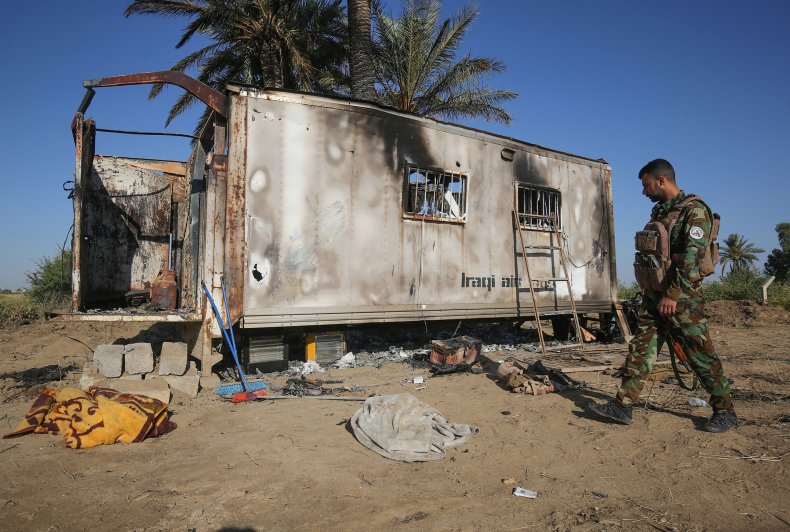 Both Iraq and Syria have been ravaged by years of conflict among competing factions whose goals rapidly shifted with the rise of ISIS in 2014. The group's rapid spread across the two large Arab countries drew intervention from longtime foes Iran and the United States, which both sought to curb ISIS' gains.
Washington and Tehran both backed Baghdad but the U.S. worked in Syria outside the Iran-backed government it was already supporting efforts to overthrow. President Donald Trump scaled back regime change efforts against Damascus upon taking office in 2017 but soured U.S.-Iran relations by walking away from a 2015 nuclear deal the following year and imposing sanctions against the Islamic Republic.
While crediting Iran and fellow Syrian government ally Russia for fighting ISIS, Trump has sought to roll back Tehran's extensive network of regional paramilitary partners hostile to the U.S., Israel and Saudi Arabia. This has led to an uptick in tensions in the Middle East, especially in the strategic waters of the Persian Gulf and in Iraq, where the U.S. killed Iran's Revolutionary Guard Quds Force commander Major General Qassem Soleimani in a January drone strike that dramatically escalated the feud.
Iraqi officials reacted with outrage to the attack and the clashes between U.S.-led coalition and local militias that have ensued. Even amid these clashes, both sides have continued to pursue ISIS, with the U.S.-led coalition conducting airstrikes Wednesday against suspected militant positions at Hamrin Mountains in northern Iraq.
"The presence of Daesh in Iraq continues to diminish, thanks to the efforts and sacrifices of our Iraqi partner forces," U.S.-led coalition commander Major General Eric Hill said in a press statement at the time. "Strikes like these help our Iraqi partners maintain relentless pressure on the Daesh scourge, no matter where these terrorists hide."
Tehran, however, has accused the Pentagon of stoking unrest through its ongoing presence in Iraq. On Monday, Iranian Foreign Ministry spokesperson Abbas Mousavi condemned the recent ISIS attack on the Popular Mobilization Forces, arguing that the incident, along with the recent rise in such events, was "connected with the Iraqi Parliament's legitimate request for the withdrawal of the U.S. from that country," according to the semi-official Tasnim News Agency.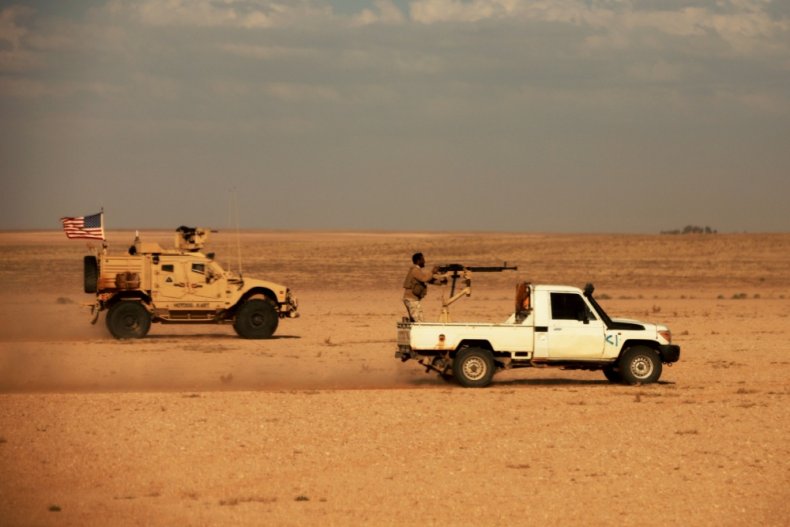 Iran has also called for a U.S. withdrawal from Syria, where American forces conducted exercises with the rebel Maghawir al-Thawra group near the southern Al-Tanf garrison. The Pentagon has barred entry to this area for Syrian, Iranian and Russian forces who have accused the U.S. of using the exclusive zone to protect anti-government elements.
Ongoing tensions have hindered Iraq and Syria's abilities to battle not only ISIS but also COVID-19, the disease caused by the new coronavirus that has infected some 3.5 million people around the world and killed around 250,000.
Iraq has registered over 2,300 cases of the illness, with nearly 100 deaths, while Syria has recorded a mere 44 instances and three fatalities. However, the real figures in both countries are believed by some experts to be much higher due to low testing rates.
Iraqi caretaker Prime Minister Adel Abdul-Mahdi held a video meeting Monday with the Supreme Committee for Health and National Safety to discuss efforts to battle the pandemic, which he said was "no less dangerous than our battle against ISIS, which tries to exploit the situation," according to a readout provided by his office.
Syrian President Bashar al-Assad also met Monday with health officials and he too likened the anti-epidemic measures to a "war," comparing the past few weeks alone to nine years of conflict in the country.