The extreme terrorist group ISIS has spent the past several months threatening to attack the United States during Christmas.
The militant group is being defeated militarily in Iraq and Syria, as U.S. and coalition military forces continue to strike the group's last remaining enclaves. Despite ISIS's territory losses in the Middle East, its propaganda machine is still going strong—and it has increasingly been calling on its followers to perpetrate lone wolf attacks against people in the West.
Related: Will ISIS Attack Washington D.C. Or New York On Christmas?
For ISIS propagandists waging a culture war against what it considers Western, Christian civilization, the holiday season—when Christians gather to celebrate the birth of Jesus Christ—is a perfect time for spreading terror.
"Keeping their threats timely garners more attention, as opposed to issuing more general threats which might blend into the noise of the rest of their media," said Rita Katz, executive director of the SITE Intelligence Group, a non-governmental counterterrorism organization.
"It's impossible to say whether any given threat or incitement will result in an attack," Katz told Newsweek. "However, as proven from the dozens of attacks by ISIS-inspired individuals in Europe and the U.S., ISIS media and pro-ISIS media have a very strong impact on the group's supporters."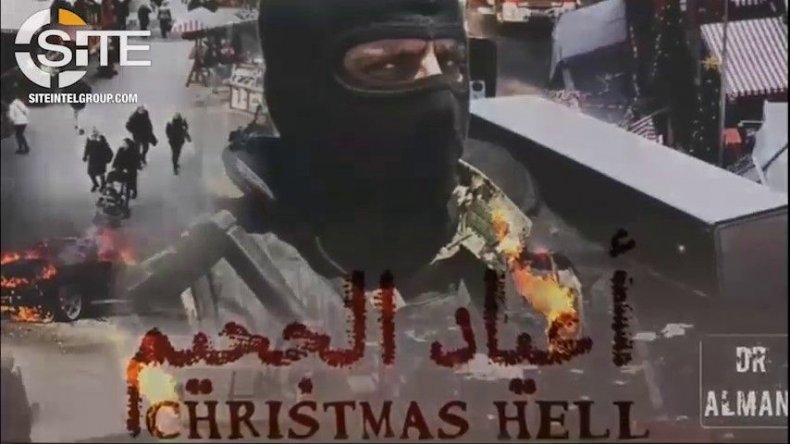 With this in mind, ISIS supporters have increased the number of threats it issues just in time for Christmas and New Year. Here are some of the most recent ISIS threats for Christmas:
In late November, ISIS threatened to attack New York's Time Square during Christmas. A propaganda poster spread by the group's supporters featured a demented, photo-shopped Santa Claus standing next to a box of dynamite. "We meet at Christmas in New York….soon," one propaganda poster reads.
A second poster issued the same day, November 27, showed an ISIS fighter standing behind Santa Claus. "Soon on your holidays," the poster reads in English, French, and German.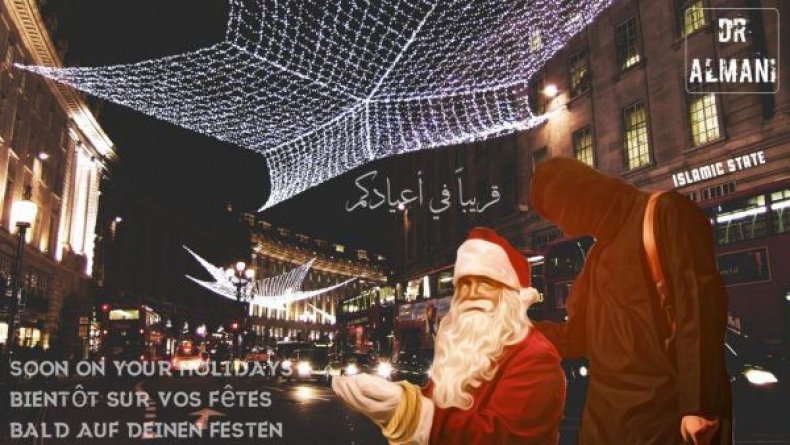 Shortly thereafter, the group threatened to attack a Mormon temple in San Diego, California. The poster, which was disseminated around a pro-ISIS Telegram channel on November 29, shows an armed fighter standing in front of the temple with the words "coming soon" covered in a Christmas wreath.
On December 3, ISIS issued a 5-minute video called "Christmas Hell," which warned of attacks on the West and contained news coverage of security at Christmas markets.
On December 14, two posters were distributed on a pro-ISIS channel for the messaging app Telegram. "Wait for us, we meet at Christmas in New York... soon," one of the poster reads. Ironically, the poster shows a picture of the National Cathedral in Washington D.C. erupting in flames, demonstrating that the terror group doesn't have a good grasp of U.S. geography.
The second poster shows an ISIS fighter pointing a machine gun at an outdoor concert. "Soon on your holidays," the poster reads.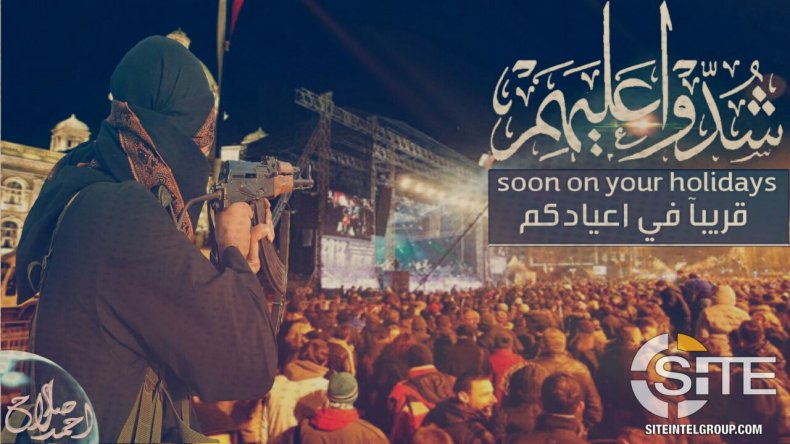 From December 17 to 18, around seven propaganda posters were spread around pro-ISIS Telegram channels. "Wait for us on your year parties," one of the posters reads. Another poster shows ISIS fighters standing over holiday celebrations and tanks with ISIS flags closing in on the Statue of Liberty.
Aside from its threats against the U.S., ISIS has repeatedly threatened to attack the Vatican on Christmas. It even released a propaganda poster showing an ISIS fighter beheading the Pope.
ISIS frequently issues generic messages featuring Santa Claus and weapons. Frequently, the artwork is crude and cartoonish.