'Isolation Room' Allegedly Used to Lock Up Young Students Called 'Inhumane'
Parents of children at Silver Creek Elementary School in western New York were furious this week after a letter from a senior staff member said students were allegedly being locked in a "jail-like cell" as a form of discipline.
Jay Hall, Assistant Director of Elementary Programming for the school district, sent the letter to the school board on March 28. It quickly circulated among stunned parents on social media.
Students from kindergarten to second grade were "inhumanely and illegally locked or barricaded in an isolation cell in room E-102" within the past school year, according to a copy of the letter shared on Facebook.
Hall went on to say that he had been pleading with members of the school administration to cease use of the "foreboding, cold, cinder block jail-like cell." He claimed the room secluded children with a "one-way locked door" that prevented them from escaping. The room also held allegedly unsafe items, Hall said, including "exposed electrical outlets, wiring, a closet full of items, and a razor blade-like mechanism under the folding bed."
Hall has since been placed on administrative leave, according to WKBW-TV. Photos sent from parents to WKBW-TV alleged to show the isolation room, containing a blue bed, one window and the electrical outlets described by Hall.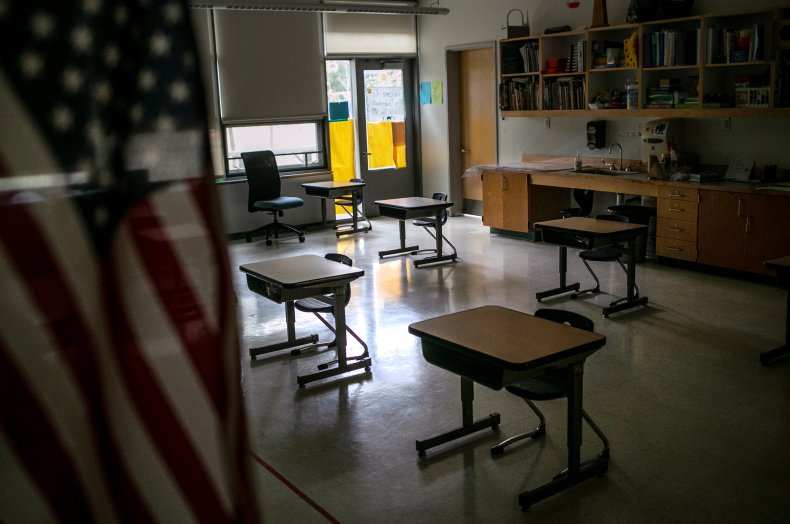 The school district acknowledged the allegations in a Facebook post on March 30. "The District's most important priority is the safety and security of all District students and staff," said the statement. "We take any concerns and allegations regarding student safety and their wellbeing as the top priority."
The district added that a "third party" had been engaged, which "immediately began and continues investigating the allegations set forth in the letter."
Community members expressed their outrage in the comments below the post.
"You better pray we never find out that our son has ever been put in one of these so-called cells!!" said one parent.
"Why on earth did it take the letter being released on social media for you to investigate?" asked another commenter. "Despicable treatment of children. DO BETTER."
In November 2019, a joint investigation by ProPublica Illinois and The Chicago Tribune revealed that children in Illinois were being punished with time-outs in locked seclusion rooms, sometimes for hours, despite the fact that most of the disciplined children had disabilities. The report documented 850 seclusions at The Center in East Moline, an elementary school specifically for children with disabilities.
Following the publication of that investigation, Illinois officials issued an emergency order to stop the use of isolated timeouts in public schools.
Newsweek reached out to District Superintendent Todd Crandall for comment.