Israel and Gaza Trade Hundreds of Strikes As Both Sides Prepare for War
Israel and Hamas have exchanged hundreds of rockets and airstrikes, as the Gaza Strip and southern Israel endure another intense bout of violence.
Casualties were reported on both sides overnight as Israeli and Palestinian citizens desperately tried to stay out of danger. Israel launched more than 100 airstrikes on targets in Gaza while around 150 rockets were fired at Israeli communities in the south of the country, The Times of Israel reported.
Israel Defense Forces (IDF) spokesman Lieutenant Colonel Jonathan Conricus said at least seven people were wounded on the Israeli side of the border, including a 30-year-old Thai woman who suffered serious injuries to her limbs and abdomen. Another person was lightly injured and several more treated for shock.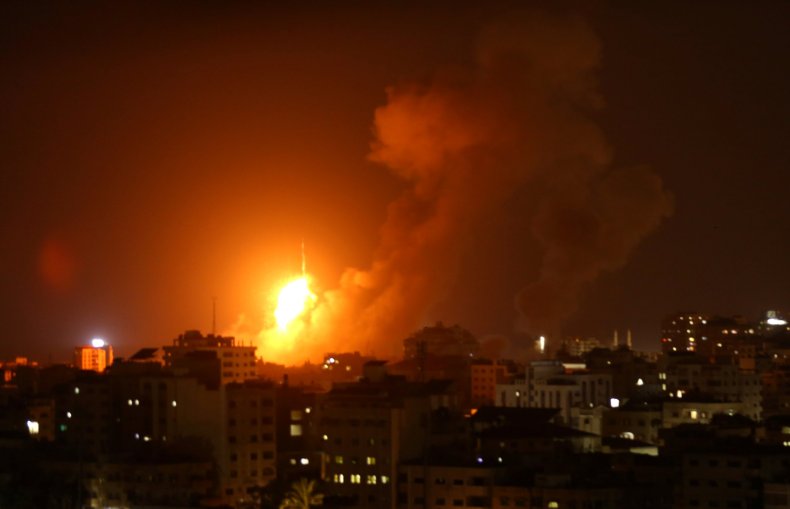 In Gaza, three people have reportedly been killed, including 23-year-old pregnant woman Enas Khammash and her child. A Hamas fighter also died in the north of the strip, the BBC reported. At least six others have been injured, the Gaza Health Ministry said.
Hamas said the rocket barrages were retaliation for the deaths of two of its members on Monday. Israel claimed the men were killed after firing at IDF troops on the border, but Hamas said they were engaged in a training exercise when they were targeted.
Twenty-five of the Hamas rockets were intercepted by Israel's Iron Dome defense system and most others fell in open areas, the IDF said. But many Israelis spent the night in or close to bomb shelters as air raid sirens continued to sound. Footage emerged of a group of adults and children in the city of Sderot, running for cover as a rocket exploded just feet from where they were standing.
An anonymous IDF official told The Times that war is becoming increasingly likely in Gaza. "We are ready to continue attacking, attacking and attacking," he told the paper. The official explained the IDF "struck a range of targets, including tunnel shafts and many military compounds belonging to Hamas. What we wanted to destroy was done very well."
The IDF closed roads near the border on Wednesday in anticipation of an attack. Conricus said the IDF was preparing to evacuate residents if a full-scale conflict erupted, and warned the current spike in violence "is definitely not over." Though no reserves have been mobilized yet, Conricus noted additional troops were being sent to the Gaza border.
On Thursday, sirens were still sounding in Israel and new strikes were being reported in the Gaza Strip. Another unidentified senior officer told The Times the two sides "are nearing a confrontation in no small steps. Hamas is making serious mistakes, and we may have to make it clear after four years that this path doesn't yield any results for it and isn't worth it."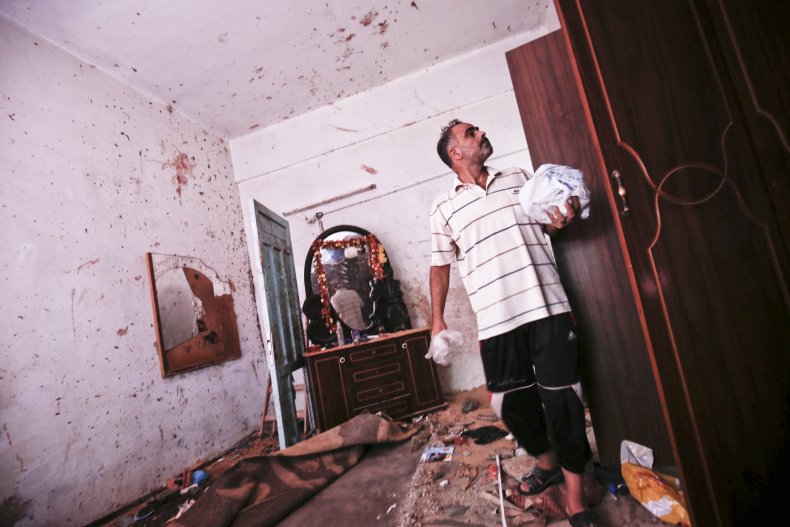 The United Nations Middle East envoy Nickolay Mladenov appealed for calm, saying in a statement: "I am deeply alarmed by the recent escalation of violence between Gaza and Israel, and particularly by today's multiple rockets fired towards communities in southern Israel." He urged both sides to step "back from the brink."
The last full-scale conflict between Israel and Hamas-dominated militant factions in Gaza was in 2014, when Israel launched Operation Protective Edge. Following the murder of three Israeli teenagers by Hamas operatives in the West Bank and subsequent exchanges of fire across the border, IDF forces advanced into Gaza to diminish Hamas's ability to attack Israeli targets.
The focus was on Hamas's rocket arsenal and the tunnels used to launch attacks on army positions and communities in southern Israel. The operation lasted seven weeks, after which both sides claimed victory. At least 67 Israeli soldiers and six civilians were killed, as well as more than 2,000 Palestinians, half of which were civilians.
The violent flare-up comes despite Egypt's ongoing efforts to broker a peace deal between Hamas and Israel. Cairo is hoping to secure a five-year ceasefire, discussions on prisoner exchanges, the return of the bodies of dead combatants and reconciliation between Hamas and Fatah—the Palestinian faction in control of the West Bank.
The deal would also see some of the restrictions on Gaza lifted. The coastal enclave and its 2 million people have been under Egyptian-Israeli blockade since 2007 in an effort to degrade Hamas's military capabilities. The humanitarian situation there is dire, with high levels of poverty and unemployment, fuel shortages and crumbling infrastructure.