Israel's Anti-Netanyahu Protests Explode as Coronavirus Cases Soar
Dozens of people were arrested at protests in Israel on Tuesday night, as pressure builds on Prime Minister Benjamin Netanyahu over his handling of the COVID-19 virus pandemic and outstanding corruption charges against him.
Hundreds gathered outside the prime minister's official residence in Jerusalem on Tuesday to demand Netanyahu's resignation over fraud, breach of trust and bribery charges, as parallel demonstrations took place in other parts of the country.
The charges against Netanyahu were a key element of the three general elections held in Israel over the past year. Each time, no party was able to command a majority in the Knesset, prompting the formation of a unity government between Netanyahu's Likud party plus its conservative allies with former Israel Defense Forces general Benny Gantz's centrist Blue and White coalition.
Netanyahu—Israel's longest-serving prime minister—will remain in office until November 2021 when he will hand power to Gantz, who is currently serving as defense minister.
But those who rallied against the prime minister on Tuesday waved placards calling Netanyahu the "crime minister" and demanded he step down. Police resorted to violence to disperse the demonstrators, arresting 50 according to The Times of Israel. One police officer was injured.
Netanyahu has repeatedly dismissed the charges against him as a plot by his political opponents to remove him from office. If convicted, the 70-year-old could face up to 10 years behind bars.
The corruption protests came after thousands of people packed Rabin Square in Tel Aviv on Sunday to demonstrate against the government's handling of the coronavirus pandemic, specifically what they said was its failure to provide economic support to entertainment and hospitality businesses and workers who have suffered greatly due to lockdown measures.
Israel introduced strict lockdown and tracking measures early in the pandemic, bringing the national outbreak under control quickly and with relatively few deaths. But having eased restrictions, the country is now battling a second and worse wave of infections.
Israel has reported 42,360 cases of COVID-19 virus infections and 371 deaths, according to Johns Hopkins University. But the rate of infections is rising, topping 1,700 newly reported cases on Monday.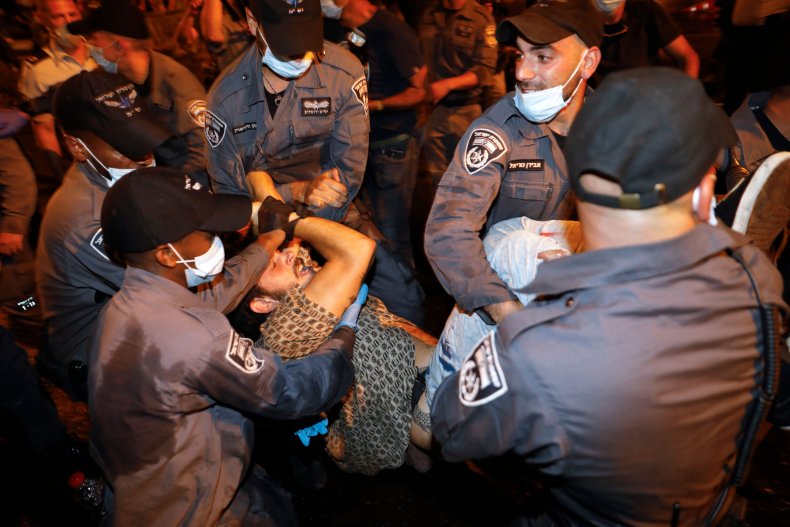 The spike is widening fissures in the unity government, with Netanyahu and his Likud allies accusing Gantz and Blue and White ministers of delaying necessary fresh lockdown measures to stem the spread of the virus.
But Netanyahu's approval ratings are sliding in the face of the coronavirus onslaught. A poll conducted by Israel's Channel 12 news published Monday found that 46 percent of participants are satisfied with Netanyahu's performance, with 49 percent unhappy.
At the start of July before the rapid rise in new cases, 56 percent supported Netanyahu's performance compared with 36 percent who were dissatisfied. At the start of May with COVID-19 relatively under control, 74 percent approved of the prime minister's handling of the situation versus 23 percent who disapproved.
The economic dislocation of the pandemic has been particularly punishing, and many of those affected claim that the government has failed to provide for the worst-hit industries. Unemployment peaked at over 25 percent with 1 million Israelis out of work, some 800,000 of which are still without employment according to The Times of Israel.
Channel 12's poll found that only 33 percent of respondents think Netanyahu is handling the financial crisis well, with 62 percent saying they are dissatisfied. At the start of May, 53 percent approved of the prime minister's performance on financial matters and 43 percent disapproved.