Israel Blocks Jewish Activists 'Voice for Peace' and Other Pro-BDS Groups From Entering the Country
Israel published a list of activist organizations whose members will be barred from entering the country due to their support of the Boycott, Divestment, and Sanctions movement, on Sunday.
The so-called "BDS blacklist" was released by the Strategic Affairs Ministry under Gilad Erdan, member of Prime Minister Benjamin Netanyahu's right-wing party, Likud.
The ministry plans to begin enforcing the list in March.
Local media outlets have reported that the list includes organizations based in Africa, Europe, and the Americas, including Jewish Voices for Peace, a prominent left-leaning advocacy group based in the United States with over 200,000 online members and dozens of chapters across the globe. The group has historically been critical of Israel's treatment of Palestinians in the West Bank and the country's expansionist policies.
Other American groups on the 'BDS blacklist' include American Friends Service Committee, American Muslims for Palestine, US Campaign for Palestinian Rights, National Students for Justice in Palestine, and Code Pink.
During Sunday's announcement, Erdan said barring the activists from entering Israel was a matter of public safety.
"We have shifted from defense to offense. The boycott organizations need to know that the State of Israel will act against them and not allow [them] to enter its territory to harm its citizens," Erdan said, according to Haaretz. "No country would have allowed critics coming to harm the country to entry it."
Interior Minister Arye Dery, whose ministry is responsible for implementing the list, added: "These people are trying to exploit the law and our hospitality to act against Israel and to defame the country. I will act against this by every means."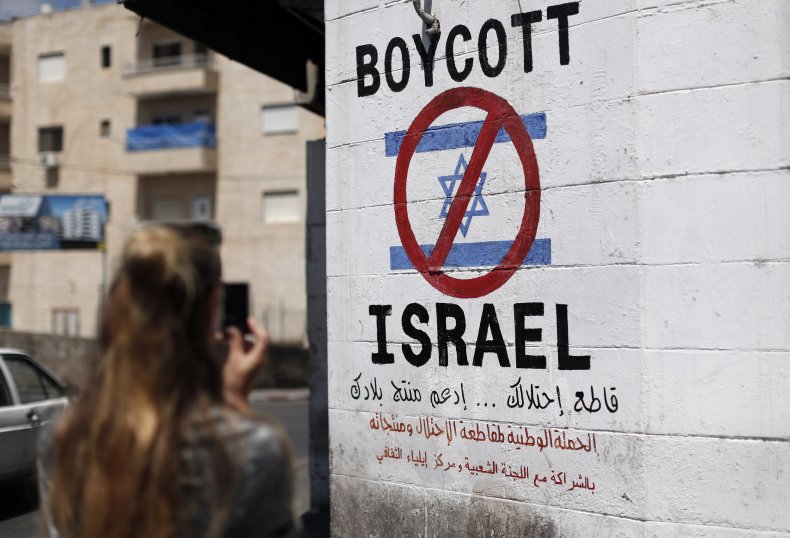 The BDS movement is a years-long effort from international organizations to put economic and social pressure on Israel to cease its occupation of land where Palestinians have historically resided in, as well as acknowledge Palestinians' "right to return" to lands currently under Israeli control.
The BDS movement has been the subject of routine criticism by Zionists and other supporters of Israel.
The announcement of the list comes a week after Israel approved $72 million for a public campaign against BDS movement. The plan calls for setting up a non-profit organization managed by a board made up of both government officials and private donors from Israel and abroad.
Hadashot News, the Israel Television News Company, reported Saturday night that Jewish Voices for Peace would be included in Israel's list of blacklisted groups.
In a statement, Jewish Voice for Peace's executive director Rebecca Vilkomerson denounced the move as undemocratic, adding that her organization will not be intimidated by the Israeli government.
The statement reads:
Our JVP members have no doubt about the justice of fighting for equality and freedom for all people in Israel/Palestine, and the legitimacy of BDS to bring that closer. We will not be bullied by these attempts to punish us for a principled political stance that increasing numbers of Jews and non-Jews support worldwide. As someone with considerable family in Israel, this policy will be a personal hardship. But I am also heartened by this indicator of the BDS movement's growing strength, and hope that it will bring the day closer when just as I go to visit my friends and family in Israel, so will Palestinian friends and colleagues be able to return home.
Below is a full list of the organizations targeted by the Israel government, as compiled by Haaretz:
■ The France Association Palestine Solidarity

■ BDS France

■ BDS Italy

■ The European Coordination of Committees and Associations for Palestine

■ Friends of Al-Aqsa

■ Ireland Palestine Solidarity Campaign

■ The Palestine Committee of Norway

■ Palestine Solidarity Association of Sweden

■ Palestine Solidarity Campaign

■ War on Want

■ BDS Kampagne

■ American Friends Service Committee

■ American Muslims for Palestine

■ Code Pink

■ Jewish Voice for Peace

■ National Students for Justice in Palestine

■ US Campaign for Palestinian Rights

■ BDS Chile

■ BDS South Africa

■ BDS National Committee