Israel Defense Forces (IDF) released a new video on Monday showing the moment they bombed an Islamic commander is Gaza.
"This is the moment we targeted Islamic Jihad Northern Division Commander in Gaza, Hussam Abu Harbid," IDF wrote in a tweet on Monday.
The video shows an aerial view of a building that is blown up by an IDF rocket. One explosion can be seen early on in the video, but as it continues a second, much larger, explosion can be seen.
According to the tweet from the IDF, Abu-Harbid has been an Islamic Jihad commander for 15 years and was behind numerous "rocket launches, shootings, & anti-tank missile attacks on Israel."
The tweet from IDF continued, "He won't be committing any more terrorist attacks."
An IDF spokesperson wrote to Newsweek that Abu-Harbid "has consistently led rocket launches against Israel, as well as shooting attacks at IDF soldiers.
According to a press release from IDF, Abu-Harbid was also behind the attack against Israel earlier this week "in which a civilian was injured."
According to the Times of Israel, Islamic Jihad has yet to comment on the strike against Abu-Harbid.
The video released by IDF comes amid escalated tension and violent attacks between Israel and the Palestinian militant group known as Hamas. The violence began earlier this month stemming from the potential eviction of Palestinian families from the Sheikh Jarrah neighborhood in east Jerusalem.
According to Al Jazeera, since the violence began, at least 198 people, including 58 children had been killed in Gaza, while Israel has reported 10 fatalities, including two children.
From May 10 to May 17, the IDF reported that more than 3,150 rockets had been fired by Hamas to Israel but around 90 percent of the rockets had been intercepted by Israel's Iron Dome air defense system.
In response, the IDF reported that they had struck over 130 different "terror targets" and had neutralized over 130 "terrorists" in Gaza.
Last week, Israel Prime Minister Benjamin Netanyahu vowed Israel "would exact a very heavy price from Hamas and the other terrorist organizations," amid the continued attacks.
In a video posted to Twitter Netanyahu added, "Hamas leaders think they can escape from our grasp. They cannot escape. We can reach them everywhere—all of [Hamas'] people and we will continue to do so."
On Saturday, President Joe Biden spoke with both Netanyahu and Palestinian Authority President Mahmoud Abbas and called for a deescalation of violence between Israel and Hamas.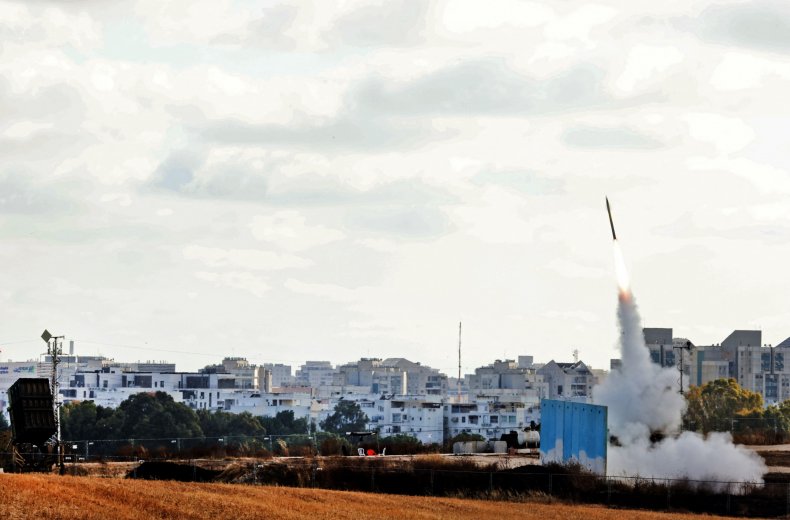 "The President reaffirmed his strong support for Israel's right to defend itself against rocket attacks from Hamas and other terrorist groups in Gaza," the White House said in a readout of Biden's call with Netanyahu.
According to a readout of his call with Abbas, Biden "updated President Abbas on U.S. diplomatic engagement on the ongoing conflict and stressed the need for Hamas to cease firing rockets into Israel. They expressed their shared concern that innocent civilians, including children, have tragically lost their lives amidst the ongoing violence."