Israel Shows Off 'Very Destructive Power' in Massive Military Drills as U.S. and Iran Face Crisis
Israel has conducted a massive multi-branch military exercise simulating attacks from foes across its tense, disputed borders as tensions between its top ally, the United States, and arch foe, Iran, approached crisis levels.
The exercise, which was focused on the country's north—not far from contested borders with Lebanon and Syria, two countries which Israel has accused Iran's allies of firing rockets from—was attended by Israeli Prime Minister Benjamin Netanyahu. The leader, who also serves as defense minister, spoke with participating troops of the Israeli Defense Forces (IDF) and issued a warning to those threatening his country.
"I am concluding a major, multi-corps IDF exercise in several areas. I am very impressed by the improvement in readiness, by the fighting spirit of the soldiers and commanders, and mainly by the destructive power of the IDF," Netanyahu said.
"I hear our neighbors from the north, south and east threatening our destruction. I say to our enemies: The IDF has very great destructive power. Don't test us," he added.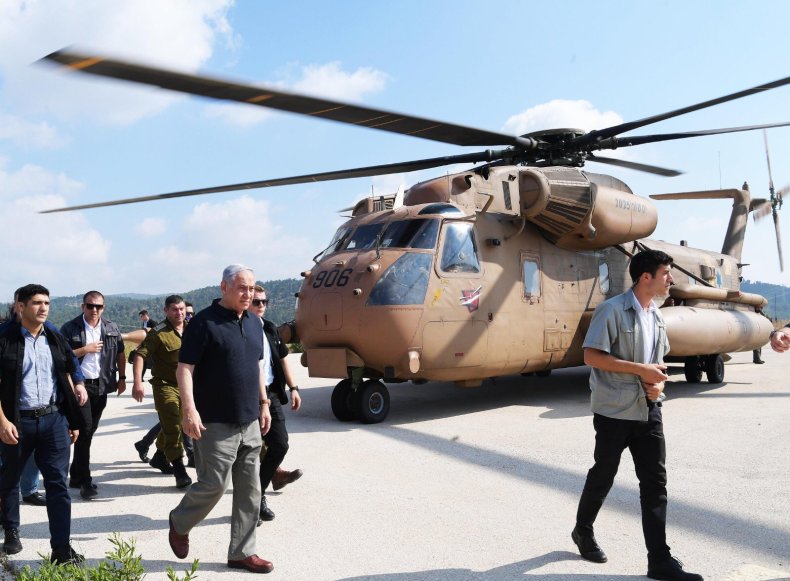 In a report posted Tuesday to the Israeli military's official website, the exercise was described as "unique" because it "involved full cooperation between the air force and the ground forces," which "have reached the highest level of cooperation in the last decade." No name was given to the imagined adversary, but the report described "a thinking, challenging and responsive enemy with technologies and capabilities beyond today's arena."
Last month, Israel and Gaza-based, Palestinian Sunni Islamist groups such as Hamas managed to avoid a full-scale conflict last month after the former conducted multiple airstrikes and the latter fired barrages of rockets.
Israel's only other immediate neighbor aside from Lebanon and Syria is Jordan, which was the second and last Arab country to make peace with the world's only majority-Jewish state. The first to do so was Egypt, located on the other side of Gaza.
Today, Israel considers its primary challengers to be Iran-aligned Shiite Muslim groups such as the Lebanese Hezbollah movement. Israel has fought two wars with Hezbollah, both of which involved Israeli invasions of Lebanon and ultimately ended with Israeli withdrawals following vicious bouts. Israel's most recent flare-ups with the group and other Iran supporters have taken place in Syria.
Iran and its regional partners have backed Syrian President Bashar al-Assad against a 2011 rebel and jihadi uprising that for years received assistance from the U.S. and Middle Eastern allies such as Qatar, Saudi Arabia and Turkey. Israel backed Syrian opposition forces until they were largely defeated last summer by the government, which was supported by both Iran and Russia. Israel has, however, continued to conduct airstrikes semi-regularly against targets suspected of being associated with Iran in Syria. While Moscow opposed this campaign, Russian officials are set to meet Monday with Israeli and U.S. counterparts in Jerusalem to discuss potential joint security initiatives.
The U.S., which had troops in both Syria and Iraq, also views Iran's regional presence as a threat. President Donald Trump's administration has accused Tehran of seeking to target Washington's interests in the region as part of a policy mostly communicated by White House national security adviser John Bolton and Secretary of State Mike Pompeo.
The situation grew especially dire Thursday as two foreign tankers were damaged in the Gulf of Oman, the second such series of attacks in as many months against commercial oil vessels in the waterway that connects the Persian Gulf to the Strait of Hormuz—through which over a third of the world's maritime oil traffic passes.
While U.S. and Iranian personnel both assembled rescue teams in response to the incident, the Pentagon has officially blamed Tehran for the attacks—along with recent rocket attacks against Iraqi bases with U.S. military presence—charges Iranian leaders have vehemently denied and even Washington's allies expressed skepticism.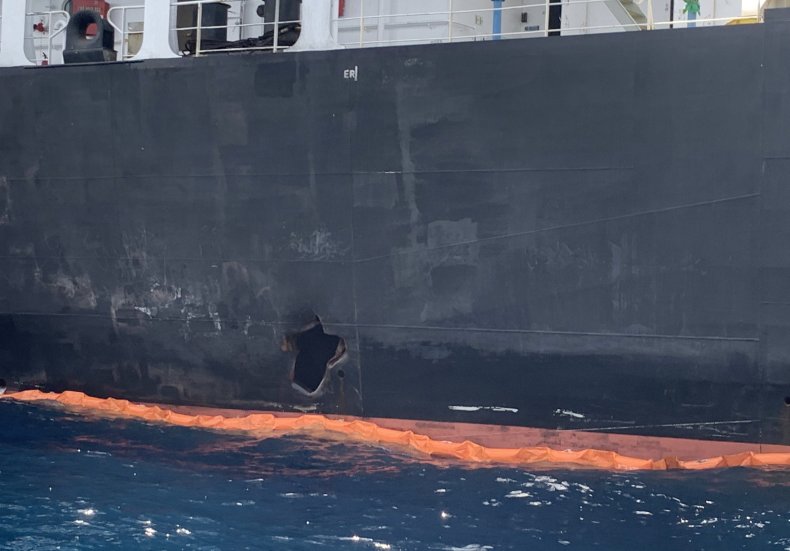 U.S. Central Command—designated a terrorist organization by Iran after the Trump administration labeled the Revolutionary Guards with a similar title—first released grainy footage Friday purported to show the elite Iranian force removing an unexploded limpet mine from one of the attacked ships. The Pentagon then released a second series of clearer photos that it claimed further proved Iran was linked to the incident.
Iran has counterclaimed that the U.S. is behind destabilizing moves in the region, especially since Trump pulled his country last year out of a landmark 2015 nuclear deal by which Tehran agreed to curb nuclear activities in exchange for sanctions relief. Israel and Saudi Arabia were among the few international voices that supported the U.S. exit, but the deal's other signatories—China, the European Union, France, Germany, Russia and the U.K.—have continued to back it.
Tehran too continued to back the deal, but recently announced that it would soon exceed uranium enrichment levels stipulated by the accords as European powers have failed to live up to their own commitments in normalizing trade ties with the Islamic Republic under threat of U.S. sanctions. While Iran has always denied seeking nuclear weapons and the International Atomic Energy Agency had repeatedly verified the country's compliance with the nuclear deal, Israel has disputed this.
For its part, Israel was widely believed to have nuclear weapons of its own, though it has officially neither confirmed nor denied its possession of such weapons.