Rugby Star Israel Folau Fired After Claiming 'Hell Awaits' Homosexuals
A rugby player who suggested that gay people "will go to hell" has been fired by the Australian Rugby Union.
On Wednesday, Israel Folau shared a post on Instagram that listed homosexuals as one of eight groups of people for whom hell awaited, in addition to "drunks... adulterers, liars, fornicators [and] thieves."
"Those that are living in Sin will end up in Hell unless you repent," Folau wrote as a caption. "Jesus Christ loves you and is giving you time to turn away from your sin and come to him."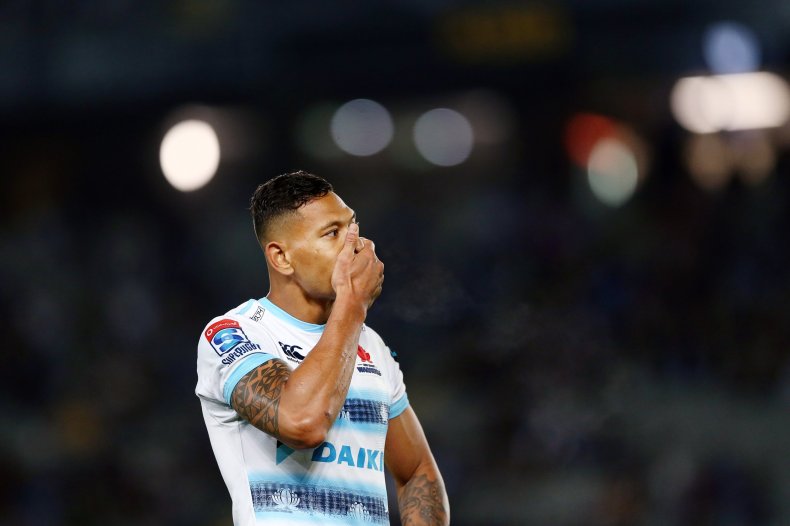 The 30-year-old standout, who holds the record for most tries scored in Super Rugby history, is not new to this kind of outburst: Almost exactly a year ago he posted a similar message on Instagram, suggesting gay people would go to hell "unless they repent of their sins and turn to God."
The latest message has cost him his spot as a center with New South Wales Waratahs.
"Whilst Israel is entitled to his religious beliefs, the way in which he expressed these beliefs is inconsistent with the values of the sport," read a joint statement issued by Rugby Australia chief executive Raelene Castle and NSW Rugby Union CEO Andrew Hore.
"We want to make it clear that he does not speak for the game with his recent social media posts. Israel has failed to understand the expectation of him as a Rugby Australia and NSW Waratahs employee is that he cannot share material on social media that condemns, vilifies or discriminates against people on the basis of their sexuality."
"In the absence of compelling mitigating factors, it is our intention to terminate his contract."
Players who represent the national team are centrally contracted to the Australian Rugby Union as opposed to individual clubs, which means Folau's future as a rugby player in Australia could be in jeopardy.
Rugby Australia added that it had made repeated attempt to contact Folau directly and via his representatives starting at 6:30pm Wednesday.
However, the Queensland-born full-back, who signed a four-year deal with the Waratahs only last month, has reportedly failed to communicate with either Rugby Australia or the NSW Rugby Union.
Folau, who represented Australia in rugby league alongside former San Francisco 49ers running back Jarryd Hayne, is renowned for his outspoken religious views.
Raised as a Mormon, the former Brisbane Broncos star is a devout Christian and joined the Assemblies of God fellowship in 2011.
In September 2017, he strongly opposed Australia's referendum on same-sex marriage. Last month, he criticized the Tasmanian parliament after it made listing gender on birth certificates optional.
His most recent post was strongly criticized on social media: Former Wales captain Gareth Thomas, who came out in 2009, urged people to disregard Folau's comments.
Former England international Joe Marler, meanwhile, chose a more direct path, tweeting a picture of a gay couple kissing and tagging Folau in it.
Folau's latest outburst also drew the ire of Qantas, Rugby Australia's main sponsor.
"These comments are really disappointing and clearly don't reflect the spirit of inclusion and diversity that we support," a spokesperson for the airline said on Thursday.