Israel Green-Lighted 'Unlawful' Killing Of Unarmed Gaza Protesters, Says Human Rights Watch
Updated | The Israeli army's decision to open fire on Palestinian demonstrators in Gaza, which left 17 people dead and hundreds of others wounded, was "calculated" and "unlawful," a human rights watchdog has said.
In a report following the deadly "Land Day" protests in Gaza on March 30, Human Rights Watch (HRW) said senior Israeli officials who called for live ammunition to be used against protesters who did not pose a serious threat are responsible for their deaths.
The "high number of deaths and injuries was the foreseeable consequence of granting soldiers leeway to use lethal force outside of life-threatening situations in violation of international norms," HRW said.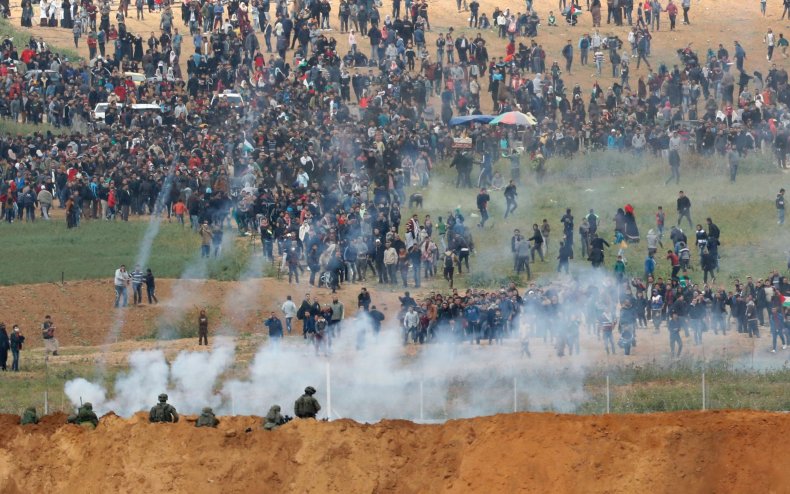 Israeli Prime Minister Benjamin Netanyahu praised the army for successfully "guarding the country's borders" and allowing "Israeli citizens to celebrate the [Passover] holiday peacefully," but HRW said Israel's government failed to provide any evidence that demonstrators posed any serious threat to soldiers.
"Israeli soldiers were not merely using excessive force, but were apparently acting on orders that all but ensured a bloody military response to the Palestinian demonstrations," said Eric Goldstein, HRW's deputy Middle East director. "The result was foreseeable deaths and injuries of demonstrators on the other side of a border who posed no imminent threat to life."
The Israeli Defense Forces (IDF) defended its actions, telling Newsweek in a statement it "had been warning the people of Gaza for weeks no to approach the security fence and "to reject Hamas's orders" by refraining from what it called "acts of terrorism."
The IDF said it "operates according to clear rules of engagement which are tailored for this specific context."
"The tools used by the IDF include warnings, riot control measures, and as a last resort, live fire in a precise and measured manner," it said.
The Israeli government has ignored calls for an independent investigation into the killings and is refusing to cooperate with a United Nations inquiry.
Goldstein condemned that decision, saying that it "says much about how cheaply Israeli authorities view the lives of Palestinians in Gaza."
Tens of thousands of protesters had gathered at multiple locations along Gaza's border with Israel to mark the 42nd commemoration of Land Day, when six unarmed Palestinians were killed by Israeli forces in 1976 during protests against the expropriation of Palestinian-owned land.
Hundreds of demonstrators reportedly ignored calls from organizers and the Israeli military to maintain a distance from the fortified fence marking the Gaza-Israel border. The Israeli military claims that some of those who approached had rolled burning tires and hurled rocks and fire bombs toward the border.
But HRW said that even that could not justify Israeli soldiers' response, which included the use of live fire, tear gas and rubber-coated steel bullets. IDF spokesman Lieutenant Colonel Peter Lerner said snipers were used to target "specific perpetrators of violence."
Palestinian militant group Hamas has said at least five of the people killed by Israeli soldiers were members of its armed wing. The IDF has claimed that number is higher, alleging that at least 10 of those fatally shot belonged to Hamas and accusing the organization of "turning a protest from peaceful to an area of terror."
Related: Israel rules out inquiry into Gaza clashes, as videos appear to show unarmed protester shot in the back
In the days following the deadly protests, several videos have emerged that appear to show unarmed demonstrators being killed or injured by Israeli gunfire. At least two clips appear to show a man, who has since been identified as Abed el-Fatah Abed e-Nabi, 18, running from Israeli positions carrying a tire before being shot in the back and falling to the ground.
The IDF has since claimed that such videos are distributed by Hamas, alleging that they only show partial footage of what happened or are fabricated. But HRW said it believes the footage it has reviewed is authentic, with one video showing a demonstrator shot in the leg while praying and another video showing a man being shot at while throwing a rock.
"The Israeli government has not shown that the demonstrators throwing rocks or Molotov cocktails posed a grave threat to the well-protected soldiers deployed on the other side of the border fence, nor has Israel claimed that any Palestinian crossed the border on March 30," HRW said in its report. "Entering a zone declared off-limits should not be a crime considered punishable by death."
As many as 2 million Palestinians, including 1.3 million refugees, live in Gaza, according to HRW. Most are unable to leave due to Israeli and Egyptian restrictions on movement. Israel withdrew its military from the strip in 2005, but both Israel and Egypt maintain a heavily secured border.
The Israeli Embassy in Britain did not immediately respond to a request for comment.
This story has been updated with comments from the IDF.