Facing international criticism for its military actions in the Gaza conflict, Israel has put some of the blame for civilian casualties on Hamas and other militant organizations misfiring rockets.
Israel accused Hamas of "killing its own civilians" with misfired rockets and said that about 20 or 30 percent of rockets that are launched land in the Gaza Strip, killing Gazan civilians. On Wednesday night, the Israel Defense Forces posted a video of a rocket misfiring to further the message that militants are endangering the people of Gaza.
In its second week, the growing conflict between Israel and Hamas and its allied Palestinian factions has drawn in the rest of the world. Many countries have publicly called for a cease-fire and urged Israel, because it's in a more powerful military position, to exercise restraint. Russia called for both sides to choose their words carefully so as to not add fuel to the fire.
The international pressure has seemingly done little to temper either side in the conflict. In a televised address Wednesday, Palestinian Authority President Mahmoud Abbas criticized Israel for being engaged in "organized state terrorism and war crimes" in Gaza. He added that those crimes are "punishable under international war" and that Palestinians won't "hesitate to prosecute those who commit such crimes in an international court."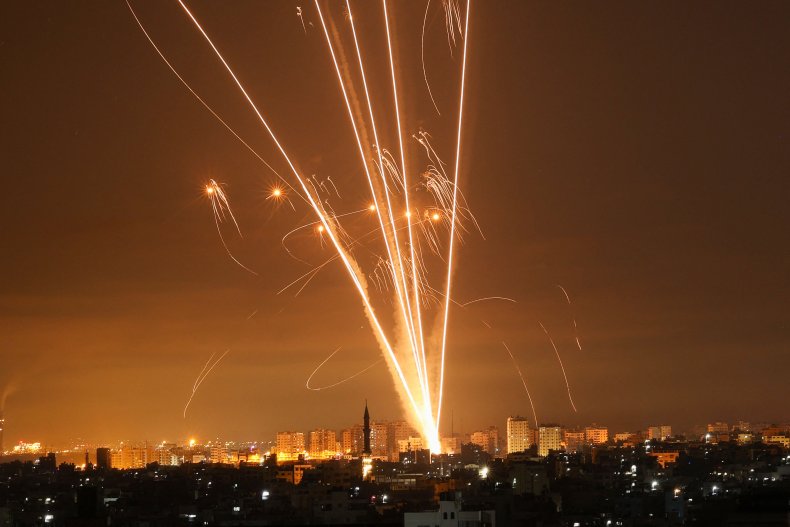 But Israel said Hamas is the one committing war crimes. Last week, the country said Hamas misfired 350 rockets over three days, killing "Palestinian children, women and men." Citing a lack of "any moral standards or humanity," Israel has also accused Hamas of using civilian facilities to store weapons and engage in warfare, amounting to civilians being used as a "human shield."
This misfiring of rockets is contributing to the high death toll in the Gaza Strip, according to Israeli officials. While the number of civilian casualties has led to a strong rebuke of Israel's military actions from the international community, Prime Minister Benjamin Netanyahu has shrugged off the criticism and repeatedly denied that Israel is doing anything more than exercising its right to self-defense. He's also defended his military's actions as necessary to degrade Hamas' capabilities and prevent further attacks.
Netanyahu hasn't given a timeline for when the violence will come to an end, saying he would continue until "calm and security are restored." But a Hamas official predicted cease-fire efforts would be successful.
"I expect a cease-fire to be reached within a day or two, and the cease-fire will be on the basis of mutual agreement," Hamas political official Moussa Abu Marzouk said on Al-Mayadeen TV, a Lebanon-based network, according to the BBC.
Israeli Intelligence Minister Eli Cohen dismissed reports of a possible cease-fire and told Israel's Kan public radio that the military operations will be finished "when we decide we have attained our goals."