Israel-Hezbollah Clashes Erupt by Lebanon Border Amid Syria Strike Tensions
Cross-border fire erupted between Israeli forces and Lebanon's Hezbollah Shiite Muslim militia along the disputed boundary between the two countries after a week of tensions sparked by a deadly airstrike in neighboring Syria.
The Israeli military reported a "security incident" on Monday at the Shebaa farms area, a contested, Israel-controlled strip of land forming a de facto border with southern Lebanon and Syria. The Israeli military then ordered residents across the United Nations-designated Blue Line between Israel and Lebanon to remain in their homes, avoid open areas and stay off of closed roads.
"IDF troops thwarted an infiltration attempt by a Hezbollah terror squad in the Mount Dov area," an Israeli military spokesperson told Newsweek.
"No injuries to IDF troops were reported," the spokesperson added. "IDF troops are ready and prepared to continue operating as needed. The IDF will not allow any harm to the security of Israeli citizens or violations of Israeli sovereignty."
Israeli President Benjamin Netanyahu told members of parliament that he and his top officials were "constantly monitoring what is happening on our northern border."
"Our policy is clear. First, we will not allow Iran to entrench militarily on our border with Syria. This is the policy that I set years ago; we uphold it consistently," he said, according to readout shared by his office. "Second, Lebanon and Hezbollah will bear the responsibility for any attack against us emanating from Lebanese territory. Third, the IDF is prepared for any scenario. We are active in all arenas for the security of Israel – both close to our borders and far from them."
The Lebanese military earlier Monday reported on "hostile air violations" by Israeli aircraft in southern Lebanon and the country's official National News Agency reported that an Israeli shell had landed on a home in the town of Hebbariye amid a barrage against villages in the Arqoub area.
Tensions between Israel and Hezbollah, an ally of Iran, have been especially high since suspected Israeli strikes south of the Syrian capital of Damascus last week killed Hezbollah commander Ali Kamel Mohsen.
"It seems that the state of terror experienced by the Zionist occupation army and its settlers by the Lebanese border, and the state of high alert and great concern about the reaction of the resistance to the enemy's crime that led to the martyrdom of brother mujahid Ali Kamel Mohsen, as well as the enemy's complete inability to know the intentions of the resistance, all of these factors made the enemy move in an anxious manner both on the field and through the media on the basis of 'They deem every shout to be against them,'" Hezbollah said in a statement sent to Newsweek.
The group referred to media reports of a failed infiltration attempt and casualties among its ranks as "absolutely untrue," calling them an "attempt to invent false, imaginary victories." Hezbollah denied opening fire or engaging in clashes with Israeli forces and said its response to Mohsen's death "is definitely coming"
The spokesperson also said the Israeli attack on the house in Hebbariye "will certainly not be tolerated."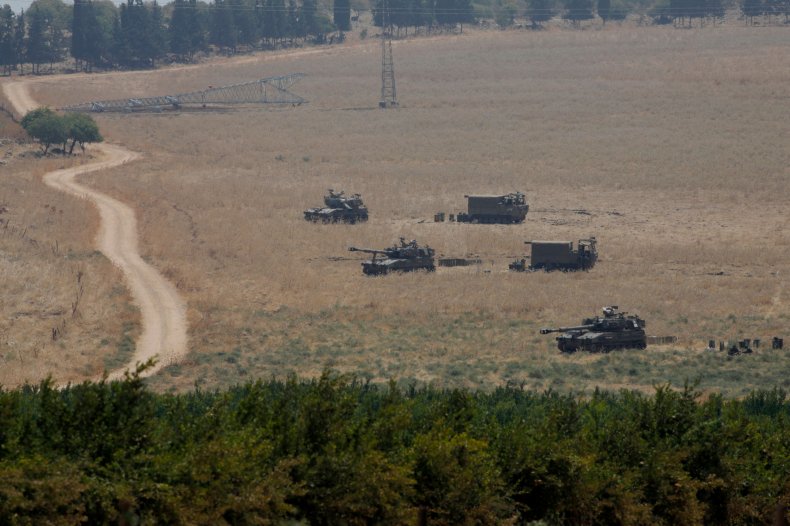 Israel has repeatedly targeted positions associated with archfoe Iran in Syria, where the Islamic Republic has been accused of setting up forward bases against Israel in its effort to support the Syrian government against a rebel and jihadi uprising.
Hezbollah Secretary-General Hassan Nasrallah vowed to retaliate in response to the killing of two Hezbollah fighters in Israeli strikes in Syria last August. On Sunday, however, his deputy, Naim Qassem, told the Al Mayadeen news outlet that the current climate "does not indicate a war" within the next few months.
The Beirut-based outlet earlier reported on Saturday that the Israeli military that had communicated to Hezbollah that Mohsen's death was unintentional.
Hezbollah first fought Israel as the latter occupied Lebanon in 1982, during the Arab country's 15-year civil war, and the two engaged in another series of large-scale hostilities in 2006. Israeli and Hezbollah forces have also fought numerous border skirmishes and Israel has regularly deployed drones and aircraft over Lebanese territory.
The Israeli military said Sunday that one of its drones had "fallen over Lebanese territory," reporting that "there is no concern that any information was leaked." The incident occurred a week after Israel said it intercepted one of Hezbollah's drones near the border and days after the country's armed forces said a civilian building and Israeli vehicle in the occupied Golan Heights were damaged by a blast from munitions fired from Syrian territory.
This article has been updated to include a statement sent to Newsweek by Hezbollah.