Israel's Benjamin Netanyahu, Close Aides Placed in Coronavirus COVID-19 Quarantine
Israeli Prime Minister Benjamin Netanyahu has reportedly been placed under precautionary quarantine amid fears they could be exposed to the new coronavirus disease known as COVID-19.
Netanyahu's office said the leader and several close aides would be placed in temporary quarantine after his adviser on parliamentary affairs tested positive for COVID-19, according to the Agence France-Presse, Associated Press and other news outlets.
Netanyahu, already his country's longest-standing prime minister, was set to lead for at least another 18 months before temporarily handing power to his recent election rival, Benny Gantz, for another year and a half as part of an anticipated rotating unity deal. Netanyahu was also initially set to face trial this month over corruption charges but his court date has been postponed to May by Justice Minister Amir Ohana due to the declared state of emergency regarding the coronavirus.
Since recording its first COVID-19 case on February 21, Israel has emerged as a hotspot for the novel coronavirus disease, reporting 4,347 instances, including 16 deaths and 134 recoveries as of Monday. Among Middle Eastern nations, only Iran and Turkey—both with roughly 10 times Israel's population of around 8 million people—have reported larger figures.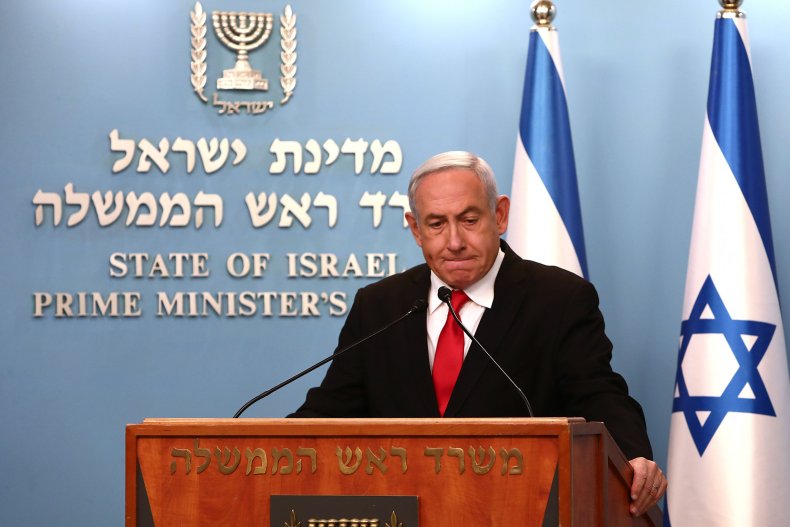 Globally, the virus has afflicted over 735,000 people, of which nearly 35,000 have died and more than 156,000 have recovered, since first being observed in China's Wuhan city, central Hubei province late last year. Those infected include individuals from every walk of life such as renowned athletes, artists and officials, even heads of state such as the United Kingdom's prime minister Boris Johnson.
As a result, many private and prominent persons alike have elected to go into self-quarantine, normally a period of isolation lasting about two weeks in order to prevent the extremely contagious pathogen from spreading further among the population. Governments across the globe have also closed borders, restricted movement and shuttered non-essential businesses to curb the coronavirus.
Netanyahu announced earlier this month he would close restaurants, malls, gyms and other public gathering places, but took his anti-epidemic efforts a step further by revealing his administration would also employ advanced digital surveillance techniques usually reserved for counterterrorism in order to track COVID-19 patients.
Palestinians have also scrambled to cope with the new coronavirus, which has resulted in 115 confirmed COVID-19 cases in Gaza and the West Bank, including one death and 18 recoveries. The outbreak, however, has not completely quelled the decades-long territorial dispute between Israelis and Palestinians, with new violence emerging Friday.
The Israeli military said Friday that it struck "terror targets" in Gaza in response to Palestinian Sunni Muslim movement Hamas firing a rocket toward civilians in southern Israel. Hamas, which did not claim the rocket attack, called on the Israeli government days earlier to lift border restrictions amid the COVID-19 pandemic, accusing Israel of committing an "aggression and a crime against humanity."
Coronavirus concerns have also prompted the cancelation of joint U.S.-Israeli military exercises this month. On Monday, both countries conducted a separate combined exercise involving F-35 jets and no physical contact among the two partnered armed forces.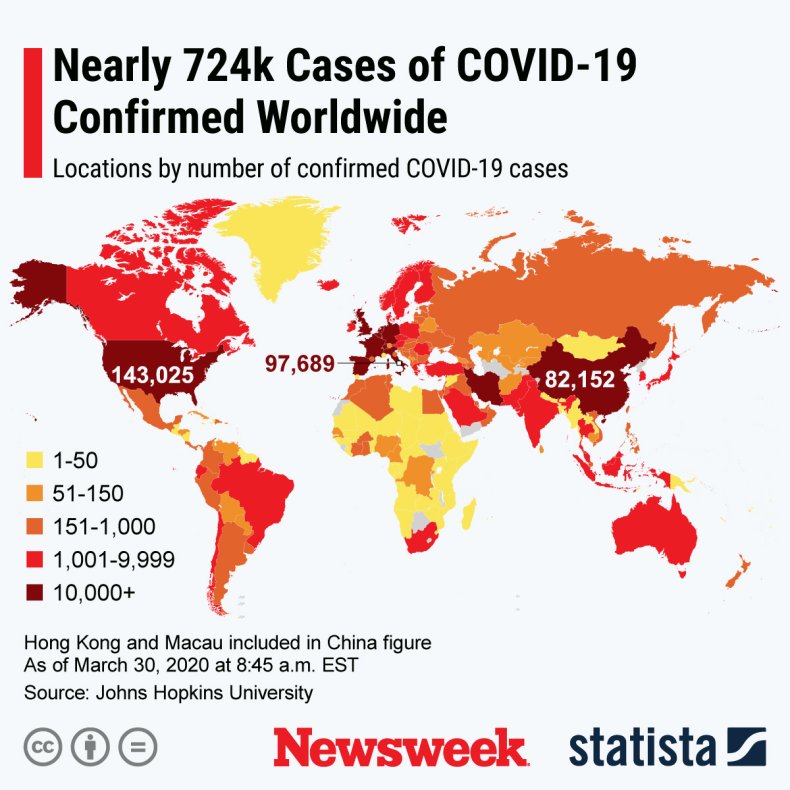 The above graphics were provided by Statista.