Israel Plans Gaza Ground Invasion, Hamas Fires Long-Range Rocket in Major Escalation
The Israel Defense Forces has prepared a ground invasion of the Palestinian-controlled Gaza Strip that has been pounded by IDF airstrikes, as Hamas steps up its firing capabilities with a new longer-range rocket the group claims can hit all of Israel.
"We have ground units that are prepared and are in various stages of preparing ground operations," IDF spokesperson Lieutenant Colonel John Conricus said during a press briefing Thursday.
IDF Chief of Staff Lieutenant General Aviv Kochavi "is inspecting those preparations and providing guidance," according to Conricus, who said the process includes the 162nd Division, "comprised of three brigades, maneuver brigades, regular brigades, two infantry and one armor" that "are in the process what we call battle procedure, preparing themselves for ground operations."
No order to execute had yet been given at the time and, though indications it later had came after Israeli forces said that the "IDF air and ground troops are currently attacking in the Gaza Strip" in a statement confirmed to Newsweek. The IDF has since denied that these forces had yet entered the Palestinian-controlled territory.
One IDF spokesperson declined to elaborate beyond the existing language. Another reiterated the existing statement and added, "Clarification: there are currently no IDF ground troops inside the Gaza Strip."
Conricus called the matter "an internal miscommunication" and said the ground troops were currently engaged in combat operations, including tank fire, from the Israeli side.
Israelis living in the "Gaza Envelope" settlements up to four kilometers from the Palestinian enclave have been "asked to remain in the protected area until further notice" as fighting continued to rage, according to the IDF.
Such an invasion would accompany a comprehensive aerial campaign that the IDF has said so far struck more than 600 targets, including what the Israeli military identified as rocket launch sites, senior officials of armed factions including the Hamas and Palestinian Islamic Jihad movements, as well as tunnels and facilities they use for intelligence, planning and weapons manufacturing.
It would be the first such ground incursion against the densely-populated Gaza Strip since 2014, when a seven-week conflict broke out that killed thousands, most of them Palestinians. The estimated death toll for the current conflict stands at around 100 so far, with the Gaza-based Palestinian Ministry of Health estimating 87 killed on its side, and Israeli authorities estimating eight slain on their end.
Hamas' Al-Qassam Brigades spokesperson Abu Obeida warned this number would rise if the Israeli side chose to invade.
"Any ground incursion into any area in the Gaza Strip, will, with the will of God, be an opportunity to increase our yield of the enemy's dead and prisoners, and we are ready to teach it harsh lessons with the help of God," he said in a statement obtained by Newsweek.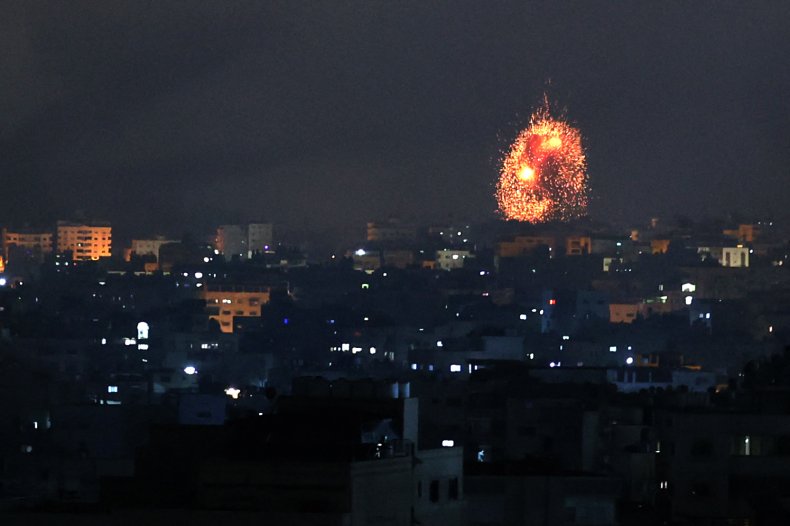 The latest round of fighting was sparked by an Israeli attempt to evict Palestinians from the Sheikh Jarrah neighborhood of the disputed city of Jerusalem, confrontations between Israeli security forces and Palestinian protestors and, finally, an Israeli raid of the Al-Aqsa Mosque, the third holiest site in Islam.
Since then, Palestinian fighters based in Gaza have fired what the IDF estimated to be at least 1,750 rockets toward Israel, a number of which have been intercepted by the advanced Iron Dome defense system.
On Thursday, Hamas revealed a potentially new factor, a rocket the group claimed was capable of reaching any point in Israel.
The rocket, named Ayyash-250 after assassinated Al-Qassam Brigades West Bank Batallion chief Yahya Ayyash, and the weapon's proclaimed 250-kilometer (155-mile) range, has "a destructive force that is the largest," according to Abu Obeida.
He said the rocket was launched toward southern Israel's international Ramon Airport, some 220 kilometers (137 miles) away in what he said represented "a victory for Al-Aqsa and part of our response to the assassination of our heroic leaders and engineers through their achievements and development."
"We enter the Ayyash 250 into service and tell the enemy, here are your airports, and every point from north of Palestine to its south that is within range of our missiles, and here is the next deterrent weapon flying in the sky of Palestine towards every target that we define and decide with the help of God," Abu Obeida said.
Air traffic had previously been diverted to Ramon Airport amid rocket fire near Israel's main air hub, Ben Gurion International Airport. Hamas has issued advisories for international flights to avoid planned travel to Israel.
In addition to the new rocket, Hamas also published footage of the group using unmanned aerial vehicles and underground tunnels.
The worsening bout between Israel and Gaza-based Palestinian factions witnessed another potentially complicating factor on a new front, Israel's border with Lebanon. The IDF reported three rockets fired from Lebanese territory into the Mediterranean Sea off the coast of the northern Galilee region.
No group has claimed responsibility and a spokesperson for the powerful Lebanese Hezbollah movement told Newsweek there was not yet comment that could be provided. Lebanon is also home to Palestinian factions that, like Hezbollah, have proclaimed support for the campaign pursued by Hamas and Palestinian Islamic Jihad.
One Lebanese official told Newsweek the launch was likely conducted by Palestinians operating from the refugee camp of Rashidieh located along the coast of southern Lebanon.
The strikes occurred as IDF ground forces deployed to the border with Gaza for the potential incursion, the consequences of which would likely be felt across the region.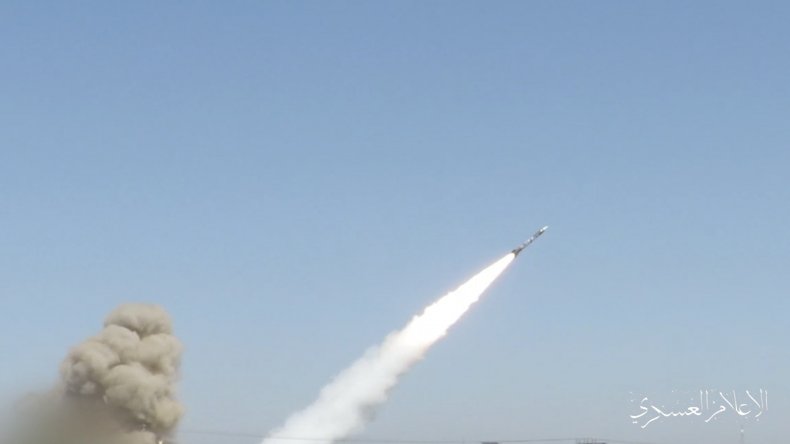 Hezbollah, Hamas and Palestinian Islamic Jihad have all been supported by Israel's archfoe, Iran, which has rallied behind the Palestinian rocket attacks viewed by the Islamic Republic as a form of resistance against Israeli occupation. On Wednesday, Iranian Foreign Minister Mohammad Javad Zarif traveled to another Israeli neighbor Syria, to condemn the ongoing Israeli air campaign against Gaza.
A number of Arab counties too, including the six with diplomatic ties with Israel, have criticized Israel's handling of the situation.
Israel's ally, the United States, has reiterated Israel's right to self-defense and called for calm on both sides in a number of interactions among top U.S. officials, including President Joe Biden, with Israeli counterparts.
In the latest communication, Under Secretary of Defense for Policy Colin H. Kahl met Thursday with Israeli Minister of Defense Director of Policy and Political Military Affairs Zohar Palti at the Pentagon to "discuss the U.S.-Israel defense partnership and opportunities for strengthening bilateral cooperation" and "the recent rocket attacks emanating from Gaza."
"Under Secretary Kahl unequivocally condemned the terrorist attacks directed at Israeli civilians and underscored U.S. support for Israel's right to self-defense," a Pentagon readout said. "They agreed to maintain a close dialogue and to work together to strengthen regional security."
Meanwhile, Hamas Political Bureau Chair Ismail Haniyeh spoke with United Nations Special Coordinator for the Middle East Peace Process Tor Wennesland, who on Tuesday called for an immediate ceasefire and warned the conflict was "escalating towards a full-scale war" in comments referred to Newsweek by his office.
A previous version of this article was updated to state that the invasion of Gaza had already begun upon the Israel Defense Forces announcing that ground troops had joined the fight, but the IDF has since clarified their message, denying that Israeli soldiers entered Gaza and blaming an "internal miscommunication."