Israel Says Vaccine Booster Provides 4 Times More Protection for Older People Than 2 Doses
Israel's Health Ministry said Sunday that a third dose of Pfizer's COVID-19 vaccine has resulted in significantly better protection from infection and serious illness for older adults, compared with those who received just two doses.
People 60 and older have shown at least four times higher levels of protection against infection 10 days after receiving the booster shot, compared with people who had only two doses, according to the findings. In addition, a third shot for that age group offered five to six times more protection against serious illness and hospitalization after 10 days, the study found.
The new data was first presented at a Health Ministry panel on Thursday and uploaded to its website on Sunday, although the study's full details have not yet been released, Reuters reported.
Individuals 60 and older are particularly vulnerable to COVID-19 and have been eligible to receive a Pfizer booster shot in Israel since the end of July. Earlier this month, the country's Health Ministry said that over one-third of people in that age group have already received a third jab.
Last Thursday, Israel expanded the age of eligibility for a booster shot to anyone over 40. The country also announced that it is now offering third doses to pregnant women, teachers and health care workers below that age. Those who receive the third shot are instructed to do so at least five months after receiving their second dose.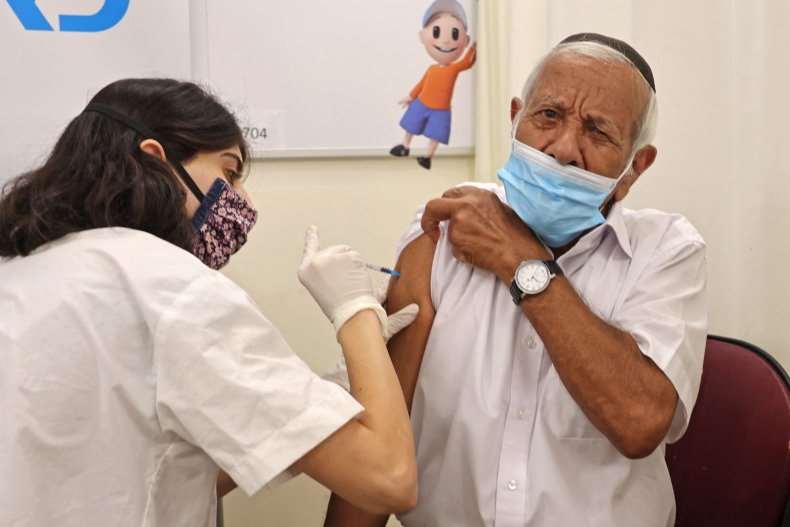 The U.S. recently announced plans to offer booster shots to all Americans, beginning at the end of September. However, the guidance says that people should wait at least eight months after their second dose of either the Pfizer or Moderna vaccine before receiving the booster.
Health officials said that time frame reflects current knowledge about when vaccine protection against severe illness might wane. Some experts have said that a booster shot administered earlier than eight months wouldn't be as effective.
"The available data make very clear that protection against SARS-CoV-2 infection begins to decrease over time following the initial doses of vaccination, and in association with the dominance of the Delta variant, we are starting to see evidence of reduced protection against mild and moderate disease," federal health officials said last week.
On Monday, the Food and Drug Administration granted full approval to Pfizer's vaccine, making it the first to be fully authorized by U.S. health officials. Previously, the vaccine was approved only for use under an emergency use authorization. Moderna is expected to receive full approval next.
FDA Commissioner Janet Woodcock said the agency's full approval of the vaccine means the public "can be very confident that this vaccine meets the high standards for safety, effectiveness and manufacturing quality the FDA requires of an approved product."
But as booster shots continue being rolled out in the wealthier nations, the director of the World Health Organization on Monday called for a two-month delay on distributing third vaccine doses in order to curtail vaccine inequity in poorer nations.
Tedros Adhanom Ghebreyesus said he was "really disappointed" with the global distribution of vaccines, as poorer nations are unable to provide many people with even one dose and wealthier countries are preparing to roll out third shots.
The U.S., Israel and Hungary, as well as some countries in Europe, Asia and the Middle East, are among those preparing to offer or are already offering booster shots.