Gaza's threadbare health care system was already withering under the pressures of the coronavirus pandemic, treating long-term injuries from past Israeli military action, and a siege that limited medical supplies before the latest bombardment.
Now, after the most recent airstrikes in this new round of fighting between the Israeli government and the Hamas militant group that controls the Palestinian Gaza Strip, a third wave of COVID-19 is creeping up on its overwhelmed, exhausted medical workers.
In eleven days of airstrikes and rocket fire, 244 are dead—including 12 Israelis and 232 Palestinians—and hundreds more wounded, the vast majority in Gaza, which has a densely packed population of two million. At least 65 children are among the dead, 63 of them in Gaza.
"It's grueling," Matthias Schmale, director of Gaza operations for the United Nations Relief and Works Agency (UNRWA) for Palestinian Refugees, told Newsweek by phone from the Strip shortly before a ceasefire was announced on Thursday.
"This is war," he said, Israeli airstrikes booming in the background. "The price the civilian population is paying is unbearable and unacceptable."
Israel intensified the Gaza blockade since the most recent violence broke out, tightening the grip on Gaza and blocking humanitarian groups trying to bring in much-needed staff, medical supplies, food, and fuel.
One border crossing—Rafah, along the frontier with Egypt—has opened to accept seriously wounded people that need evacuation from Gaza for treatment.
But other relief has been halting. The Gaza-Israel Karem Abu Salem crossing opened briefly on Tuesday but was quickly shut again after Gaza militants fired mortars at nearby Israeli troops.
Israeli airstrikes have destroyed medical centers and torn up roads. Ambulance teams—low on fuel—struggle to reach victims, while hospitals have increasingly limited space to treat them. Bombs fall within yards of doctors and their offices.
Gaza's only coronavirus testing facility has been destroyed.
Two of its top physicians—Dr. Ayman Abu al-Ouf, head of internal medicine at Al-Shifa hospital, and Dr. Mooein Ahmad al-Aloul, a 66-year-old psychiatric neurologist—were killed alongside family members while sheltering at home.
Jihad Abu Hatab of the Red Crescent Society Palestine said his colleagues had been working around the clock to reach those injured in the airstrikes.
"The airstrikes do not stop at all," he told Newsweek from Khan Yunis in the south of the Strip, one day before the ceasefire was announced. Bombs have fallen close to one of their offices and one of their warehouses.
Another struck a nearby building as RCS ambulance staff responded to casualties of a previous airstrike, causing casualties among them. "It's not easy to work in this very bad situation," Hatab said.
Schmale said Israeli forces this week stopped coordinating with UNRWA staff in harm's way. "When we moved inside Gaza we would let the Israelis know," he said on Wednesday.
"They would in turn let us know if there was any military operation that we needed to clear out from. Yesterday evening and this morning they told us they are no longer willing to do that. We're basically on our own."
One UNRWA lab technician was caught in an airstrike while on his way home, heading to help his wife move to a safer location amid the bombardment.
"Half his brain was apparently blown out," Schmale said. The technician remains in critical condition in the hospital.
"No one is safe really in Gaza," said Karl Schembri of the Norwegian Refugee Council.
Eleven of the children killed in Gaza in recent days were participants in the NRC's psycho-social program designed to help them deal with trauma.
Doctors Without Borders said this week that its trauma and burns care clinic in Gaza was damaged by an Israeli airstrike, which destroyed a sterilization room and damaged a waiting area forcing the facility to close.
Dr. Natalie Thurtle, a Doctors Without Borders medical coordinator and emergency physician, told Newsweek that the block on access to Gaza has been the main issue.
"There is a high volume of acute casualties, but it's that people can't make it to hospital and that supplies can't get into Gaza," she said from Jerusalem, where she and other MSF staff are waiting to leave for Gaza as soon as they are able to enter.
"It's a multi-pronged attack on people's access to health care," Thurtle told Newsweek from Jerusalem, where she and other MSF staff are waiting to leave for Gaza as soon as they are able to cross the closed border.
"Everything happens at the mercy of the Israeli authorities," Schembri said. The blockade, he added, "is the source of all this systemic injustice that drives these escalations every few years."
"The UN issued a report a few years back saying Gaza would be unlivable by 2020. We're now in 2021. Somehow people are still alive."
Displaced people and those in shelters are unable to observe proper social distancing and hygiene measures implemented to stop the spread of COVID-19, cases of which were peaking again in a second wave just as the violence erupted.
"There are 72,000 displaced individuals now in Gaza who've lost their homes, and of those 47,000 have no place to go," Thurtle said, citing it as a major priority for health staff.
"We need to get to that extraordinarily quickly...otherwise we can expect to see a really quick third wave of COVID."
Schmale said the "sustained period of no testing or vaccinations and people being very close together without protective measures" is a lethal recipe. "It is reasonable to assume that we will very soon see the beginning of a third wave," he told Newsweek.
Coronavirus is the "silent killer," said Schembri: "It's going to be another shock for everyone."
The fighting is grimly familiar, the devastation compounding Gaza's myriad infrastructure, health, and economic woes.
Hamas and Palestinian Islamic Jihad militants continue to launch rockets and other munitions across the Gaza border towards Israel, where most are intercepted by the high-tech Iron Dome defensive system.
Israel Defense Forces respond with punitive airstrikes against what they say are military targets in the strip.
But Hamas and PIJ munitions, commanders, and infrastructure are enmeshed with civilians in one of the most densely populated parts of the world. Israel's strategy of periodically "mowing the lawn" in Gaza is costly for the Strip's residents.
A ceasefire has now come into effect. The acute threat of airstrikes may have passed for now, but Gaza residents will get no relief from the systemic threats that for years have weighed on the enclave.
Even Gazans, hardened to the reality of the siege and repeated asymmetric bombardments, are shaken.
"People who are really experienced and really tough, and really resilient, have said that they've never seen this level of intensity before," Thurtle said. "Gaza was already on its knees before this, and it's going to be so so tough to come back from this."
Gaza's infrastructure has been steadily eroded by years of Israeli airstrikes. Its economy is a shambles due to the Israeli-Egyptian border blockade in place since 2007, imposed after Hamas took control of the Strip in an armed coup and out of fear that the militants would use imports to build new, more deadly weapons and finance terror operations.
Unemployment is the norm for Gaza's young population. Electricity supply is sporadic with power cuts lasting up to 20 hours per day. Clean, fresh water is limited, with past reviews finding around 95 percent of all water unsafe to drink.
Many children do not go to school. Tens of thousands of people are homeless, and the medical system was creaking under the strain of years of Israeli military action even before the coronavirus pandemic reached Gaza.
The recent airstrikes smashed Gaza's water network. A vital desalination plant has gone offline, ending its water supply to some 250,000 people. Water pipes serving 800,000 residents are damaged.
"Water was already a major issue in the Gaza strip with very limited access to clean water to begin with," explained Damian Rance, UNICEF's chief of communications in Jerusalem.
This round of violence is the latest chapter in a history of horrors for the Strip's residents, caught between a militant group and a high-tech war machine, since Israeli troops ended their occupation in 2006.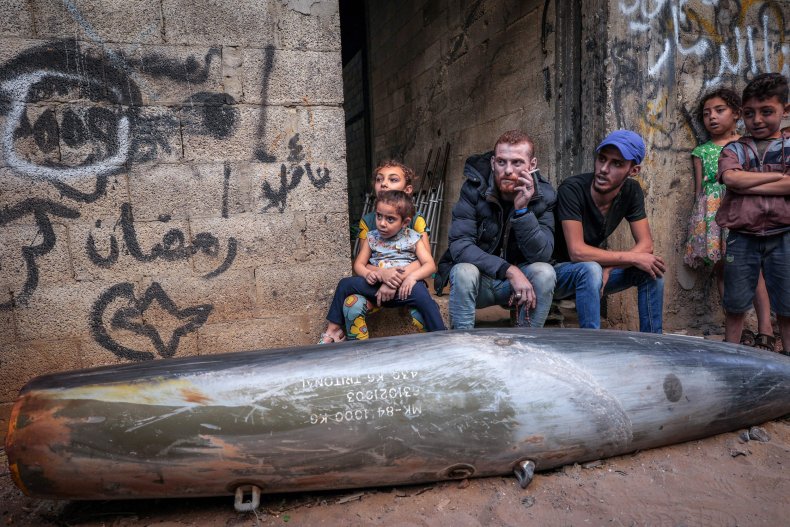 There is a new Israeli focus on high-rise residential and mixed use towers. The IDF says Hamas and other militant groups have offices and weapons stores in such buildings, using that as a justification to destroy entire blocks.
Some 450 buildings are believed to have been destroyed or severely damaged, according to the United Nations.
Tens of thousands have been left homeless by the bombs, squeezed into shelters and UNRWA schools. But the schools aren't safe either.
"We have one school, which has two deep buried bombs in the yard," Schmale said. "Is that an accident? That's quite a serious mistake if it was a mistake."
Schmale acknowledged that Hamas has previously stored weapons inside unguarded schools, making them IDF targets. He said that this time his staff have not discovered any new stashes.
"They are not angels for sure," Schmale said of Hamas. "But to systematically claim that the civilian population is being used for this purpose, I just think it goes too far."
As for Israeli strikes on medical and civilian infrastructure, Schmale said: "I don't think it's deliberate, but it's reckless."
Humanitarian workers spoke of the mass traumatization of Gaza residents through years of conflict and siege. The median age of the Strip's residents is only 18—there are 1 million children there who know nothing but war and imprisonment.
Any chance of recovery means years of attention, funding, and freedom of movement—all in short supply for Gaza.
"If you're born before 2009, this is the fourth major conflict you've lived through in the Gaza Strip," Rance said. "And this is beyond what anyone has experienced before; the sheer tempo of the operation, the scale of the bombardment."
Rance said one colleague's nine-year-old autistic daughter had begun apologizing profusely every time a bomb went off nearby, believing it to be her fault.
Other children, he said, were vomiting uncontrollably through bombardments, such was the effect on their nervous systems: "It's absolutely frightening for adults, I can only imagine what it would be like as a child living through that."
"What seeds are being sown here?" Schembri asked. "The thing that gives me hope is knowing how resilient these people are...They can turn a crater into a household."
The IDF has been asked for comment.